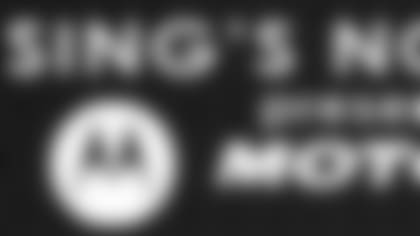 RE: How do you rearrange the schedule this week with Christmas week?**
"Basically, tomorrow we're not here. Thursday's practice will be Friday's practice. Friday's practice will be Saturday's practice, and that's basically it."
RE: Will Saturday be like a Friday practice?
"It will be kind of a combination of the two. This game plan, what we're doing, hopefully the last game of the year, the guys know exactly what they're doing, know where they're supposed to be. And we'll go from there."
RE: I understand you had a good meeting on Monday with some team officials
"Team officials? On Monday?"
RE: We know everything
"Wow. Anyways, I think the most important thing that has transpired right now is that we're just working hard, just trying to get things where they need to be and after this game, we just have to figure out what the direction is and we'll go from there."
RE: Would you say it was a positive session? 
"I will just say this: I think, for me right now, I don't interpret anything that's really, 'Wow. This is really good, or this is really bad.' I think the most important thing is that I just continue to stay focused. The team continues to stay focused on Sunday's game, and after it's all said and done we can look back at how positive things are and direction, or whatever. And we can fully pay attention to it then and really direct all of your energies in that direction."
RE: In working with Mike Martz, how has that experience been and would you want him as an offensive coordinator if you're the coach next year?
"I would say this: I think Mike Martz has been great his season. I think with everything that I ask him to do, he made every attempt, I think, to do the things that he needed to do. Going forward, I just feel that after the season, we have to sit down, as well as myself – everybody – and look at what gives us the best opportunity to win going forward."
RE: You've been here for four years, and since that time this could be the best offense you've seen here. Going forward, how much have you seen the offense improve?
"I think a couple of years ago, we had Norv Turner. I thought Norv ended on a good note. I just think that, for us right now as a team, I think defensively, offensively, special teams, it's just one of those things where we strive to keep the team together. Keep the team focused. I think there's a lot that goes into it. I think guys maturing, guys taking a step up, guys taking ownership. So, there are a lot of things that go into it. It'll be interesting to see what happens when it's all said and done. We can talk about it further then."
RE: How much better do you feel the team is now than when you first took over as interim head coach?
"Rather than saying how much better it is, I just think the guys responded. I'm just very thankful the guys have responded the way they have to the different challenges I have put before them, in terms of looking at we need to do this better, we need to focus here harder, we need to be more disciplined. I just think that the guys, like I said, I'm thankful that they've really responded well. To me, that's the most important thing: striving to get better each week."
RE: Is it a measuring stick for this team, that offense?
"The thing that I want to do, I know that we're playing against a good football team, which is absolutely fantastic going into our last game. I think that it's important for us, last week was a tremendous test, and I don't think a lot of people understand the mental tenacity for our guys to go in there and really, really take hold of that thing in the last quarter, what that meant. If anybody would have asked me, what do you need to see. What kind of game do you need to see, what kind of game do you need to see in order to know, have a better feel for where you are, I wouldn't have ordered that. But, it happened. Our guys responded, and we ended up winning the game. That was a tall order. I thought we took a tremendous step there. This week, I look at this team, we talk about finishing, we talk about preparing ourselves, even with having tomorrow off, the thing I want them to know is make sure you tell your wives, make sure you tell your kids, you know what? I just need an hour. I just need some time here to get away and think about my game plan, and think about this and think about that. But, give the team that hour to make sure that when we get back on Friday, it's back at work. To me, that talks about the character of our football team, having to have a great practice today – not a good practice, but a great practice – have a great day off, take that hour, and Friday we get back, we're kicking. We're ready to go."
RE: When you expressed that to them, what was the response about giving an hour?
"I thought it was very positive. They didn't blink. To me that is the kind of team that we have. Those guys understand what we are trying to accomplish. They understand the accountability factor, taking on the ship, all of those things that go into having a good football team and trying to take it to the next level."
RE: What are the chances, or have you thought about giving some youngsters more playing time or even a start?
"You think about it for a second, but the most important thing is what gives you the best chance of going out and winning a football game. I don't want to just put guys in and let's see what you have or whatever. I have a pretty good idea of what we have. I have a pretty good idea of who's here, but I don't want to push them out there at the expense of not winning a football game. I want to do what gives us the best opportunity to win."
RE: Are you satisfied with where the 49ers are with the pass rushing?
"I'm never going to be satisfied. For me, I want to sack the quarterback as much as we possibly could, so no, I'm not going to be satisfied. They are not satisfied. I just think that is something that we have to continue to do a better job at. Our guys are working their tails off and I think our coaches are trying to come up with the best schemes they can, but I just think in that area we know that we have to get better and we will."
RE: Mike, considering you guys started 2-7, just how big would a 7-9 finish be for this team?
"Obviously, it would be very nice, but at the same time I just think the most important thing for us to focus on other than going 7-9 is let's focus on playing our best game of the year for the last game. Let's save the best for last and I think if we can focus on that and we can capture that, then we will be just fine."
RE:  What do you remember about Andre Carter?
"A guy like Andre, the thing you can say about him, is he's a consummate pro. He's a guy – I remember talking to him after the decision had been made. He had made the decision, 'Well, I'm going to go there.' I remember sitting down and spending some time with him. He didn't want to go. He wanted to stay here. But it just didn't work out, for whatever reason. But, he's a guy that – ultimate team guy, great team guy, great locker room guy, great practice guy. But, it just didn't work out."
RE: What's Frank Gore's status for this game?
"We're going to look at him today. He's going to do a couple of things today, a couple of periods – one or two period he will try. See how it feels, and go from there."
RE: Could periods mean repetitions in practice?
"When I say periods, I mean, you have maybe a nine-on-seven or a blitz period – something like that. He'll take one of those periods and get a feel for it, and after that, do some other things to try and test the ankle and take care of it at the same time, and just manage his way through practice. We'll see how it feels, but we're really going to try to keep our eyes on it and have him be honest with it, and be smart about it and we'll go forward."
RE: Adam Snyder didn't play this last game. What's his status?
"Hopefully he's ready to go. He limped around a little bit last week. Hopefully he's ready to go."
RE: Would he start if he was healthy?
"Probably. I just depends on how healthy, but we'll see."
RE: How much does it accentuate your focus when team officials do come to you before the end of the season?
"I want to say this, and I mean this, I think it's one of those things where you know that you have to stay focused on the task at hand. I think, for me, you just have to know that if you do what you're supposed to do, do your part, and everything else will take care of itself. That's been my focus, my mindset, since I took the job, and it will continue to be that way until it's all said and done."