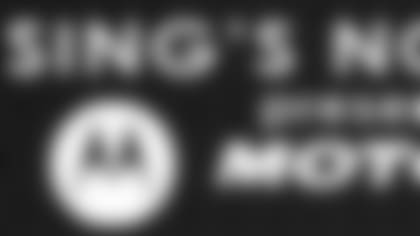 RE: How did things look when you were going back on the plane looking at the film?**
"Things looked like I thought they were looking when I was standing there on the sidelines. Offensively, I just thought there were times when we had drives going, things were going pretty well and then something would happen. There would be a turnover, whether it be an interception, whether it would be a fumble and on defense we were fighting for the most part, really playing hard, hustling, trying to do the things that we strive to do and defensively we did that most of the game. There was a play here, a play there that we'd give up, but it was just one of those things. You look at special teams. Special teams, they were flying around, trying to get everything that we could. I thought St. Louis did a great job of really kicking off, pinning us in one corner or another, but it was just, you saw a lot of energy. You just saw a team that seemed like we just couldn't get out of our own way at the beginning, so that's what I saw."
RE: Just going back to the conversation that we saw with Shaun [Hill]. It seemed to me, from reading the quotes, it was more of what you saw in him than what he said
"Exactly."
RE: That sort of convinced you and from your athletic background, what did you see?
"It's hard to explain. It's just that look. It's just the body language and you're right, it's not so much what he said, it was how he said it and the mannerism in which it was conveyed and when I made the decision after that third interception, 'You know what I think you need to sit down a bit, we are going to move forward here, just look at the game and get your composure back, I'll come back to you,' and he just said, 'Hey coach, don't do that. Don't do that, I can get this done."
RE: Now when you say, 'I'll come back to you.' Does that mean you would have come back to him in that game?
"Yes."
RE: What did he show you in that fourth quarter?
"Once again, he didn't show me anything that I didn't feel was there. I was not surprised one bit. I was surprised at the beginning, the three interceptions and not all of that was Shaun, but the fact that they're there. The thing that we talked about all week, so with him doing what he did in the fourth quarter coming back and showing the leadership, keeping the guys focused and being able to create those plays, that's the guy that I always believe that he is."
RE: Could you tell us what you said to him and why specifically you pointed to Shaun?
"Well, basically, I just wanted Shaun, I let them know how I felt about what had been going on so far and then pointed to Shaun and said, 'Hey, you take it. You tell them what you need. You tell them what you expect and let's get this thing together and let's go."
RE: What did you think was going on?
"Sometimes when you get in a situation, you're just not playing well, you just aren't playing in sync and as a coach, you can be on the sideline but you can't feel it and I think you have to be in that huddle to see it and feel it and once you are on that sideline, no one can convey it better than the quarterback, no one can. So I said what I had to say and got the heck out of the way and let him take it and let him direct them, the only way the quarterback can do it and let it take place."
RE: Do you respect him more because he said, 'Keep me in here,' than if he had just listened to you and said, 'Okay, I had a bad day…'
"Body language tells you a lot and I don't really, it's not so much, it really doesn't matter what a guy says, I mean, everything is in a guy's eyes. Everything is in his posture when he comes off the sidelines and when you look at a player, whether it's a corner that just got beat for a touchdown, he comes off and he's grabbing his ham[string], well is his ham[string] hurt or is his heart hurt? Is his confidence hurt? So when I looked at him and he said what he said, everything was there that said, 'I really can get this done. You can trust me to go back out there and get this done.' And that is what the body language said and I said, 'You know what, okay, fine, you got it,' and I told Coach Martz he's going back in and let's go with it."
RE: Was that third interception Shaun's error?
"It was more the receiver."
RE:  Did you think this team would have a winning record with you, and No. 2, did you think that was possible?
"Absolutely."
RE: Why?
"In all honesty, and just being very honest, I expected us to be in the playoffs."
RE: Really?
"I really did. And I'm disappointed that we're not. But, I expected us, when I took this job, I expected us to be in the playoffs. That's what I expected."
RE: Did you tell the team that?
"Absolutely."
RE: How hard is it not to look back, given the way Arizona has collapsed, how hard is it to look back?
"I don't look back. I don't look back. I don't look back and [say], 'Man, if we had done this.' You may say it, but Arizona, they're in. They deserve it. I'm not going to be a cheap shot and go back and [say], 'Man, we should have…' No. It's not. We're note. We didn't. We had an opportunity, it didn't happen. Let it go. We have got to work forward. We've got this game Sunday. Let's get ready to play that game, and then we go from there."
RE: Looking back on the game, you were dominated in a lot of areas. Did you feel like you were stealing something?
"There are a couple of ways to look at that. We've certainly been on the other end of that thing, where you get the last play of the game and you're kind of looking at each other. You can say all the things you want to say, but the longer I'm in this game, the more I understand: You win the game, you deserve. You're going to get some of those games. Do you feel like you leave town and you feel bad for that team? Yeah, you do because they played their hearts out. It's tough for a team to get the heart and the courage to believe again because we've been there, and try and fight, and well, maybe it won't happen again. Well it happened to them last week, and it happened again yesterday. I feel for them, but at the same time, everybody has to go through that process. We've certainly been there long enough."
RE: What progress do you see on defense?
"First of all, it starts with the staff. Greg [Manusky] and Johnnie Lynn, V.J.[Vance Joseph], Jason [Tarver]. I just think those guys are working their tails off to really try and put our defense, looking at the talent level that we have, the personnel, put our defense – give them the best chance to win and get out there on the field. The walkthroughs that we have, we're still not where we want to be, but the best thing that we're doing right now is we're playing our tails off. We're just flying, we're hustling and everybody's a part of it. Yeah, we're still making mistakes that we've got to correct. Yeah, there are some missed tackles here and there that we've got to do a better job of. To have a defense, to go out there, particularly in the past four or five games and to play the way they played, that's what you want. That gives you a lot of the positive things that you need to see going forward."
RE: There are a couple guys in particular that seem to be playing their tails off
"Aubrayo [Franklin], yes. Aubrayo is doing a great job week-in and week-out, particularly in the last five games. He's really playing his tail off. And you look at Manny Lawson gaining confidence back in that knee. He's playing well. Pat [Joe Staley] has been pretty consistent. And Takeo [Spikes]. Justin [Smith], he jumps out at you when you're looking at the film. So, I'm really excited about what these guys are doing. I looked at Nate Clements yesterday, and he probably played the cleanest game that he's played, just doing his job and making plays and making things happen. So, very pleased with what these guys are doing. So, that's very exciting to see."
RE: What about Michael Lewis yesterday?
"Mike [Lewis] had a monstrous game. When you look at Mike, and the way he played – particularly after he responded to that touchdown, the three guys there and not one of them made a play on that ball. Well, Mike came back and it looked like he took it personal. He made a lot of plays after that, and just played with, seemed like, some added intensity, but he really played well. Made a lot of plays."
RE: What did happen on that touchdown play?
"I think it was a miscommunication about, either Mike's going to be on the top of that play or he's going to be underneath. And I think by the alignment at the very beginning of that play, the assumption was, maybe, he was going to be underneath. Somehow he got caught up. It just ended up not being executed the way it was supposed to, and when that happens on the back-end, nine times out of 10 that's going to be a touchdown, and it was."
RE: Does that give you more confidence that they're just some breaks here or does it give you less that we should have these?
"Well, it's both. Number one it's guys, we just have to execute. We want flawless execution and that starts with communication. What we do out here in practice is what we're going to do out here in the game and we can't do something different in the game that we've been doing all week in practice. First of all, it gets you a little upset, why do we get in that situation to begin with? And then second of all, yes it does give us a lot of confidence because you know it's going to get cleaned up going forward. That's how I see that situation."
RE: According to the information handed out by your public relations staff you're giving the team Thursday off?
"Yes."
RE: Why did you decide to do that?
"Why? It's Christmas."
RE: But I know that that's something some teams don't do
"I don't know what other teams do. I feel like I'm dealing with our kids when I tell them this is what we're going to do and they tell me well everybody else doesn't do this or they don't do that. Well, we don't live with them. We're not responsible for them. We're just responsible for you guys. And so as I look at our team I know that we're going to accomplish what we need to accomplish and Christmas to me, these guys they busted their tail and yeah we could come in and have a walk-through, but I'm not going to do that. You take that day, you enjoy that day and you make the most of it. Enjoy your family and comeback Friday knowing that we've got to work and get after it with the mindset in the right place and let's go."
RE: Would you have done that if you lost yesterday?
"Yes, it was already set."
RE: Did those Bears teams in Chicago take Christmas day off?
"We were erratic. It depended on what Coach [Mike] Ditka was thinking, what he was feeling, what he was doing, what he had going on, but I think for us and where we are and sometimes when you look at the way that these guys have been pushing, there's an emotional investment for these guys and I couldn't be prouder of them than the way they've been responding. Some of the ways that they practice, the level of excellence that we're looking for in practice and they're pushing themselves and then the way they played so you just kind of look at it and say 'Hey, you know what, I'm going to give these guys Christmas off. Go enjoy your families and enjoy that day.'"
RE: Would you like to see [Allen] Rossum break it back a little bit instead of constantly [looking] for that sideline?
"He could break it back, but nine times out of 10 bad things happen when you break it back because you don't have anybody blocking over there. Wherever that ball is in that directional kicking…I'm standing there, I'm looking at them and…'Why don't you break it back?' But I also know what happens when you do that. You take what you can get, get out of bounds and we'll go from there. We're just getting him back from being healthy again so we'll take our chances and just go ahead and follow your blocking, be smart about it and let's go."
RE: How much do you care about getting a 1,000 yards for Frank Gore whether he plays or not?"As a coach, yeah I'd like to see him get it but at the same time it depends on how he feels about it. Hopefully he's healthy enough to go and he can get it, but if he can come back next year and get 2,000 [yards] that's even better. So, I'm good with that depending on where he's at."
RE: You've mentioned Ahmad Brooks; I know he's had the back injury. If he's healthy enough to go could he get some exposure?
"I don't know. If he's healthy enough yes, I would love to see him play and I'm like , 'Get this black cloud out from over you.' It seems like every time I get a chance to get him in there something happens. So, hopefully if he is healthy, I'd love to see him rush the quarterback a couple of times and see what he has. We'll fight for that."
RE: How much football do you think Isaac Bruce has left in him?
"I don't know. I'll tell you what it is pretty cool to see a veteran guy like that move and make the plays the way he's making them right now and doing the job that he's doing and not to mention the effect that he has on our locker room and our young players. That's really neat to see."