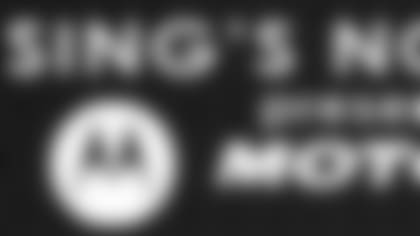 RE: The Dolphins sort of created a stir early in the season with that single-wing wildcat formation. What have you seen recently from that? **
"No, I think they still use it quite effectively, particularly in the red zone. But it could show up anywhere on the field. It's a good idea on their behalf. It's gotten a lot of mileage for them. So that's very interesting, but we're excited about learning more about it and hopefully getting it under control."
RE: And how would you go about doing that?
"Just the biggest thing is that we have to know when they're in that wildcat situation. The most important thing for us defensively is to make sure that everybody knows exactly who's responsible for whom. Everybody knows which gap they're supposed to be in. There can be no uncertainty at that time because you really don't know where the ball is going to go. So you just have to be in position to make the play."
RE: Have they thrown the ball to the quarterback out of that formation yet?
"Not so far."
RE: But he's out there and running? And must be accounted for?
"Yes."
RE: Is it a legitimate concern?
"The biggest thing about it is it could be a big play. They've scored a number of touchdowns on that play. Is it an annoyance? I think the most important thing, and I talked to the team about it earlier this morning, let's not get so focused on what they're doing. Let's make sure we know what we're doing, how we're going to defend it, and everybody do their job and we'll go from there."
RE: A couple of your opponents have done it already. Do you feel comfortable with the way you've handled it so far?
"Yeah, it's just not to that degree. I think the Cardinals have done it [with Anquan] Boldin. I mean he's a very dangerous guy, so you're exactly right from that perspective. But the Cardinals, they do not run it as much as these guys. These guys, you'll see it. If you stop it, there's a good chance that you won't see it much. If you don't stop it, I tell you what, it gets bigger and bigger. They find more and more creative ways to use it. So it's up to us to make sure that we're ready for it, and we do our jobs."
RE: Why has it been so effective for them?
"Because you have a really good running back taking the snap. Then you've got a really good running back that's possibly heading one direction or another with it. The guy that's taking the snap, he could go forward. And then, particularly, if they put two guys back there and it could be really…for a team that's not disciplined, for a team that is not sound, it could cause a lot of problems because you just don't know who has the ball."
RE: Are you saying that there's a moment of hesitation there that the defense doesn't know who's going to get it, and the Dolphins sort of take advantage of that moment and go with it?
"Yes. I think, once again, the most important thing in that particular play is on defense that you're not waiting to see who has the ball. You need to be where you're supposed to be. If the guy has the ball that's coming towards you, you've got to plug that hole. The worst thing that can happen is everybody's is guessing that maybe that guy has it and everybody starts over-pursuing. That's what they want. Once you start doing that, you're done. But everybody has to be disciplined – stay at home, play your position, and let's get on to the next play."
RE: You guys have used it for a play here or there throughout the season. I don't think you used it last week, but why hasn't it been more of a staple in your offense?
"It's one of those things where, maybe, when you have the tools that we have, you have receivers that we have, and the tight end, you want throw. You want to be able to throw a little bit more out of it. It's been something that we've done, but it's not a signature thing that we really want to go forward with."
RE: Seems like over the past few games Aubrayo Franklin has been a different player. How do you explain his improved play?
"I just think Aubrayo [Franklin] is one of those guys that really understands the game, and he wants to get better. He wants to do a good job, and for him, he's a pro. He works at it. He studies film a lot. He's a fundamentally sound guy and he continues to work on that. I just think that, for him, the closer you get to the end of the season, the stronger he's going to get."
RE: Had his play been lacking a bit?
"I wouldn't say lacking a bit. I just think he's been very consistent, and towards the end of the season he just – as you play this defense, some teams maybe don't attack you as much. They may attack more outside. Maybe they're double-teaming [Isaac] Sopoaga, or something like that – maybe more Justin [Smith]. There are a number of reasons that he could be making more plays. I think it all fits together. I definitely think, not only Aubrayo [Franklin], but there are some other guys, when you turn the film on, that are stepping up and really trying to make plays. It just depends on who the offense is focusing on that week and who they really feel that is their focal point that they need to stop or double-team, and it just frees another guy up?'
RE: Is Franklin more effective when he's moving around a little bit, rather than just right there on the nose and two gapping the entire time?
"He's not as big as a lot of nose guards, but the thing about him, whether he's moving or whether he's head up on the nose, it's just one of those things where he's a guy that is great at anticipating – anticipating the snap count, anticipating the double team. That gives him a little bit of an edge, in terms of just making sure that he's ready for whatever is going to come. And if he has a jump on you, he's going to do a good job and he has good leverage. He's not the tallest guy in the world, so he's tough to kick around."
RE: Do you know if you're going to have either Nate Clements or Frank Gore for this game?
"I think Nate [Clements] will be probable this week. We'll have to just kind of watch him this week and see how it goes, but so far, so good."
RE: Did he have the pin removed from the thumb?
"I think so."
RE: How about Frank?
"That's a wait-and-see situation. It may be a game-time situation. We just have to wait and see the progress there. He has an inside sprain, and that's a little bit more sore, a little bit tougher than an outside sprain to the ankle. But we'll see how it goes."
RE: Would you think about bringing up Thomas Clayton up on Saturday?
"Could be a possibility. Could be a possibility. I think he'll make the trip, and depending on how Frank [Gore] does, we'll see."
RE: DeShaun Foster hasn't played a ton this year, but what kind of an impression has he made on the coaches?
"I think DeShaun is one of those guys that, given the opportunity, he's going to take full advantage of it. So, we'll just see how it goes. He knows he has to practice well, and he will. I'm excited to see how he responds. It'll be a good situation. I'm sure he'll get most of the carries this week, or all of them. We'll just see how it goes."
RE: Are you concerned about his two yards per carry average?
"No. Not at all. I just think that he's running hard, and more and more he's gaining confidence. I think, for a running back, the more he handles the ball, the more carries he's given, the more chance he has to play, the better he's going to get. I just think he's going to continue to get better, and we'll see what happens to Frank [Gore] and if he gets to play we'll see how he responds."
RE: More emphasis maybe on using a fullback in the offense without Frank?
"Once again, it really depends on how Miami comes out in some of the things they feel they can do against us, whether we feel we need to power it up and play more with the fullback or just go out…we're just going to take advantage of whatever they give us, and we'll go with that."
RE: You said a couple of weeks ago that Bills game was going to be a bruising black-and-blue kind of game. What kind of game do you expect this week against the Dolphins?
"Same kind of game. It's going to be a very physical game, no doubt about it. I haven't really looked at the weather [or] heard about the weather. What I know about Miami, it's either going to be hot or it's going to be maybe sprinkling, or whatever it might be. It doesn't really matter. I think the most important thing that we know going forward is we have to have great practices this week, and go out there and get ready for a very physical football game."
RE: Who's the lucky guy who draws [covering] Joey Porter or will that be more than one?
"It depends."
RE: Is he over on the line?
"Mostly he's on the open side. Well, 98 percent of the time he's on the open side. So it just, it just depends. But Joey Porter's always been…he's a slugger, and he's a street fighter. And whoever draws the lucky number is going to have to be ready for the conversation as well. He talks quite a bit. It should be very interesting. But I've always been a fan of Joey. He gets after it. He's just a guy, he's going to hit you in the mouth every chance he gets. I'm excited about the matchup because whoever gets him, they've got to do a good job."
RE: Will you try to steer Vernon Davis in his direction throughout the game?
"If Vernon gets him, I'm sure I'm going to have to talk to Vernon this week and make sure that he doesn't get in the jaw-jacking competition. Just play the game. Just play the game, and let's go. But Vernon's a competitor, too, so it could be very interesting."
RE: That could be one of the all-time great jaw-jacking competitions
"WWF or something like that. Hopefully we don't get there. Hopefully it stays football and we play the game, and let it go at that."
RE: When you say the open side, does that mean he would be on the opposite side of Vernon?
"Yes. Maybe Vernon could motion to him or something like that. That could happen. But for the most part, we'll just see. We know that both their ends are physical guys. Their inside guys are playing pretty consistently. It's going to be a black and blue game. The last three games that we've had, whether it's Buffalo, whether it's New York, this game – they've all been physical games. And this one here, it's not only going to be physical, but once again we're dealing with a team that's trying to get into the playoffs and trying to win their division. So it's a great situation for us, because we're excited about the challenge and we're excited about the opportunity."
RE: You have a chance to win three consecutive games against AFC East competition. What would that mean to this team?
"It just means that we're trying to make a statement about what we're trying to do as a team. And we want to go forward with that. All it means is our guys, we talked about it a bit this morning, we should be able to handle the little amount of success that we've had. Can we handle this? And I'm sure that we will. We just have to go out and be prepared to compete at a highest level. Be poised on the road, and play a good football game."
RE: How different is the confidence level of this team from when you took over in late-October? "I think the guys are excited about where they are. I think guys are excited to see that we can compete with anyone. We just have to make sure that we do what we need to do. We do our jobs. And if everybody is just accountable to one another and we go as one team, that we have a chance to win any game that we play. And to me, that's very important. And I think our guys are there, but for me the word this week is 'focused.' We have to be focused, because there are a lot of distractions around right now. We just have to be focused on what's really important. And I think that what lies in front of us is so much greater than what lies behind us, and we have to have the vision to capture it. It's there."
RE: Can you just follow up on that?
"The last two wins – that's a distraction. Guys looking back and [thinking], 'Wow that's great. We did this.' You know what, that's done. Now we have to go forward. Now we have to look at this: we have another opportunity here. Let's take full advantage of it going forward. Let's not look in the rearview mirror. That's something that we should have known that we could do. If we just come together, we can do it. So don't be surprised. Don't blink. Don't get it. Let's keep going forward. So that's where we are."
RE: Is the fact that they might be playing for your future also possibly a distraction?
"I have not talked about that a lot. The only thing I've said about that is we'll let God take care of those things. No one knows who's going to do that. To me, the guy that's supposed to be here, he'll be here."