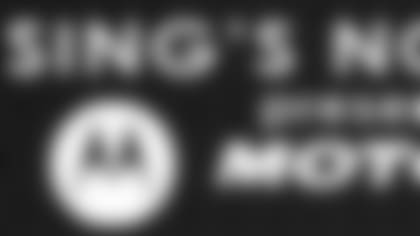 RE: After watching some film of that game, what sticks out to you?**
"After looking at the film last night on the way back, it was just, first of all it was ugly, it was nasty, but most of all you see the theme that would stick out the most is effort. It was a lot of effort, second effort, third effort, guys trying to make plays, guys trying to make things happen, but it was one of those games. You just have to go out there and just give it all you have and that's what I saw."
*RE: Coach how would you assess Shaun Hill's play in this game? *
"One of the things that I've always talked about and it's always the first thing that comes to mind when I think about Shaun Hill, and that's consistency. I think that's the one thing that the team, particularly the offense, continues to draw from him, is just consistency. We are able to move the ball, move the chains on third down, keep us alive, keep drives going. That's what you want to have, so I think that's what comes to mind."
RE: How would you assess the offensive line's performance?
"When I look at the emphasis on running and the offensive line, Frank Gore, I think it's a combination of things right now. First of all, you say we had trouble running the ball lately. I think when we went into the game last week the emphasis was on passing the ball first. When we went into the Dallas game, we wanted to pass the ball first. That was the thought process going into that game and because we figured they would try to put a lot of people in the box. We wanted to pass the ball. Get them out of the box, and then run the ball. This game, we went out and we wanted to run the ball at the beginning of the game and I thought we did that. Obviously, it wasn't 10-20 yards, wasn't that, but we ran the ball, we stuck with it. We took it all the way down to, well we scored and then I think it was a good mixture at the beginning of the game. We got some runs here and there and they were tough yards, but right now I just think it's a combination of the offensive line continuing to gel. I think Frank is gaining more confidence in hitting the holes. So I just think it's a combination of a number of things, plus maybe the weather played into that as well. So that's what I would say."
RE: The first drive you ran Frank Gore him time and again. Was that the plan going in?
"I think when you go into a game, both there were a couple of DBs that were hurt that they had. The corner, the starting corner was out, you had a starting safety that was out, so I think you want to take advantage of what's there. So if you have a situation where you can pass the ball and go at a couple of guys early, then do it, but certainly the overall thought, my overall thought going into this game, was to run the ball. We wanted to run the ball and if for whatever reason, short passes, run the ball, let that take us where we need to go."
RE: You've been around quarterbacks, obviously, for years and you played with [Jim] McMahon, who was a flashy sort of guy, and now Shaun Hill seems to be the other end of the spectrum. Do you need a quarterback who has to go out and win a game or a guy who basically keeps the team from losing?
"It depends on what's around him. Obviously, you look at certain quarterbacks around the league, and I'll talk about in the past time, take a team like Denver years back when [John] Elway was there. Obviously you needed him to win the game. But if you have a situation where you have a quarterback, but maybe doesn't have the ability to win the game but you have tools around him, skilled people around him, you have wideouts, you have a tight end, you have a good offensive line, I don't want to have him win the game. I want him to manage the game. Get the ball to those guys. So it depends on what the offensive scheme is. It depends on what the defense is given. Week in, week out, you have to decide what's best but I think when I look at it managing the game to me is priority right now."
RE: What do you do to go after Brett Favre and the entire football team you're facing this week?
"Anytime you're playing against a future Hall of Famer, without a doubt, three-time MVP of the league, certainly you have to game plan around him. The key is in making sure you're focusing on the other talent that's around him. Trying to figure out who's his favorite target, what pass he throws best. Trying to figure out what they're trying to do as an offense. I just think it's one of those things where we have to sit back and really look at the games, look at the film, and let the film sort of dictate to us where they are and figure out the best way to assess that. And we'll do that today and tomorrow and all the way to the game."
RE: What you would say about what yesterday means in terms of where this team is headed?
"There are a couple of things I'll say to that. Number one, the most important thing for me to really focus on is to try and have a vision in place to try each game, each day, each practice, to work towards that vision. When you look at a game like yesterday, we played against a good football team, maybe not a great football team, the most important thing is we won the game. We won the game on the road, we won the game in some tough situations. It was a character week for us. We overcame a lot. But now what do you say to the fans? Hopefully every game, obviously the Dallas game was not something that you look for, but hopefully every game that we play gives the fans something to take away from and what that is I really don't know. But I would just say that what we're trying to do as a team is week in, week out, the vision that we have in place to be a great football team, that's where we're trying to go. I'm not really even thinking about all the other things that go into it, 'What does this mean? What does that mean?' I'm not trying to analyze or anything like that. All I'm trying to do is get better each day. Trying to get better each game. So if we can consistently do that, hopefully by the end of the season, you'll see what's there better than I can tell."
RE: Anybody in particular that stood out to you on defense?
"Every time we play, particularly when we win, we have a defensive player of the game. Obviously we had Joe Staley, who made a ton of plays. Takeo Spikes played well. Justin Smith. But Donald Strickland really did a good job of being in the right place at the right time. Creating plays. Making them happen. I'm very excited about some of those plays that he made. Nate [Clements] I thought did a good job of just being where he's supposed to be and making plays and not trying to do more than his job. So there were a number of guys that played well in certain situations of the game. But Donald Strickland was the guy who I think defensively we were all kind of going up to him saying, 'You know what? You really had an outstanding game for us.'"
RE: For your future, do you think two wins in the final four games would be enough to prove that?
"Here's how I look at it: when it's all said and done, I really won't try to make a case. Hopefully the case is set. I won't be trying to, 'See here, we did…' No. That's not me. Hopefully, they can look at what has happened, and what has transpired to this point, and see for themselves what it means to be there. And if it's not there, it's not there. I can't really think about all of the other stuff. I can't think about… The only thing that I'm thinking about right now, the only thing that I'm thinking about is the Jets. That's all. I'm not thinking, 'Let's see now. If I win this one…' No. If you go out and beat the Jets, you get the crap kicked out of you the next week, you beat the next team and get the crap kicked… No. I'm thinking about this week. I'm thinking about the Jets. That's it. When that comes, whoever makes the decision makes the decision. Mike Singletary will not be standing in line saying, 'You know, I did this. I tried to do that here.' No."
RE: Do you ever take a minute to think about how good it is to have a proven veteran kicker?
"Yeah. There is no doubt about it. You never really know how important special teams is until you need it, until you need three points and you don't know how important that three points is going to be until the end of the game. But it's really nice to know that anytime Joe [Nedney] goes on the field, he expects to make that kick and he has a look on his face and this confidence about him that he's going to make it happen. So that gets you very excited for when he's in his range and he can go out there and make it happen. It's a very good feeling."
RE: Did he tell you how long of a kick he can make in that weather?
"Joe [Nedney] will kind of stand right next to you and [you can ask] "Joe, is this your range?' Nine times out of ten he'll just kind of look at you and say 'Yep' and go out there and try to make the kick, so that's Joe. That's what you like about him. There's nothing fidgety about him. He knows what he can do."
RE: On the same token, can you comment on what Andy Lee has meant to your team this year especially in a game like this?
"When you play in a game with the kind of environment, the kind of weather, all of those things coming in, and we're going and trying to win a game and you know that you have good people in that area, in those areas special teams-wise, it's huge. It just gives you a lot of confidence you just know going forward that you always have a chance in those kind of games because field position is key and if you get good enough field position and yesterday we did, we knew we were going to go in there and they had great special teams and we had good special teams. We were just going to go head-to-head and let's see at the end of the day who really wants it the most. I think for us we went in there and we had a chance to make some things happen and those key guys that you're talking about make all the difference in the world."
RE: Are you anticipating getting Josh Morgan and Arnaz Battle back this week?
"Hopefully [Arnaz] Battle will be back. Outside of that, maybe Josh [Morgan], it depends. Dashon [Goldson] maybe, I don't know about that one but Arnaz it's just a matter of how he comes along this week. Because the nature of the injury it's right in the middle of the foot and he looks good running, but when you start to really make a move the way he can, the cuts that he has to make and be as precise as he has to be, the last thing that you want to do is re-injure it bringing him back a week too early. So, hopefully he's ready to go and as we work out a little more we'll see."
RE:  Do you think Shaun Hill has what it takes to be a full time starting quarterback and lead a team to playoff contention?
"I think it's certainly possible. I think the biggest thing with Shaun Hill is that first of all, you're right, having the opportunity, and I think the other thing is making sure that you have the right stuff around him, really great skill people around him and then giving him the time to make those decisions. What he's doing right now is exactly what I knew he could do and that's just manage that game. But now, as I ask him to take it to the next level, he's the one that has to decide, 'Can I get to that next level?' And that is be the guy at the start of the season and take this team where they need to go, take them to the playoffs, take them to the Super Bowl, take them to the championship. It's on him and week-in and week-out he's going to prove whether he can or cannot do it, but certainly the opportunity is there right now and as time goes on we'll see more."