It's no secret the 49ers are 2-0 through the preseason, but what might go unnoticed by many is the dominating play in the trenches from both the offensive and defensive line.
Thankfully, both sides of the ball will earn some recognition after Aubrayo Franklin and Joe Staley [representing the offensive line] were selected as [49ers.com's game MVP's against the
](http://www.49ers.com/media-gallery/videos/oakland-game-mvps/7c7ef739-5838-439d-801e-ea46f3a02ecc).
Through two preseason games, the 49ers rank first in the NFL in rush offense (205.5 yards per game) and ninth in rush defense (89.5 yards allowed per game).
Making those numbers even more impressive is the fact that the 49ers have been solid against the run despite missing their leading tackler in two-time Pro Bowler, Joe Staley.
Without No. 52 chasing down opposing ball carriers sideline-to-sideline, the 49ers have held up against the run. Franklin, the 49ers starting nose tackle, is one of the players who has looked particularly disruptive.
"The defensive line, I think has really stepped up in terms of the execution, having a great idea of what we're striving to do, [doing] what we need to get done," head coach Mike Singletary said on Wednesday. "They continue to make strides day-to-day."
Franklin, 28, continues to be one of those making improvements.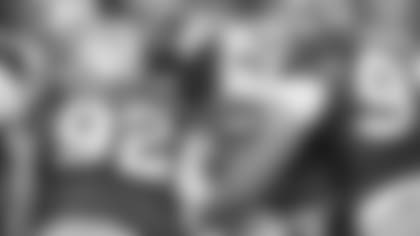 Since joining the 49ers two seasons ago as a free agent from the Baltimore Ravens, the 6-1, 317-pound interior lineman has continually developed. Towards the end of last season, it was apparent that Franklin was one of the players largely responsible for the defense's stellar play.
"I think I'm doing better now. I think we're doing more things that I'm used to doing," he said. "With the basic things we do, I'm doing real well. I'm just trying to carry it over from last season and start off strong."
If the first two preseason games were any indication, Franklin is already carrying over his play from last season. In just one quarter of action, Franklin had two solo tackles against the Oakland Raiders. The way in which he made the tackles, set the tone for the 49ers defense, which held the Raiders to 69 yards on 18 carries.
"It feels good [to be recognized], but I want to give my other teammates credit, I couldn't do it without them," Franklin said.
From top to bottom, the 49ers defensive players refuse to allow opposing running backs to have big games against them.
"We take pride in it, that teams don't get 100 yards rushing on us," Franklin said. "I think we do a good job of communicating. We go in there and watch film as a unit and pick up on key things that can help us out during the game."
Franklin said the 49ers line play has been improving because of a good mixture of young players and veterans. Franklin added that the return of Ray McDonald from offseason knee surgery, should only help the unit's production.
On the other side of the ball, Singletary too has been pleased with the trench play of his offensive linemen, especially after seeing them rush for 275 yards against the Raiders.
"I'm extremely proud of what they have accomplished thus far, and we just have to build on that," he said.
The League's top-ranked rushing attack features two rookie runners ranked in the top-five. Glen Coffee leads the NFL with 196 rushing yards and teammate Kory Sheets is ranked fifth with 102 yards.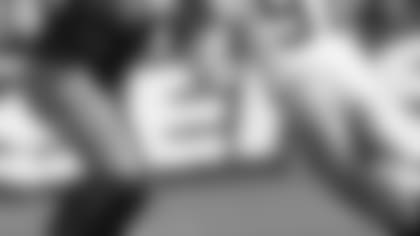 Not bad considering the fact that Frank Gore has only carried the ball twice.
"We played well this last game," starting left tackle Joe Staley said. "It feels great to run block like we did. Anytime you put up 275 rushing yards, regardless of if its preseason or regular season, it's a good confidence boost. Our running backs did a fabulous job of following our blocks and we did a great job of creating holes for them. We hope to continue that."
The 6-5, 315-pound tackle noted that the rushing game was a complete team effort. Backups and third-stringers contributed to the team's success as the 49ers moved the ball on the ground throughout the Oakland game.
For Staley, watching the play of his backups on film is almost more satisfying than reviewing his own play.
"One of the exciting things about preseason is how it's a true team effort to get a win. I get a kick out of watching the second and third team guys go out there and do the same things we were doing in the first half," Staley said.
"Everybody really stepped up and played well. We had a lot of guys block really well for us. It's exciting when you see Alex Boone out there getting pumped up after Kory Sheets scored a touchdown. After the score, they chest-bumped each other and stuff like that is funny to watch on film."
Since being drafted as a first-round pick in the 2007 Draft, Staley has been an outspoken player to say the least. Now that he's in his second year playing as a left tackle, Staley is primed for the best season of his career.
"I feel real good over there," he said of his comfort level on the left side of the line. "Last year I was getting used to it and I wasn't playing to the standards that I have for myself. But now I feel real comfortable over there. I feel like I'm going to have a real solid season for us."
Two days after being named starting quarterback, Shaun Hill has come down with a lower back strain, Singletary revealed on Wednesday.
Hill suffered the injury the previous day but felt he could play on. After one throw during 7-on-7 work, Hill gave way to Damon Huard and Nate Davis, who took turns running the first-team offense.
Singletary also said Hill would not need an MRI and that his availability for Saturday's game against the Dallas Cowboys is still a possibility.
"It's not unsettling at all, not one bit. We're going to go to Dallas and we're going to play football. I'm not going to worry about who's not ready to go and who's hurt and all of those things. We're going to go and we should execute just fine."
Singletary announced that backup quarterback Alex Smith would not play against the Cowboys because of the thumb injury he sustained while making a tackle against the Raiders.
Outside linebacker Jay Moore suffered a right groin strain in the team's afternoon practice and is listed as day-to-day.