The last time this many people were clamoring for their signature was on national college signing day.
But for Anthony Davis, Mike Iupati, Taylor Mays and NaVorro Bowman, the experience was almost identical Friday morning, as all four signed their first NFL contracts as members of the San Francisco 49ers.
"Actually getting it done is like a surreal feeling," said Davis, the tackle selected with the 11th overall pick. "Signing your first NFL contract feels good; it starts to feel more real."
And it will soon become even more authentic once the rookies hit the field with the veterans on Sunday for a walkthrough session prior to the start of camp the following day.
All four players said reporting to camp on time was a must. That's why each arrived at team headquarters on Friday ready to sign their contracts prior to their first rookie meeting.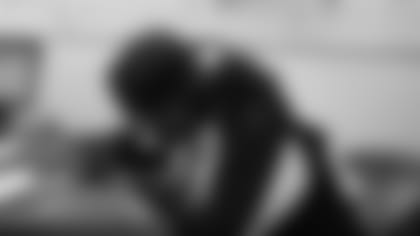 "I was anxious," Iupati said. "I was talking to my agent and they were working hard on it. They went to bed at almost 4 a.m. last night, but they made it happen."
For the rookie guard, reporting to camp on time was of the utmost importance.
"I told (my agents) I have to be here, and they made it happen. I'm very excited I can't wait to go back to work."
While fans and members of the media speculated all week about potential holdouts, Mays had a feeling that the contracts would be signed right before the start of training camp.
"I knew it was going to be one of these days, we had been talking about it the whole week. I was kind of expecting it to go down today," he revealed. "I wanted to be here to be a part of the team and help contribute to the team and not miss out on any opportunities. That was most important to me."
According to Mays, he and his rookie teammates spent the majority of the last month working out together at 49ers headquarters.
During that time, Mays found a place to live close to the facility, and spent most of his time working out and watching his offseason tape as well as last season's 49ers game tapes.
Mays felt the studying would be crucial in his early development, saying he spent extra time in the film room, "So I can learn what I need to improve on in terms of technique, watch film on the defense and know how to play the defense correctly and technically right."
Like Mays, Bowman was eager to put in extra work to prepare for his first training camp as a professional football player.
"We've been here working and these coaches have seen it," the rookie inside linebacker said. "It feels like we've known each other for a long time. We were pushing each other and helping each other, hopefully trying to carry that along throughout this camp. It's going to be tough. We're going to have challenges and we're all going to need a little shoulder to lean on. We have to stick together as rookies."
As they strengthen their bonds, the rookies will quickly learn about the demands of a training camp under the direction of head coach Mike Singletary.
But to a man, they're all eager to get to work under their leader.
"I think he tells the truth," Mays said. "I think he's a motivator, someone who pushes you to the limit. He'll maximize your potential and I couldn't be more blessed. He's honest, but at the same time, he'll tell you when you're doing stuff right. He's just the perfect combination of what a head coach should be."