With all the hard work the 49ers have put in at training camp, they sorely needed some time off. And with their first preseason game coming up on Friday, they needed all the extra carbohydrates they could get.  
Tuesday's 3rd Annual Pasta Bowl Presented by SanDisk couldn't have come at a better time.
"It's nice to get away from practice for a day and get to come here," left tackle Joe Staley said. "We had a lot of fun tonight. It is nice to come out to the event and meet some fans and serve them some pasta."
The family-style dinner event was a fundraiser for the San Francisco 49ers Foundation in partnership with the Silicon Valley Leadership Group benefitting City Year San Jose/Silicon Valley, Santa Clara Police Athletic League and Fresh Lifelines for Youth. The event raised more than $100,000 for the 49ers Foundation. Over the last seven years, the 49ers Foundation has raised $8.2 million for Bay Area non-profit organizations.
"This is a great way to get everybody involved with the community and bring everyone together," team president Jed York said. "I think everybody needs to see how important the community is to the 49ers. I also hope everybody understands the fans are important to us and that is why all the players are here."
The 49ers Foundation is a non-profit community funding extension of the San Francisco 49ers. Now in its 17th year, the 49ers Foundation supports development programs for underserved youth that keep them safe, on track and in school. A significant portion of its funding goes toward family violence prevention programs and activities that teach youth leadership and respect.
The entire 49ers team along with owner Dr. John York, President Jed York, head coach Mike Singletary and top Silicon Valley executives served as celebrity waiters for the nearly 1,000 guests at the event.
The evening began with an hors d' oeuvres hour, with wine provided by Sonoma and Napa Valley vintners. There was also an exclusive silent auction for items such as one-year memberships to 24 Hour Fitness and autographed jerseys from current and former 49ers players. Along with the silent auction, there was a raffle with a 42-inch TV donated by Samsung as the top prize.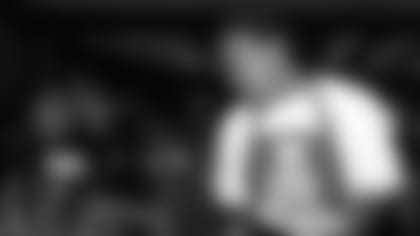 When the doors to the dining room opened, emcees Raj Mathai and 49ers alumni Gary Plummer welcomed guests to their seats where they watched a 49ers highlight video.
Then it was time for what everybody came for: dinner. The celebrity waiters served salad, wine and pasta to the guests before sitting down and eating alongside them.
"It's wonderful to sit there and eat with them and see what they are thinking," tight end Delanie Walker said. "And I love answering their questions because they don't know what really goes on behind the scenes. Just the chance to interact with them and answer their questions is great."
After the meal, Singletary addressed the crowd to talk about the 49ers Foundation and all the hard work his players are putting in at training camp.
"The men I have come to know very well, the ones sitting at your tables, you should be very proud of them. They are working very hard," Singletary said. "The most important thing tonight is the 49ers Foundation and everything the 49ers Foundation is about – trying to keep kids grounded, trying to keep them in school and trying to keep them safe. It really is about the kids at the end of the day."
The event was fun for all ages with an appearance from Sourdough Sam, a Gold Rush cheerleader performance, a special appearance by Steve Silver's Beach Blanket Babylon, the world's longest running musical revue, and a make-your-own pizza section in the Papa Murphy Youth Activity Area.