The 49ers defensive backs frustrated the heck out of the 49ers offense during Monday morning's practice in pads. During a play action team period, there was only one pass in nearly 20 run plays...and it was swiped.
Quarterback Alex Smith chucked one deep to Jerard Rabb and Nate Clements picked it off.
That was the start of a big day for the 49ers secondary. In the next team period, the group notched another three interceptions and a pair of PBU's by rookie Reggie Smith.
Even defensive coordinator Greg Manusky wasn't sure about how many of his guys made plays. Manusky turned to Clements during the special teams portion of practice and said, "Hey Nate, did you have one too?"
Clements responded, "Yeah, I started it off. It snowballed from there."
Safety Mark Roman began the next team blitz period by stealing a J.T. O'Sullivan overthrown pass deep over the middle. During O'Sullivan's next series, safety Keith Lewis picked off the quarterback's final rep.
Smith then took his turn and had a pass pilfered by second-year corner Tarell Brown. That's when R. Smith, the 49ers third-round pick out of Oklahoma got in the action, getting his hands on two other A. Smith passes to force incompletions.
Things got so ugly for the offense that head coach Mike Nolan halted practice during the team period to fire up his team.
"This is an offense you guys oughta beg to be in," said Nolan. "Good job defense, but as good of a job as they are doing, bad job offense. This is a blitz period and they are bringing it which means you are leaving touchdowns out there. You are only a fraction away from making plays – you've got to execute and make them."
Although the unit eliminated the turnovers in the final team period, there were still errors, including dropped balls by tight end Vernon Davis and Zak Keasey and an easy sack by Tully Banta-Cain.
"In this offense everybody has to be on the same page," said a frustrated running back Frank Gore. "Our defense was trying out a bunch of blitzes and big plays should happen on those, but we weren't on the same page. We were sloppy. We are getting closer to the season and we've been in camp for two weeks now. We should do better than that. It was like we went through the motions only today. It was frustrating."
The defense meanwhile refused to let up.
Linebacker Manny Lawson nearly picked off the pass that Davis' dropped, while cornerback Shawntae Spencer outwrestled Mark Roman and Michael Lewis for a "scoop" on the unofficial stat sheet kept by the secondary coaches. Whenever the ball is on the ground, fumble, drop, or bad throw, the defensive backs work on scooping it up.
"It's a hustle thing," said Spencer. "We track our stats for interceptions, pass break ups and the scoops and I was intent on getting that one. It's just a competitive thing and a way of making sure we are trained to always go after the ball."
Newly signed linebacker Takeo Spikes took part in his first practice with the 49ers, and said that the hustle and the plays made by the backend only reinforced his decision to sign with the franchise.
"It makes me feel real good because I've been on teams where you have guys on the backend who don't compete at all – or will wait and turn it on in a game," said Spikes. "You can't turn playmaking ability on like a light switch. You can't turn it on and off so to see guys getting hands on balls, intercepting balls, and knocking it down, that's big to me."
QB Track

For the second day in a row, quarterback J.T. O'Sullivan took all reps with the first team, while Alex Smith took the entirety of reps with the second team.
QB Shaun Hill saw work only during the individual portions of practice.
As already highlighted, it was a sloppy day for the offense.
O'Sullivan and Smith were both picked twice.
O'Sullivan did enjoy a few highlight reel worthy plays. The first occurred during skelley, when he squeezed a perfectly placed pass between two defenders to deliver a long ball to tight end Delanie Walker. Then in team, O'Sullivan used agile footwork to avoid the rush and fired one deep to Josh Morgan. Safety Mark Roman had blanketed coverage, but Morgan caught the well-placed throw over his shoulder.
Smith also had a highlight throw during practice, airing out one to Jerard Rabb, who got behind the 49ers defense deep.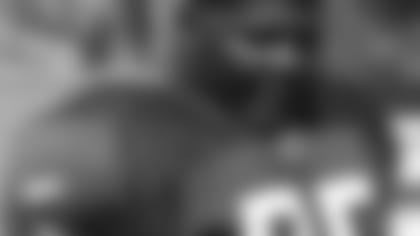 Tackle Jonas Jennings had offered up boasts to the 49ers secondary on Sunday when his first team offense drove the field and scored in the hurry up drill.
Safety Michael Lewis picked up the banter on Monday following an interception by Keith Lewis, the third of the day for the defensive backs.
"What about your offense now Jonas?" shouted Michael Lewis.
Jennings laughed and responded, "Hey, I'm glad to have ya'll on my team!"
Safety Mark Roman suffered a few collisions during practice, first running into Michael Lewis and then smacking into Markus Curry.
Following the second one, someone in the secondary shouted out "Take off that halo helmet."
Roman began wearing a new helmet as of Sunday.
During skelley, cornerback Shawntae Spencer asked offensive coordinator Mike Martz what the coming up play was.
"He told me it was a post, and I didn't believe him. But, they actually ran a post," said Spencer. "I just started laughing."
Afterwards Martz threw up his hands and said, "Why would I lie to you?"
Martz wasn't so generous in his responses to wide receiver Arnaz Battle. Several times during the first team period, Battle earned an earful from the coordinator.
"That's some major screw ups Arnaz," said Martz.
Battle seemed to have gotten back in the good graces of his coordinator with a few catches in the final team period.
Wide receiver Isaac Bruce tested out several of the 49ers ball boys along the sidelines. Whenever he spotted one holding a ball, Bruce walked by and tried to strip it loose.
Newly signed tackle Chris Patrick was also out at his first practice, wearing a #77 jersey.
The Daily Drill - contributed by Taylor Price
Before the team met up for group work, wide receivers coach Jerry Sullivan instructed the receivers on the detailed footwork required in some of the downfield routes in the 49ers playbook.
The wideouts first worked on a deep comeback route but not at full-speed. Sullivan wanted the group to not rush their footwork and to focus specifically on the proper steps at the end of the route.
"I want you to stride and work on the end of it," Sullivan yelled to the group.
By fine tuning each route in the playbook, receivers like rookie Josh Morgan have definitely noticed their improvement as camp has progressed.
"He's gotten me a lot better," Morgan said of Sullivan. "He really helps me understand the offense and how to set defensive backs up. I think he's made me 100 percent better."
When Sullivan switched the drill and had the receivers run a seven route he told the group, "The key is the vertical push and then the turn."
As each receiver took turns running the route, he continued to advise the group.
"Get the vision in your mind of what you want to do before the snap," Sullivan said. "You don't want to roll out of it – you want a nice tight cut."
As Morgan got to the front of the line, Sullivan asked him, "Which foot gets you into it Josh?"
Morgan responded to by tapping his left thigh with both hands.
"Yes sir, Josh," Sullivan said.
Sullivan's lessons on how to be more explosive have really helped Morgan over the course of camp.
"Because the defensive backs close so fast in the NFL, he taught me how to plant and how to get out quicker," Morgan said. "He told me to be tight on all my turns so if the defensive back does break on it, you can outrun him. There are a lot of different tricks he's been showing me."
Morgan believes Sullivan's words have stuck with him, even while playing in the preseason.
"In the game it's like he's right there in your ear," said Morgan, who debuted against the Raiders with 4 catches for 68 yards. "You hear him talking to you and it definitely helps you out. I think he made a big difference."
Injury Update

CB Marcus Hudson returned to individual work after missing Sunday with a quad injury that he suffered in the game against Oakland.
WR Isaac Bruce and CB Walt Harris sat out the morning session by coaching design.
WR's Jason Hill (groin), Ashley Lelie (calf) and Bryant Johnson (hamstring), and safety Lewis Baker (thigh) remain out with their injuries.
The quarterback rotation was the same in the afternoon as it was in the morning with O'Sullivan working with the one's and Smith leading the two's.
Safety Dashon Goldson became the latest member of the 49ers secondary to come up with a turnover on Monday. Goldson intercepted a Smith pass during one of the team portions of practice.
Smith also threw a couple of crisp passes to tight end Vernon Davis in the afternoon practice, both in team and skelley.
Tight end Delanie Walker flashed in the afternoon practice with a long pass from O'Sullivan in the skelley period. Walker also helped O'Sullivan out with a completion during team when he reached out with one hand to knock a slightly overthrown pass back his way. Walker then caught the deflected ball and stayed on his feet for yards after the catch.
Linebacker Parys Haralson blew up guard Tony Wragge to get into the backfield where he smacked into Isaac Bruce on an end around for a loss.
Wide receiver Josh Morgan worked for about half of the practice before he was forced out of action due to being sick. Wide receiver Dominique Zeigler was also limited in the afternoon due to an illness.
Bruce and cornerback Walt Harris returned to action after resting in the morning. Tackle Jonas Jennings and wide receiver Arnaz Battle followed a reverse schedule, practicing in the morning and then sitting out in the afternoon.
While in town for business, former 49ers Pro Bowl linebacker Lee Woodall stopped by the afternoon practice to check out his old team.