The 49ers walked away with a 17-16 victory Friday night and it was fitting that the game was iced thanks to an interception by Reggie Smith as the Denver Broncos attempted a two-point conversion that would have given them the lead.
Though it may not have counted as an interception on the stat sheet since it came on a conversion, it was a big moment for Smith, who is making the transition to safety this year.
"It makes me feel good," said Smith, a third-round pick in 2008. "It's just what they tell me in practice. It's just one receiver out there, me and the corner. I told [the corner] to stay outside and I'll stay inside. It just so happened that [the receiver] ran in to me. I looked back to make sure he was there. Then, I looked back at the quarterback. Next thing I know the ball is right here. I threw my hands up."
It was also Smith's first game with two interceptions since his sophomore year at Oklahoma when the Sooners faced Baylor. Smith wasn't alone in his efforts as some of the 49ers veteran defensive backs made big plays when it mattered most.
"All camp, they were emphasizing creating turnovers and trying to get our hands on the ball," said Bly, who had one interception of his own in the first quarter. "We were able to put together some good coverage. The defensive line was able to put some pressure on the quarterback and he was able to throw us the football. That's what we pride ourselves on, making big plays and we were able to get three which was huge."
If the first game of the preseason was any indication, the 49ers may have the makings of a very strong group of defensive backs. While Bly's interception halted the Broncos second drive of the night, Clements put an end to Denver's first scoring chance. Clements read quarterback Kyle Orton, cutting back and stepping in front tight end Daniel Graham. The two collided, but it was Clements who came away with the ball.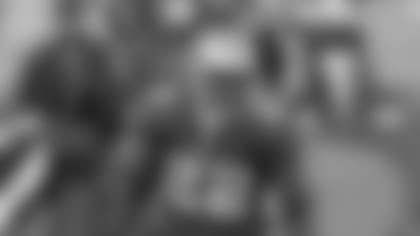 Bly has been a part of some excellent cornerback tandems throughout his career and sees no reason why the 49ers can't do the same this year.
"I had a chance to play opposite of Champ [Bailey] and Nate has had a good career also, going into his 9th year," Bly said. "He has played in Pro Bowls, made a lot of plays and I think just having a chance to come and add what I can add to the secondary, good things are going to happen. Nate has had a great career and hopefully we can both benefit from playing in this secondary."
The 49ers offense definitely appreciated the effort of the defense. Smith's first interception set the 49ers up just three yards away from the end zone. Quarterback Alex Smith wasted no time, capitalizing with a 3-yard touchdown pass to fullback Brit Miller.
"They definitely played well," running back Glen Coffee said. "We put them in a lot of situations and they came through for us. It's got to be the offense helping the defense and the defense helping the offense and they did a great job. "
Though the takeaways are impressive, the 49ers secondary knows that it has a long ways to go before the start of the regular season.
"For the most part, we still have a lot of work to do," Bly said. "We didn't play our best but at the end of the day, we still got a win. We're just trying to get back to it and get ready for next week. "