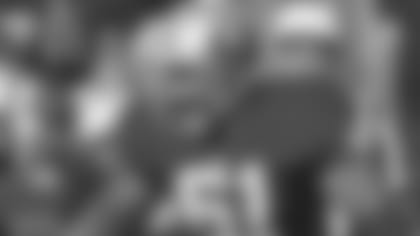 At every home game this season the 49ers will invite a former player to return to the field and serve as an Honorary Game Captain. This weekend, fans will get a chance to welcome back Jesse Sapolu prior to kickoff between the 49ers and the Cardinals. **
Jesse Sapolu will always be remembered as one of the true greats in the history of the San Francisco 49ers. He was known as a quiet gentleman off the field, but on the field with the 49ers from 1983-97, he was an iron man.
But Sapolu wasn't always the strong athlete that he portrayed on the football field. He spent much of his youth in hospitals and kept a heart condition secret for years. Banned from playing sports by his doctors at a young age, Sapolu persisted to chase his dream and eventually became a professional football player.
"When I played," Sapolu said, "the biggest thing we had was the belief inside our heads that we would be able to overcome anything."
He was able to do that and pursued his dream of playing professional football, excelling in his sport with four Super Bowl rings, two Pro Bowl invitations, a pair of All-Pro selections and 12 NFC West Division titles.
A product of the University of Hawaii, this 6-foot-4, 278-pound center/guard was originally selected by the Oakland Invaders in the 17th round of the 1983 USFL Draft, but chose to sign with the 49ers after being chosen in the 11th round of the NFL Draft the same year.
Once he arrived in San Francisco, he didn't leave for another decade-and-a-half until retiring after the 1997 season. During his tenure with the 49ers, he served as the rock of the offensive line that protected both Joe Montana and Steve Young through four Super Bowl triumphs.
But in late 1996, Sapolu's heart condition took a turn for the worse and he faced another huge challenge. His doctors recommended he choose one of two options: undergo a relatively new surgery called the Ross procedure or retire. Not one to ever quit, Sapolu chose to have the procedure.
The following fall, Sapolu returned to the 49ers once again to become the first active player in NFL history to undergo open-heart surgery and return from such a procedure to play successfully.
Sapolu managed to stay with the club for one more season in 1997 before retiring but remains active with the 49ers as one of the team's Alumni Coordinators.
A while back, I had the opportunity to talk to Jesse and a couple of the stories he told me about two of his more famous teammates stood out.
Here's a little bit of what he had to say about one of those two quarterbacks he protected for so many years.
I remember Philadelphia had a great defensive line with Jerome Brown and Reggie White in his prime along with Clyde Simmons. We had two offensive linemen go down the game before. We went to play the Eagles with two new offensive linemen and Joe (Montana) was just getting killed. He got sacked four times in the first half but was also hit 12 more times, which is just as bad as getting sacked.
We recovered in the second half by playing better and scoring 24 points in the fourth quarter to beat the Eagles. The next day our offensive line coach apologized to Joe, but when we broke up into group meetings Joe came into our meeting and humbly said, "There are games when I make mistakes and I appreciate you guys putting your efforts on the line for me."
He had another great story about Deion Sanders and the time he stood up against him when his future teammate went a little too far.
I remember the first time I saw Deion. We were playing at Atlanta and as we began to warm up, all of a sudden I saw Deion running over to our side of the field to shake hands with everyone. I couldn't believe it!
Then later on during the game, Joe had to scramble and was forced out of bounds. Deion put a late hit on him and I went and put a late hit on Deion just to let him know that he may be "Prime Time," but he's not supposed to touch my quarterback when he's out of bounds.
Later, when I became his teammate, he was one of the best teammates I ever had. He's very humble and a great leader in the locker room, but when those cameras go on, it's time for "Prime Time."
Sapolu was just the opposite as he battled in the trenches and was an unsung hero for so many great 49ers teams. A little bit of the spotlight today is well-deserved.