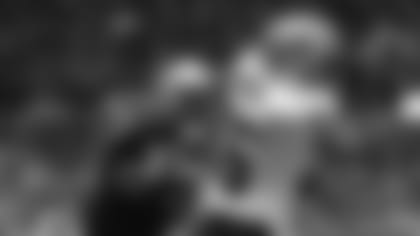 Things didn't go the 49ers way defensively with the secondary allowing explosive pass plays.
The 49ers were all over Reggie Bush like white on rice but turns out it was the other running back they needed to worry about in Sunday's 31-17 loss to the Saints.
Entering the game, Bush was the Saints' leading rusher and receiver, but the 49ers allowed him only 38 yards total on the day.
Coming off reconstructive knee surgery, Deuce McAllister had been used sparingly in the first three weeks. Not so on Sunday with 20 carries for 73 yards and a 10-yard third down conversion reception.
"You always have to account for the players they have and the playmakers and Deuce McAllister is a playmaker," said linebacker Manny Lawson. "Deuce is a hard-nosed running guy, has good vision, great speed and he's a heavyset guy. You've got to wrap up on him. When you watch film, of course you want to take out Drew Brees and Reggie Bush, but you can never forget about the other guys who can come in and help."
McAllister's stats weren't stunning, but he provided New Orleans 28th ranked rushing offense with some much needed credibility, and eventually led to huge gains in the passing attack.
"We anticipated (McAllister) playing," said head coach Mike Nolan. "He did a good job, but the
things that hurt us the most were the explosive plays we gave up."
On the first Saints series, linebackers Takeo Spikes and Joe Staley were both sent on delayed blitzes to force two Drew Brees' incompletions. The front four created pressure on the second series as well with Spikes notching an interception.
"Early on I felt like we had the momentum," said cornerback Nate Clements. "We were executing and getting off the field, but we didn't sustain that throughout the course of the game."
As the game wore on, the pressure dried up, and Brees and the Saints explosive passing attack proved lethal, even without playmakers Jeremy Shockey or Marques Colston in the lineup.
Sure, the NFL's leading passer was going to get his yards, but a 49ers secondary that hadn't granted an opponent more than 200 passing yards nearly surrendered that much – 195 - in the first half alone. By game's end, Brees had racked up 363 passing yards, three touchdowns and a 116.7 QB Rating.
"He had a good game. You can't take anything away from him," said Clements. "He made the right throws, made the right reads. Defensively we didn't play up to the standards we know we are capable of. They outplayed us today. We had breakdowns, and they made us pay for it."
One of those breakdowns occurred when Clements and safety Mark Roman allowed Devery Henderson to get behind them for an 81-yard play in the fourth quarter. Safety Michael Lewis bailed them out on that one with a forced fumble at the goal line on a 4th and 1 play as the loose ball was recovered by linebacker Patrick Willis.
"I was just trying to make plays, and trying to give us a chance," said Lewis who also had a couple of pass breakups on the day. "But as a secondary, we gave up too many plays that we would like to have back. That's disappointing because we pride ourselves on being the best secondary in the league. It was just one of those days where things weren't going right."
That couldn't have been more evident than on a flea-flicker play in the third quarter that initially appeared not to stand a chance for anything but a 49ers defensive steal. Although Lewis had blanketed coverage, Robert Meachem managed to haul in the grab for a 52-yard reception that eventually led to a 1-yard touchdown run by McAllister and an early 28-9 fourth quarter cushion.
"As a DB you are always taught to attack the ball. I made a mistake," said Lewis. "I should have attacked the ball. I was waiting for the ball to come down. That play right there, it was a tough play for me because I read the play, everything was perfect besides the interception, and they end up catching the ball."
Brees hit nine different targets throughout the course of the game, although he fed the most of his throws to receiver Lance Moore, who finished with 7 receptions for 101 yard and two touchdowns. His second, a 33-yarder padded the Saints with a 14-3 lead with three minutes to go in the first half.
Another long 47-yard touchdown ball to Meachem extended the Saints cushion to 21-6 at the half.
The 49ers had initially taken a field goal lead on their opening drive of the game with a 47-yard Joe Nedney field goal, but field goals were all they could muster on their first three scoring possessions.
"It's frustrating any time you kick a field goal. It's our job to score points – touchdowns," said J.T. O'Sullivan. "Any time you kick a field goal, you are going to be upset, especially when three in a row you don't score touchdowns. We moved the ball, but we didn't score touchdowns early."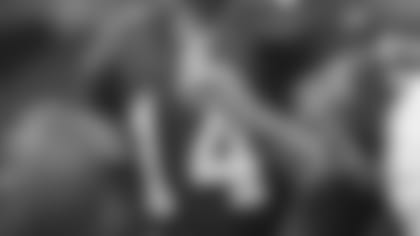 JT O'Sullivan didn't have a strong day either; he was picked off twice in the end zone.
Frustration morphed to futility with O'Sullivan throwing interceptions in the end zone on back to back drives in the second half.
"Obviously you can't turn the ball over," said O'Sullivan. "You can't throw redzone interceptions. It starts with that."
It took until just over four minutes in the game before the 49ers finally reached the end zone on a 5-yard throw from O'Sullivan to Isaac Bruce.
Arnaz Battle, who led the 49ers receiving efforts with 7 balls for 120 yards was interfered with on the touchdown drive, earning 43 yards on the penalty assessment. He also caught a 36-yard strike from O'Sullivan at the 5.
Forced into playing catch up, 49ers Frank Gore finished with only 16 carries for 82 yards and a 5.1 average. He also picked up the two-point conversion on a shovel pass after Bruce's TD reception, but the 49ers still trailed 28-17. Their on-side kick attempt was recovered by New Orleans and led to a 31-yard Martin Gramatica field goal to close out the victory for the Saints.
O'Sullivan completed 18 of 36 passes for 257 yards, two interceptions, one touchdown and a 59.6 QB Rating. He was also sacked six times, and fumbled once at his own 32-yardline. That turnover led to New Orleans first score of the game.
"Obviously, he didn't play well either," said Nolan of his quarterback. "But no one in my opinion played well today. You can dissect it any way you want. Whatever you want to put out there, go ahead because we didn't play well. It's pretty simple. So spread it out, everybody should have
different story on this one."
End of story, the 49ers lost and are back to .500 with a 2-2 record.
Game Notes: LB Manny Lawson left the game with a hamstring injury. Joe Nedney was 3 of 3 on field goals of 47, 49 and 38 yards. LB Takeo Spikes started in place of Jeff Ulbrich.