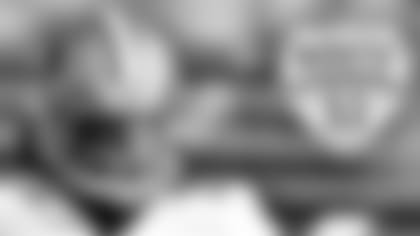 For every Joe Staley, Vernon Davis or Frank Gore, there are dozens of unknown players fighting to make the final cut of 53 players by Week 1. Throughout training camp, 49ers.com will spotlight some of the young players in the locker room and their journeys toward the final 53. Here's the story of defensive lineman Ian Williams, a Notre Dame standout who went undrafted after an injury cut short his college career.**Before Ian Williams could even utter a word, Demarcus Dobbs had to butt into the conversation.
"Oh, you want to talk to 'Big Time?'" Dobbs said.
Williams may be a big kid, listed at 6-foot-1-inch, 305 pounds, but it's clear he doesn't have a big head. While Dobbs insisted Williams be addressed as 'Big Time' or 'Big Ticket,' Williams just shook his head and laughed.
"I'm just blessed to have the opportunities I've had," Williams said. "I'm just looking forward to following the footsteps of great 49er players."
He spent four seasons in South Bend, wearing the iconic gold helmets and blue threads of Notre Dame, and now he's joined the 49ers, another organization with an illustrious history. That's not to say the 21-year-old nose tackle has it made.
Whereas the lockers for the 49ers seasoned pros are built into the wall of the locker room, players trying to make the team – undrafted rookies like Williams and Dobbs – are still using temporary black cages to house their gear. As the schedule creeps towards the Sept. 11 season opener against Seattle, the black cages will be disappearing along with roster cuts down to the final 53.
"Going against the 1s and 2s, I'm getting better every day," Williams said. "(Adam) Snyder, Chilo (Rachal), (Mike) Iupati – those guys are getting me better. The little things you can get away with in college, you can't get away against those guys."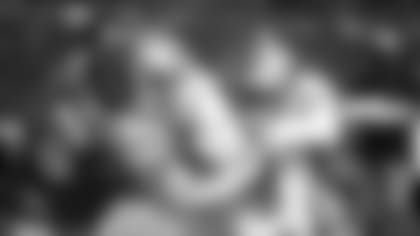 Unfortunately for Williams, he'll never be able to share this experience with one of the most influential figures in his life. If it weren't for Jeff Wenstrom, who knows where Williams would be?
Wenstrom, Williams' defensive line coach at Lyman High School in Longwood, Fla., was known for his warm personality and selfless attitude. But Wenstrom's life was cut short in September 2009 after a battle with cancer.
"He was real instrumental in developing me and making me grow up faster than I wanted to," Williams said.
From the time he graduated to high school to Wenstrom's untimely death, Williams said he kept in regular contact with his old coach and good friend. By a stroke of fate, Williams wasn't able to attend Wenstrom's funeral, as it fell on the same day as a Notre Dame-Michigan matchup.
"It was tough not to be there and support the family and everything like that," Williams said. "And we also lost that game, too. It was a tough weekend for me."
By his senior year, Williams established himself as the cornerstone of Notre Dame's defensive front, but his final season was cut short after eight games due to a medial collateral ligament injury. In the meantime, Williams kept grinding away, working out and staying in shape in Florida.
Since the collective bargaining agreement was signed and the NFL got back on track, life's been a whirlwind for Williams.
"I still haven't really been to the Bay Area," Williams said. "I flew into the San Jose Airport and came straight here. I haven't seen anything else."
But before he jumped on that San Jose-bound flight, Williams put in a phone call to some guy named Bryant Young. Perhaps you've heard of him. Young, who played all 14 of his NFL seasons for the 49ers, was an All-American for Notre Dame and coached there in 2009.
"I told him I was coming here and he just told me, 'Go out there and ball out every day. Do what you need to do,'" Williams said. "If I could be half as good as he was, I'd be happy with that."
Nowadays, Williams is learning the NFL ropes from 49ers d-line coach Jim Tomsula, known for his energy and hands-on approach. Tomsula is one of four coaches to be retained by Jim Harbaugh from last year's staff, and Williams has already noticed he's a player's coach.
"It's great to have a coach like him to teach you," Williams said. "At meetings, he keeps everything interesting. Sometimes it's not all about football, he talks life to us. Not only does he care about us as football players, but he cares about us off the field."
Coupled with a bevy of welcoming veterans in the locker room, Williams said the transition to the pro game has been as smooth as possible. In his short time with the 49ers, Williams has also caught the eye of defensive coordinator Vic Fangio, who enters his 25th season as an NFL coach.
"At this point, an undrafted rookie you can almost put in three phases: No.1, this guy's got no chance, No. 2, this guy's got a chance or No. 3, we might have found something here," Fangio said. "He's got a chance."