Every morning this week, 49ers head strength and conditioning coach Duane Carlisle and his staff have given the 2009 rookie class a sense of what a full offseason week of training looks and feels like.
"The emphasis is for them to participate in a regular offseason program which includes a run and a lift every day," Carlisle said. "We want to establish a base of conditioning for these guys as we move forward going through this offseason."
The 49ers only have three more weeks left of their regular offseason program, and also have an additional week with the rookies again, once the veterans leave before the start of training camp.
"We want to establish a strength level and a conditioning base for these guys to get prepared for training camp," Carlisle added.
After taking Memorial day off, the rookies were introduced to what an offseason workout is all about at the 49ers training facility.
"On Tuesday the guys did what we call an aerobic power workout, which consisted of 21 sprints which had to be finished within 14 seconds, with 35 seconds of recovery in between sprints," Carlisle said of the rookies orientation into the offseason program. "Wednesday, we introduced them to the hill workout which they greatly appreciated and Thursday was focused on change of direction drills in the sandpit. On Friday, we'll re-introduce them to the hill workout."
According to Carlisle, the sand workouts will help the rookies enhance all the small intrinsic muscles of their feet, ankle, knee and hip joints as well as increase tendon strength.
"It's a really good tool for us to use and at the same time, they're getting an aerobic benefit from it, because we're manipulating their work to rest ratios," Carlisle said.
From the rookie's perspective, the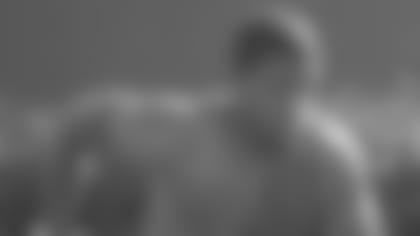 sandpit offers a chance for them to build up strength before the next OTA and minicamp sessions.
"I think most importantly, the sandpit helps you build your ankle strength and it really works all your muscles in your legs," running back Glen Coffee said. "It helps get your ankles ready for the grind of a football season."
The entire rookie class have already benefitted from the hard conditioning work they've done at the training facility, which Carlisle and his staff have noticed as well.
"When they got introduced to the conditioning circuit at our rookie minicamp, I was kind of holding my breath, in terms of wondering if they were going to make it through all the drills we set up for them," Carlisle said. "But once they got through that and saw what coach Singletary is going to demand from them, I think those guys went home for a couple of weeks and cranked up their conditioning on their own.
"As a result, this week has been great. It's nice to have these guys in here and see how they collectively work together and support one another. The guys are bonding through hard work."
Besides learning the ropes of the 49ers offseason conditioning program, the rookies have spent time getting familiarized with each other by bonding off the field at the team hotel.
In fact, the rookies took time after Tuesday's workout to have a bowling tournament at a local bowling alley. The winning team included linebacker Scott McKillop who bowled a score of 176, which was the highest total of the day.
"It's good to build chemistry on and off the field," Coffee said of the bowling excursion. "We compete in everything, so it was fun to go bowling yesterday with all the rookies."
By pushing each other to be the best they can be on the field and hanging out off the field building a common bond, the rookies have already shown they are listening closely to head coach Mike Singletary's vision for the 49ers: Become a collective unit.
"I think that's really what coach Singletary and our coaching staff have been preaching – to build that team unity," rookie cornerback Terrail Lambert said. "That's the quickest way to build and develop a winning program."