Dylan Thompson remembers the first time he met Busta Anderson. Then a member of the University of South Carolina scout-team during his redshirt year in 2010, Thompson was tasked with showing the 6-foot-5 high school tight end around campus on his recruiting visit.
The encounter was simple enough, but it marked the beginning of a friendship that spanned far beyond the football field. Anderson elected to sign with the Gamecocks over Tennessee, South Florida and Virginia, joining Thompson in Columbia.
The two forged a bond through a shared fight up head coach Steve Spurrier's depth chart in 2011.
For the redshirt freshman Thompson, a two-star quarterback recruit from Boiling Springs, S.C., it was a fight to earn the backup job behind then-starter Connor Shaw.
Anderson was a slightly higher regarded high school prospect, a three-star tight end recruit out of Powder Springs, Ga. Even so, Anderson found himself surrounded by a talented group of SEC-worthy skill players. Every snap of playing time had to be earned.
The more Thompson and Anderson worked together, the more they found they had in common. From family values to off-field interests, Thompson and Anderson became inseparable. So much so that they each became a part of the other's family.
"Yeah, that's my boy," Anderson said of Thompson. "He's a standup guy, someone who you can always go to with anything. He's a good guy and always does the right thing. If you need anything from him, he'll do whatever he can to help you out."
When asked to describe Anderson's personality, Thompson joked that his tight end, "could always be heard." Whether it was in team meetings, in the weight room or on the field after he made a play, Anderson had something to say.
"Those are the kind of guys you need going into games, guys that bring energy," said Thompson, putting the jokes aside. "Busta does a good job of that."
Their friendship off the field reached a pinnacle during the offseason before their final seasons at South Carolina.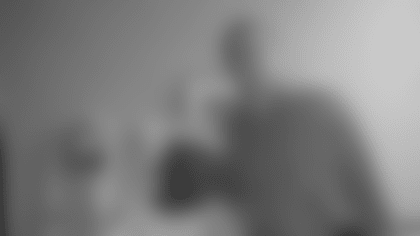 Anderson tore a triceps muscle during one of the Gamecocks spring practices, and Thompson followed up with a call to tell his friend that he was praying for him. The quarterback added that he'd be at the hospital when his tight end went in for surgery.
The phone call and well-wishes came as no surprise to Anderson, but he didn't put too much thought into Thompson showing up at the hospital. Not because Thompson wouldn't want to be there, but because of the 5:30 a.m. call time for surgery.
Sure enough, Thompson walked through the hospital doors just after 5:00 a.m. and joined Anderson's support team. Thompson was the only member of the Gamecocks football team to see the tight end before the doctors rolled him into the operation room.
"That's something that only he would do. He's just that kind of guy. He didn't have to wake up at five in the morning to meet me at the hospital," said Anderson, happy to have been surrounded by his entire family, biological and otherwise. "I consider Dylan family. He's like a brother."
Thompson shrugged off the idea that he went above and beyond for his friend.
"As you would with any close friend, you try to make sure you're there in the tough times, not just the good times," Thompson said. "I was trying to be a good friend for him and he's been the same for me."
Anderson made it back from the injury for the start of his senior season, but fought through various bumps and bruises over the ensuing four months. Still, Anderson started 10 games and set a career-high with 22 receptions for 260 receiving yards and one touchdown. The tight end's season ended prematurely after tearing his other triceps muscle in the Gamecocks regular season finale against Clemson.
Thompson saw far better fortune in 2014, finally getting his time to lead South Carolina following the graduation of Shaw. The senior quarterback set a school record with 3,492 yards of total offense and his 26 touchdown passes were the second-highest single-season total in South Carolina history.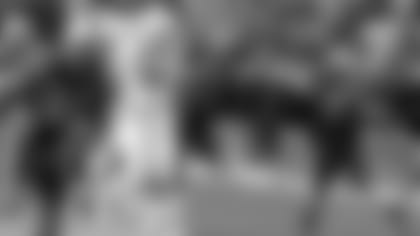 Thompson and Anderson both agreed that their top moment together on the field came this past season against Georgia. Ahead 14-13 at home against the Bulldogs in the second quarter, Anderson went up the left seam on a second-and-10 play from the Georgia 18-yard line. Anderson beat the linebacker in coverage and soared up to grab a perfect back-shoulder throw from Thompson. As he hauled in the pass, Anderson fell into the pad at the base of the goal post but was able to hang on for an acrobatic South Caroline touchdown. South Carolina won the game, 38-35, with Thompson throwing for 271 yards and three touchdowns and Anderson catching a team-high five passes for 67 yards.
Both players faced their fair share of challenges during the pre-draft process. Thompson's numbers didn't earn an invitation to the NFL Scouting Combine. And despite receiving an invitation himself, Anderson couldn't workout in Indianapolis due to the triceps injury.
"As a competitor, to be real, you think you're better than a lot of guys who got invited," Thompson said. "That's not the way some people saw it, and it just motivated me. I just had to use it as a stepping stone."
Anderson and Thompson never went long without touching base, swapping texts on a near-daily basis from their individual workouts all the way up to the 2015 NFL Draft. They spoke on the Thursday of the first round but not again until the end of the draft.
Thompson had already been in talks with the San Francisco 49ers and saw the Bay Area as an ideal landing spot whether or not he got drafted. When the 49ers took Anderson in the seventh round (254th overall), Thompson hesitated to reach out to his friend in fear of jinxing the possibility that they could become teammates once again.
With only a few draft selections remaining in the seventh and final round, Thompson began hoping his name wouldn't be called.
"I really didn't want to get drafted," Thompson said. "I wanted to be out there (in San Francisco) with Busta. That was huge."
Anderson wasn't the only familiar face in San Francisco who joined Thompson with the 49ers when the signal-caller ultimately signed as an undrafted free agent.
The 49ers used one of their three fourth-round picks on South Carolina running back Mike Davis. In 2014, San Francisco spent a fourth-round selection on Gamecocks receiver Bruce Ellington, someone Thompson has known since their AAU basketball days as 10-year olds.
Thompson said he spoke to all three within a 20-minute span after the draft concluded.
"First of all, to be on the same team again is one thing. To be on the same team 3,000 miles away from home is a whole different animal," Thompson said. "It's just hard work, and I'm proud of those guys. Being able to see those guys everyday is fun."
The growing South Carolina alumni contingent in San Francisco gives the trio of 49ers rookies a comfort level that a majority of first-year NFL players aren't afforded.
Nevertheless, Anderson and Thompson will now have to fight for their roster spots as professional football players just as they did four years ago at South Carolina.
"It's your individual job. If we weren't together, then we'd still be competing the same way," Thompson said.
Gamecocks fans can already start anticipating a 49ers preseason offensive series opening with Thompson under center, Davis lined up in the backfield, with Anderson and Ellington split wide.
"It's perfect," Anderson said.
Now that's a formation that South Carolina's "Head Ball Coach" can be proud of.