Running back Michael Robinson's knee was scoped on Monday afternoon to repair a meniscus tear.  Head coach Mike Nolan did not give a time table for Robinson's return.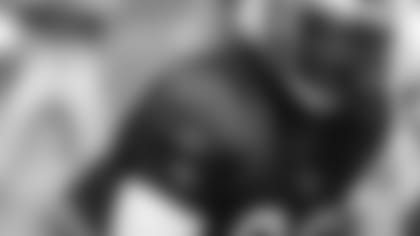 Robinson injured his knee during a team period in Sunday's morning practice.
Nose tackle Aubrayo Franklin came off the team's Physically Unable to Perform list and returned to practice Monday afternoon after missing the first few days of work due to a calf/Achilles injury.
"I thought I was going to get go this morning but they pushed me back till this afternoon," said Franklin. "I'm just taking it step by step and see what tomorrow brings. But, it felt good and it's good to get out there with the fellas and see how the off-season paid off. It was nice to get out there and get some snaps."
By coaching design, cornerback Walt Harris worked in the morning, but not in the afternoon. Going in reverse, wide receiver Arnaz Battle and tackle Jonas Jennings worked in the morning but not the afternoon.
T Damane Duckett (knee) and WR Ashley Lelie (calf) were held out of practice again on Monday after suffering injuries early in camp. Lelie had an MRI Monday morning on his calf, but Nolan did not have an update on those results.
"I don't imagine it will be more than what we think it is," said Nolan of Lelie. "It should be no more than a few days to a week."
Linebacker Parys Haralson snagged an interception off a tipped Shaun Hill pass to Vernon Davis. Haralson had two other tries for picks in the afternoon session, including an easy one on an Alex Smith misfire, but he let it slip away.  Even with the one pick only, Haralson stood out in the session with his disruptive play.
Wide receiver Jason Hill also sparkled in the afternoon practice, coming up with a pair of impressive catches during one-on-ones against the defensive backs. He laid out for a touchdown in the back of the end zone against Marcus Hudson, and then snagged a grab on a deep ball along the sidelines while matched up against Allen Rossum. Hill also came up with a few completions during the team work.
Safety Michael Lewis broke up a pass to Davis in the end zone, but Davis eventually got into the end zone in the same red zone session on a pass from Hill.  CB Donald Strickland also made a nifty move to knock down a pass during 7-on-7.