Every year 80 players are allowed to be on NFL rosters at the start of training camp and the goal for everyone is to earn their way onto the final 53.  Throughout camp, 49ers.com will highlight some of our newcomers and their Road to the Roster.  Here's the first installment of our Road to the Roster series with 49ers cornerback Terrail Lambert.
Throughout his football career, Terrail Lambert has always been the type of player who wants to make a game-changing play.
In 2006, while playing cornerback for the University of Notre Dame, an opportunity came for the 49ers undrafted free agent cornerback to do just that.
While trailing Michigan State 37-33 with three minutes remaining in the game, an errant pass sailed over the middle of the field and into the Lambert's arms. He not only tracked the ball down, he returned it for a touchdown to give his Fighting Irish the lead.  On the ensuing drive Lambert repeated his heroics, intercepting a second pass of the game, helping the Irish seal the victory.
Three years later, he finds himself again looking to make the type of plays that will help him stand out as he shows the 49ers coaching staff that he can be a valuable contributor to the team this upcoming season.
The 5-11, 195-pound undrafted rookie cornerback is fighting for a spot on the 49ers roster and he'll more than likely need a couple of big plays in camp  in order for coaches to award him a roster spot.
One thing that Lambert has repeatedly done is take his training camp experience in perspective and not let the looming pressure of the moment prevent him from rising to the occasion.
"I've always took it one game at a time, one season at a time.  Over a long period, it turned into one level at a time," Lambert said after a recent training camp workout.  "It's the same process as you move up from Pop Warner to high school, from high school to college, from college to the NFL."
For all the modesty he has when speaking of his rise to the most elite level of football in the world, there is no lack of confidence on whether or not he belongs in the league.
"I believed that I could get here," he said. "I believe that I belong here and that I have what it takes to be successful here."
Out of the tools that make him confident, Lambert's quickness is probably what stands out the most.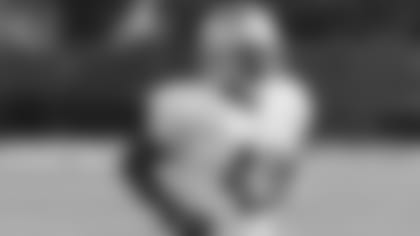 Although he did not attend the NFL's Scouting Combine, Lambert certainly capitalized on the opportunity to make teams pay attention to him by posting a couple of 4.3 40-yard dash times at his pro day.
Despite going on undrafted, Lambert was signed by the 49ers in after the draft.  If Lambert is to be on the 53-man roster come the regular season, he cannot solely rely on his speed. Because according to him, it's not even his best attribute.
"They saw that I could run.  I'm tough.  But, most importantly, I'm a coachable kid," he explained. "It's something I'm used to.  I've had three different defensive coordinators in my college career.  I can adapt to change easily."
Lambert also has the luxury of being on a team that has a wealth of knowledge and playing experience at the cornerback position.  He is not shy about using that to his advantage either.
"I often find myself following them around, being a sponge to whatever words they have to offer. I'll listen to whatever they say that I can grasp, put in my piggy bank and add it to my own repertoire. I'm just trying to learn as much as possible."
In all of the strife to make an impression and stand out at camp, it is not lost that his position is one very few ever get to be in.
"It's a blessing.  There are a million people in this world who would kill to be in the position that I am in," Lambert said. "I am grateful for the opportunity that I have in front of me."
Those humble words are no more revealing to anyone who has come to know Lambert.
He has always considered himself a family-oriented person.  In fact, the play that sticks with him the most from his days at Notre Dame did not happen in the 2006 Michigan State game.  It occurred later in the same season when UCLA visited the Irish.
In the opening quarter, Lambert played a deep sideline throw perfectly by jumping in front of his receiver and coming down with the ball for the interception.  As the home crowd erupted, Lambert looked into the stands, about four or five rows up, and saw his mother jumping up and down cheering.  For Lambert, having his mother see him make such a important play in a big game, it stuck with him and makes that memory stand out above all of the rest.
Lambert does not hold back when sharing that his mother being there is what made that moment so special to him.
The perspective that Lambert has on life is definitely unique.  His outlook could have possibly began with his respect and admiration of poetry.
"I'm an avid person of poetry. I write my own poetry and read it online," Lambert revealed. "If I can get to an open mic, I'll get to it.  I've been to one in my life and I'm itching to get to another one.  I like hearing people's different perspective in the form of words."
Lambert went so far as to say he would not put himself too far from the idea of turning poetry into a professional endeavor. However he hinted that his priorities are going to remain on a much more focused opportunity of the present: proving to the 49ers coaching staff that he can make game-changing plays on Sundays.