Every year 80 players are allowed to be on NFL rosters at the start of training camp and the goal for everyone is to earn their way onto the final 53.  Throughout camp, 49ers.com will highlight some of those players fighting for a roster spot in their Road to the Roster.  Here's the fourth installment of our Road to the Roster series with 49ers tight end Joe Jon Finley.
Second-year tight end Joe John Finley has grown a great deal as a player since signing with the 49ers as an undrafted free agent out of Oklahoma in 2008. Life for a UFA is a difficult one as priority is often given to the players who garnered a team's draft selection.
While he may not have landed a spot on the 53-man roster last season, Finley secured his spot on the practice squad and has taken advantage of the opportunity.
"I'm twice the player I was in college," Finley said. "I was on the practice squad last year, so I'm working against the number one defense every single day. I took that as an opportunity to get better."
Life of the practice squad comes with some inherent uncertainty. Any team can pluck a player of another team's practice squad so long as he is placed on the active roster.
"I didn't think about it at all," Finley said about the possibility of having to change teams. "I just took it one day at a time. I just came out here and did the best I could every single day because that's all that I could do. If you start thinking about all that other stuff, then you're not a happy person. I'm a happy guy, so I just come in, do my work, and try to enjoy it as much as I can."
Doing just that, Finley gave the starters the best look possible when playing on the scout team. While his direct duty may have been to emulate opposing tight ends like Jason Witten or Chris Cooley, Finley looked at it as an opportunity to get not just his teammates, but himself better.
In fact, several teammates have noticed that Finley may be one of the most improved players from this past year.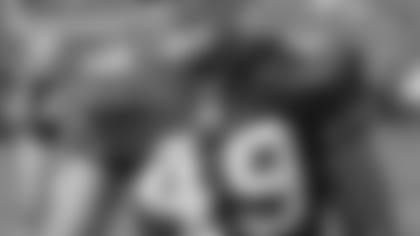 "That means a lot to me," Finley said about the compliments from his peers. "It just reassures you of the hard work that you've been putting in. People can tell and it's not just the players. It's the coaches too. I owe that to those same people who notice it."
Those within the organization are now noticing, though just 16 months ago, all 32 teams passed on the opportunity to draft Finley. The 6-6, 251 pound native of Brownwood, Texas admitted that it was a deflating time for him as he didn't have many offers even after the draft. Finley chose the 49ers over the Dallas Cowboys who already had six tight ends in camp at the time.
Once arriving at team headquarters in Santa Clara, Finley thought not just about getting a job in the NFL, but how to keep it. The plan: make yourself as valuable as possible by doing as many things as possible.
"I'm able to split out and play wide receiver, line up at the tight end spot and also do a little bit at fullback," Finley said. "In this business the motto is; 'the more you can do, the better.' I take a lot of pride in my special teams work too. On the practice squad last year I ran down on every single "look" team kickoff. You get better when you do that. You can't help but get better if you come out here and go 100 percent."
While that all-out mentality may not come easily to most, it comes naturally to Finley. As it turns out, a lot of things come naturally to him.
"I actually played quarterback my whole life except my sophomore year of high school when I played quarterback, tight end, receiver, defensive end, safety and punter. I knew every position on the field. I got recruited at quarterback to a couple of schools, but I just thought that tight end was the best fit for me. I also threw the discus. In my hometown, you play every sport. It's a little town so you go from football, to basketball, to track and baseball at the same time. You run a track meet on Saturday, then go to your baseball game Saturday night. It's just how it was when we were growing up."
It would appear things haven't changed that much as that same versatility will be critical to Finley's campaign to make the 49ers roster this season.
"I think I've just got to be a complete player," Finley said. "Coming out of college, a lot of people had questions about my blocking. I've obviously got to prove to the coaches that I can get that done. I think I've come a long way from last year. If I can continue to improve every single day, I think I'll have a good chance. If I did make it, it would mean the world to me. It's been a lifelong dream."
Reaching that goal will be all the more meaningful for Finley, who says he's constantly motivated every day by his family. His dad is the head football coach at his high school, Arlington HS, his mother is the "Best school teacher in the world" and his brother Clint, a former safety with the Chiefs, is his role model.
"Every time I start to think that this is hard, I think about my family," Finley said. "My dad, my brother, and my mom all work hard. They enjoy watching me play. I just want to be able to play, to make them proud."
Finley also hopes that he can make the newest member of the Finley family proud as well, his new nephew Beau Dane.
"Look out for him in about 18 years," Finley said about the future football star.
If he's anything like his uncle, Beau Dane will soon discover that there's just about no sport or position on the field, he can't play.