It's been a foregone conclusion way before he retired from professional football – Jerry Rice's No. 80 would never be worn on gameday by a member of the San Francisco 49ers. It deserved to be retired in the ring of honor with the franchise's all-time greats.
And that's exactly what happened Monday night.
Rice's jersey retirement ceremony took place at halftime of the 49ers 25-22 loss to the visiting New Orleans Saints. But despite the outcome on the field, the ceremony was a fitting celebration for the NFL's all-time leader in receiving yards, catches and touchdowns.
You can go even further back to Rice's final home game at Candlestick Park on Dec. 17, 2000, as proof that this day was coming.
Rice was carried off the field by his teammates that day and eventually gave a speech to the 49ers Faithful before heading off to the locker room. It was just a minor preview of what happened Monday.
Once Rice was inducted into the Pro Football Hall of Fame this past summer, it cleared the way for his uniform number to officially be off limits for good. And on Monday night, in front of a sold-out crowd with plenty of his throwback jerseys worn in respect, the Faithful saw Rice get the final tribute he deserved.
He received his Hall of Fame ring before kick-off, his jersey was retired at halftime and he was publically inducted into the Edward J. DeBartolo Sr. San Francisco 49ers Hall of Fame.
But even after receiving his Hall of Fame ring, Rice ran on the field one last time as if he were about to play.
"All I have to say is I'm Baaaaaaack!" Rice later joked in the opening line of his halftime speech.
He went on to thank 49ers president and CEO Jed York for creating a Hall of Fame to honor the franchise's all-time greats, as well as York's uncle, the inaugural inductee.
"I'm the second guy inducted behind the greatest owner, Eddie DeBartolo," Rice boasted. "I want to thank you Eddie for bringing me to San Francisco so I could play for the greatest fans in the world.
"I would also like to thank my teammates for coming. I am so appreciative for what you guys did for me. The battles, the wins, the Super Bowls, thank you so much for that and I love all of you guys."
The halftime festivities included the public unveiling of Rice's 49ers Hall of Fame plaque, as well as a video tribute of Rice's remarkable highlights. Teammates and coaches flanked Rice on a nearby stage to take in the ceremony and fans behind the visiting sideline participated by holding up a card mural of Rice's home jersey.
Some of the comments made by Rice's peers were included in the highlight package as well as at the 49ers Hall of Fame induction party Saturday night at the Palace Hotel in San Francisco.
Rice's family, friends, former teammates and coaches were the first to see him officially inducted into the 49ers Hall of Fame. He was given a commemorative plaque for his induction as well as a red 49ers blazer complete with the Edward J. DeBartolo Sr. crest on the left chest pocket. Rice received the jacket from DeBartolo Jr., the same man who handed him his gold jacket in Canton at the Pro Football Hall of Fame.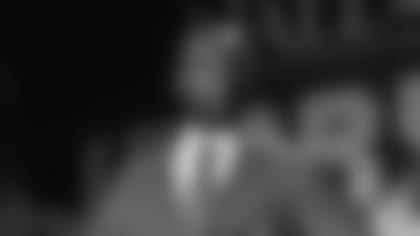 Rice was also treated to a couple of speeches from guest speakers from his past including one from his former coach George Seifert, followed up by a few memorable light-hearted stories told from teammates Jamie Williams and Steve Young.
All three addressed Rice's pension for perfection, which enabled him to be the most productive wide receiver in league history.
"When you think of Jerry, he was supreme. He did things nobody was able to do ever or ever will do."
The whole weekend was a positive experience for Rice, who spent 20 seasons playing for three NFL franchises, 16 of which were spent with the 49ers. For him, it represented a proper ending to a story-book career.
"I'm honored, when your jersey is retired, it's not an individual thing. That's why I thanked my teammates and the fans for giving me the inspiration to come out here and play my best football.
"This really brings closure to everything. This is where I started; this is where it's going to end."