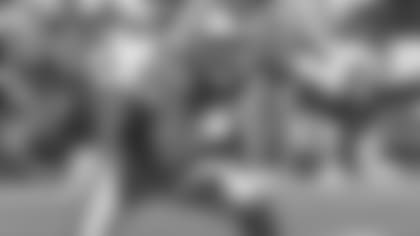 With Jerry Rice being inducted into the Pro Football Hall of Fame next week, 49ers.com asked several current 49ers about the legendary wide receiver. Here is what they had to say about Rice's induction into the Hall of Fame.Head Coach Mike Singletary:**
What was it like to play against Jerry? It was a headache. I would think that's the best way to try to describe it. He was just the guy that you knew what you were going to get. He was consistent from the start of his career until the very end – a perfectionist. He wasn't a blazer, but extremely consistent and extremely detailed in his routes. When you find a guy that's as dedicated as he was, that's just really tough to handle.
LB Joe StaleyI heard of Jerry Rice growing up, but I didn't understand who he was until I got older. I've met him a couple of times now and have hung out with him. He's a phenomenal guy and a heck of a player, as we all know. It's an honor to be playing for the same team he played for. Hopefully someday I can walk in those shoes too at the Hall of Fame, but that's a long time from now.
RB Frank GoreI've talked to Jerry a whole lot. The year I hurt my finger and couldn't practice in camp, that's the most I ever talked to him. We were just talking about if you want to be the best, how you have to train and how much you have to stay in the playbook. When I'm not practicing, make it like I'm practicing by watching. I took in a lot from it.
WR Josh Morgan
Jerry is the Michael Jordan of football to me, he means everything. He is everything I want to be on the field. He is the reason I started playing the wide receiver position – I could see how much fun he had while being so dominant. Every game it was like he played for someone in the stands who had never seen him play before because he always gave it his all and he always made spectacular plays. He has left such an impression on football and he changed the game for wide receivers.
LB Takeo Spikes
I just know his work ethic was second to none. Even though he was blessed with the talents and the gifts he had, he still went out there and worked harder than the next man as if he wasn't blessed with those talents. I played against Jerry twice in my career. I caught him near the end of his career, and he was still great. You don't think about the fact that you're playing against a future Hall of Famer, but you respect him.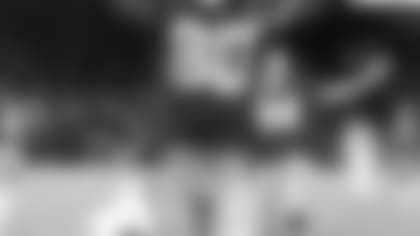 CB Shawntae Spencer**
He is one of the greatest players to ever play the game at any position, and my first NFL snap came against Jerry Rice. It was a preseason game and he was playing for the Raiders. Oh man, my knees were shaking. I knew I was matched up against the greatest receiver to play the game. He did a double move and he had me, but they overthrew him. I will always, always remember that.
WR Jason Hill
He was the best, that's pretty much all you need to say about it. He did everything in his power to be the best and it showed on the field. You hear tons of stories about his work ethic, and obviously it paid off. When you watch film of him you see some of the stuff he did, and you can't do it. Nobody can. Sometimes you just have to sit back and enjoy. I've had the opportunity to meet him a couple times and I even went out to dinner with him once. That was amazing. The fact that I'm playing for the same team he did is still a dream.
TE Vernon DavisJerry Rice is one of the hardest working people I have ever met in my life. What else can you say about the guy? He was the best ever – perfect routes, great hands, and even though he wasn't the fastest guy, nobody was ever able to catch him. I don't know how he did some of the things he did, but they were amazing. He definitely deserves to be in the Hall of Fame. All I can do is tip my hat to him.
WR Ted Ginn Jr.
Growing up in the Midwest I didn't get to see a lot of his games, but I knew all about him when I was a kid. I know everything that he has done in this league and I know he is a great man. He is somebody you want to strive to be like. I feel honored to be able to play on the same fields here in San Francisco where he made himself a legend. His career stats are pretty ridiculous, but when you work hard like he did great things will come to you. Jerry went out and put the work in and that's why he became an all-time great receiver.