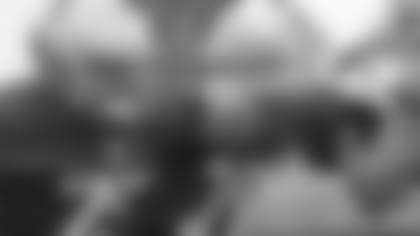 Tackle Alex Boone signed with the San Francisco 49ers as an undrafted free agent after having a very successful collegiate career at Ohio State. TV 49 caught up with him during the recent rookie minicamp. Here's the Q&A from that interview.**
Q: How did the rookie minicamp go for you?
A: Well they said it wasn't going to rain out here and it rained both days so I'm a little skeptical about what's going to happen. Other than that it's been really fun.
Q: What were you able to accomplish and focus on during camp?
A: Just learning the plays, getting them down, learning the system and readjusting to the speed of the game. It's been good.
Q: When you came out here, you probably didn't think you would be doing circuit training. How did that go for you?
A: Terrible, absolutely. (Laughs) That's why I need my hand right here (against the locker) to post me up. It's alright though.
Q: What will you be doing between minicamp and the start of organized team activities (OTAs)?
A: Running, every single minute of every day.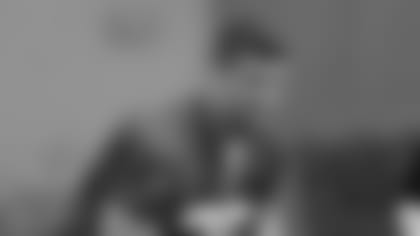 Q: What was the best part about playing football at Ohio State?**
A: The best part about playing was just the guys and the camaraderie and I see that here with this team. I'm excited to get to know these guys and I'm looking forward to it.
Q: Coming from the Big-10, I know you went up against some good competition. Who was the best player you matched up against?
A: I would have to say that Brian Orakpo would be one (of them). Matt Shaughnessy would be another one. Obviously (Aaron) Maybin was good. There was a whole bunch of them. Every game I played there was somebody good – Alec Magee. Guys like that are good to go.
Q: What was your favorite game that you played in at Ohio State?
A: Any Michigan game was probably my favorite.
Q: Do you have any memories that stand out from those games?
A: The fact that we beat them every year, that's about it. I have a short-term memory so I'm thinking quick.
Q: What type of music do you like to listen to?
A: Anything with a beat other than jazz. I don't listen to jazz or classical. Anything from George Strait to Weezy (Lil Wayne).
Q: If you could go to any concert, what concert would you go to?
A: Dave Matthews, so bad. I want to go back. It was amazing.
Q: Which NFL player did you look up to when you were younger?
A: There was a lot of them and Tony Boselli was one. I've always wanted to meet him. When I got a little bit older it was Jon Runyan. I always wanted to watch him and Orlando Pace, Jonathan Ogden and Flozell Adams.
Q: Who would you compare your style to?
A: I'd say you take all of those guys I just mentioned and wrap them into one, add more of a mean streak and you got me.
Q: Now that you'll be out in California, what's one thing you want to do or see?
A: I want to see the ocean. I want to go and check it out because I've never really seen it. Everyone says San Francisco is such a nice place and so homey so I want to drive around and get a feel for it.