INDIANAPOLIS – Blaine Gabbert is not the next Mel Kiper. The next great quarterback? That's possible. But it's up to the Missouri product to prove to NFL teams that he's one of the next elite signal callers and worthy of a high draft selection.
In speaking to the media at the combine, the second-most efficient passer in Missouri school history estimated 10 of the top 15 teams drafting have needs at quarterback. That's exactly why the underclassman put his finance degree on hold to enter the 2011 NFL Draft.
By many accounts, Gabbert is the top quarterback prospect available. He won 18 games in two years starting in the Big-12 and threw for 3,186 yards and 16 touchdowns in 2010. But there are many other quarterbacks to keep an eye on besides Gabbert. And many of those quarterbacks addressed the media on Friday as well.
Andy Dalton (TCU), Jake Locker (Washington), Ricky Stanzi (Iowa) were just a few of the top prospects to field questions from reporters. National Championship-winning Auburn quarterback Cam Newton didn't make it to the media room, but is scheduled to speak on Saturday.
Not surprising, the quarterbacks on hand all spoke confidently of their abilities and hit on many common themes, mainly their unbridled love for the game.
"The best thing about me is that I love the game of football," Gabbert said. "It's been my goal to only do football."
"I feel like I'm a smart quarterback," Dalton said. "I work really hard. I'm a perfectionist. I think I can make all the throws and I've shown that."
"The best way to treat this is to make everything very important to you," Stanzi said.
Perhaps Locker, the athletic Washington quarterback who turned his program from a 0-10 team to Holiday Bowl winners said it best.
"I love the game of football," he told the media. "I'd watch football with my dad since I was really little. It's something that's always been a part of my life. I'm very passionate about it. It means a lot to me and I'm going to do everything I can to be successful."
In hearing some of Locker's other comments, maybe Gabbert isn't the only one keen to draft prognostication.
"I believe it's a really good year to be a quarterback," Locker said. "You look at the draft and there's a good number of teams looking for quarterbacks to draft or pick up in some way. I think it's a good year to come out, showcase what you can do and bring to an organization."
At this point in the draft process, the players are all well-versed in what they need to do get better. Many of them are coming from spread offenses, which means they've spent an exorbitant amount of time working from under center in recent weeks.
Becoming a pro-style quarterback shouldn't be too difficult according to Gabbert, who cited Joe Flacco, Sam Bradford, Colt McCoy and Tim Tebow as spread quarterbacks who've performed well in the early stages of their pro careers.
"If you're good, you're good. You can play wherever," he said.
But Stanzi, who spent the majority of his college career under center with the Hawkeyes, sees his experience as a definite advantage.
"The responsibility was on the quarterback's shoulders," he said. "It's definitely an advantage with the terminology and being able to draw the Xs and Os the way the coaches are asking you and being able to speak their language."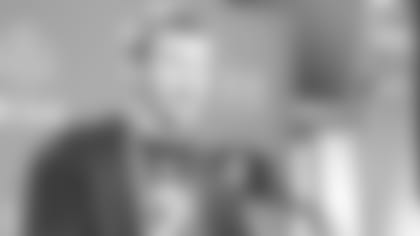 Dalton, on the other hand, said he knows he has to get better from under center. However, he noted that he's been put through every situation imaginable as a four-year college starter.
"Hopefully teams will see that I played in a lot of games and I won a lot of them," the 2010 Mountain West Player of the Year said. "The thing I need to work on most is being under center a little bit more… I think I can get better at that."
Locker too has work to do in the pocket and admitted as much.
"It's no secret with anybody, moving in the pocket and throwing in the pocket is what I'm working on and will continue to work on," the quarterback who never completed more than 58-percent of his passes in a single season at Washington said.
Between now until April's draft, each quarterback knows what they have to do to improve their status. But for now, they're focused on performing to their highest ability in Indianapolis and representing themselves the best way possible when meeting with teams.
"I think you can definitely help yourself," Stanzi said. "It's important take every part of this process seriously. The interviews are very important, almost as important or more important than when you run or throw."
"I want to show them that I understand the game of football and that I'm going to do whatever it takes to win ball games, to be a winner and to push myself to be the best I can be," Dalton said. "That's all I can do. If I can be the best that I can be, that should be good enough for them."
"You showcase what you can do but you open yourself up to criticism, that's part of this process," Locker said. "You're playing under a microscope and it's going to be the same whatever city you end up in. expectations are going to be high and you have to find a way to keep yourself grounded."
The scrutiny comes with the territory. Locker and every other quarterback knows it and has accepted it.
"To be a part of the process that I enjoyed watching so much as a kid is a great opportunity, one that I'm not trying to let slip through my hands," he said. "It's something I'm trying to have fun with. There's a lot of people who'd like to be in this position, so I don't want to dread it or make it seem like I have to do. It's something I get to do. It's a privilege and I'm really excited about it."