Quarterback Shaun Hill rang in the New Year with a fractured back, a shattered index finger on his throwing hand and some seriously bruised ribs, but he had no complaints, other than the fact that he didn't get a chance to abuse his body a little more.
"We obviously ended the season feeling as if we underachieved as a team and I know I was upset we didn't get to keep playing, but on a personal level, it was awfully nice to finally get in and get to lead this team," said Hill. "I just wished I could have finished out the year as the starter."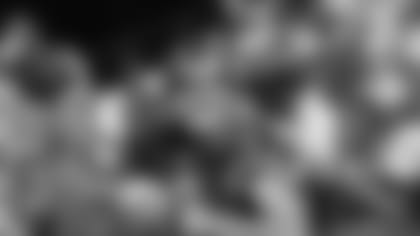 A few days after season's end, team doctors patched up Hill's finger, taking a bone from his left wrist to reconfigure the tip of his finger.
"They took care of the finger quickly and it wasn't anything major so with a little rehab it should heal up nicely, and I'll be ready to go when we start up again in March," said Hill. "Really the only thing I had to worry about when the season ended was shipping my car home since my back definitely couldn't have handled the 30 hour drive to Missouri."
It was ultimately the fractured back, and not the finger, that forced Hill to sit out the final game against Cleveland. The injury was a huge letdown for the veteran quarterback who waited until his sixth season to throw his first regular season pass.
"It was a roller coaster ride for me," said Hill. "I really had to fight thru the finger even to stay the number three because I didn't want them to bring anyone else in. When Trent went down, it was an opportunity for me to finally step in and it was such a great ride. It had been a long time since I'd been in that role and I really didn't want to give that up. I cherished being out there and to miss the last game of the season with the back was very upsetting."
Hill may have missed the final game, but there looks to be more games in a 49ers uniform in the works for this former career third-stringer who enjoyed the classic Cinderella tale towards the end of the year. Per his agent, Hill has reportedly received a recent offer from the 49ers that would keep him out of the free agency pool.
"I'm pretty sure, actually I'm very confident that we'll get something done, and I'm very hopeful of getting something done soon," said Hill upon departing for the off-season.
The sixth-year veteran originally turned down a deal earlier in the fall because he felt it was based on him staying a third-stringer, but he pled a strong case for more playing time after two wins in his first two starts and an average QB Rating over a 100 in his ten quarters of play.
"It was never my goal to be a third-stringer and I felt that was what they were talking about then," said Hill who finished the season with a 68.4 completion percent, 5 touchdowns and only 1 interception.
General Manager Scot McCloughan and head coach Mike Nolan have both asserted that there will be open competition at the quarterback position, unlike last season when the job was firmly entrusted to former first-round pick Alex Smith.
"I think all of that really remains to be seen but I think no matter what the circumstances are, you are always competing at some level," said Hill. "My mindset will be the same going into next year, and that's that you are always competing for a job period."
Until his future is settled and the gridiron competition does kick up again, Hill will nurse his injuries back at his home on the Lake of the Ozarks, and delve into his favorite pastime, fishing.
"They've got those nice spin casters so you can switch it from right hand to left hand so I should still be able to do some fishing despite the finger," said Hill. "I'll figure it out somehow, as long as it's not noodling (a practice of catching catfish using your bare arms). You won't catch me doing that, broken finger or not."