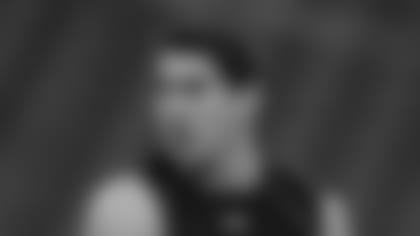 Tight end James Casey from Rice University has one of the most intriguing backgrounds of any player entering this year's NFL Draft. Read what he had to say to the media at the NFL Combine.**
Q: Can you tell us about all the positions you played at Rice?
A: I came in on scholarship and played linebacker. Then the coach left soon after I got there and the new coach moved me to defensive end. I was starting defensive end throughout the spring. The coaches gave me a shot to move to quarterback before two-a-days started my freshman year in 2007. So I started practicing quarterback, running the Wildcat. As the season went on, it just progressed. I moved to wide receiver. I played some H-back. I played some quarterback. I also came back in and played some defensive end against Southern Miss my freshman year. This year I was a punt returner. I had 12 returns this year. I was a holder. I returned two kicks. I was also the backup deep snapper.
Q: How did you feel about doing all those different things?
A: I loved it. Any time I can get out there and play no matter what position it is, I just felt blessed to be on the field anywhere to help the team win.
Q: Did you have a nickname like 'Slash'?
A: I had a nickname, it was "Thor." We had a "Thor package" when I came in at quarterback and ran the ball. It just kind of stuck with me and guys called me Thor.
Q: Considering you were a 2003 draft pick of the Chicago White Sox as a pitcher, why didn't the baseball thing work out?
A: A lot of that stuff is kind of out of your control as opposed to football. I feel like I had a really good arm. I had as strong an arm as anybody. I was throwing in the 90s. I topped out at 95. I had a lot of control issues was the main reason why it didn't work out. I walked too many guys and ended up giving up too many runs. My ERA was inflated. I ended up getting released. It was one of those things that happened in my life where I thought it was the worst thing that could happen, getting released from the White Sox. But it ended up being one of the best things to happen. I wouldn't be in the situation I'm at if it wasn't for that.
Q: Why did you attend Rice?
A: It was tough for me coming from the White Sox and trying to find somewhere to play. Basically, I had to recruit myself. There's not too many people that offered a scholarship being out of football for four or five years. I sent some information and I started talking to them and they became more and more interested. They ended up offering me a scholarship at linebacker. I figured with the academics at Rice, I didn't think there was any way I could turn that down. Just the opportunity to just go there, it turned out to be very wise decision. I had the best time at Rice. I wouldn't change that around for anything in the world.
Q: Do you know what position you'll play in the NFL for sure?
A: I don't really know for sure. The only thing I really know is that I'm at the combine as a tight end. I'm very open to any position. Whatever team that wants to draft me, I'm more than willing to play any position. Whatever the team thinks is best, I'd be more than willing to do.
Q: Where were most of your plays made?
A: Most of my plays were made over the middle. We had a really good receiver in (Jared Dillard) and a really good quarterback. We all three worked together. Jared would be outside, I'd run dig routes especially in the middle of the field against linebackers. I did a lot of different stuff.
Q: Do you see a Wildcat niche in the NFL?
A: I think the Wildcat formation is definitely something I'm suited for. I'm experienced at it. I played the receiver role. I'd come in on third-and-short and I could also throw the ball really well if need be to even threaten the defense even more. I think it's something I'm definitely capable of doing if a team is willing to give me a chance.
Q: Can you tell us what happened with your mother when you were in high school?
A: Yeah, I had some real traumatic events happen to me when I was young. When I was a sophomore in high school, growing up I didn't have much money. I was kind of poor. I went to school one day, (at that time ) my mom worked nights and she came home in the morning, and she went to sleep throughout the day. We had a heater, an electrical appliance, that malfunctioned, caught fire and it burned the trailer where we were living in Dallas. It was a real rough moment in my life. It was do I feel sorry for myself and just quit? Or do I realize that my mom would have wanted me to pick myself up, make her proud and do something with my life. That was a big turning point in my life. It made me be very driven, very motivated with a very, very good work ethic. You can ask my coaches. It made me work extremely hard to try to be successful.
Q: How are your blocking skills?
A: I think I' m a very capable blocker. We threw the ball a lot so I wasn't asked to block a lot and drive people off the ball a lot. But I'm very capable, I'm strong enough, I'm tough enough, I'm physical enough. I played defensive end in college. I'm used to contact, I'm not afraid of contact. If I can get with a team and they can teach me the proper techniques and get used to being down in the box, I can be a very capable blocker.
---
---