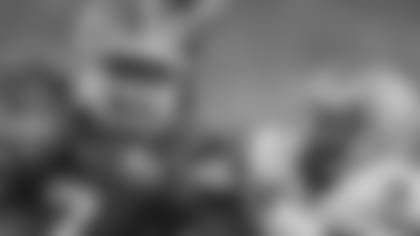 University of Florida tight end Cornelius Ingram was one of the most anticipated performers at the NFL Scouting Combine after sitting out the 2008 season due to a torn ACL. Read what he had to say to the media at the NFL Combine. **
Q: How much do you feel you have to prove physically heading into the combine workout considering you missed last season with an ACL tear?
A: I think I have a lot to prove after missing the entire season. There are a lot of pretty good tight ends in this draft and they have a full season worth of film. I have a lot to prove. I know that. The NFL scouts and coaches know that. It's really not a whole lot of pressure because I feel really confident in myself that my knee is healthy.
Q: How do you think the spread offense would compare to the Wildcat?
A: I think it's about the same. A lot of teams used it because they had two good running backs and an athletic quarterback that can run. That's pretty much why we ran [the spread] at Florida, because of Tim [Tebow] and Percy [Harvin], and all the different guys we had who could take the snap and do some misdirection with it.
Q: What's the best way to go about proving to all the NFL teams you are still productive?
A: Pass all the physicals. I've been through a lot of them today. It wasn't as bad as I thought it would be. I know my knee is healthy. This weekend I just have to run well and workout pretty decent to show them that I'm back to 100 percent and that's what I plan on doing.
Q: What was the medical check process for you like?
A: It was something I definitely wanted because sometimes when players are really competitive they might not be 100 percent or might do or say anything to convince people that they are. At one point in time I did that, but I'm definitely not doing it now. I feel great. I'm cleared and I'm pretty much planning to do anything and everything at the combine.
Q: How many team doctors handled your knee?**
A: I stopped counting. I think most of them had maybe three or four coaches [with them]. Everybody did the same thing, pulling it to make sure it was stable. It wasn't that bad. I talked to NFL guys that have been through the process and they told me to make sure you're patient. I had in my mind what would happen and how long it would be. I wasn't mad, and it wasn't that bad.
Q: How long did the process take?
A: I just finished up (at 2:15 p.m.) and I've been here since maybe 7 a.m., but we've had a weigh-in in between."
Q: Since you're from a spread offense how well-rounded of a tight end are you?
A: Being in a spread offense, not being attached to a tackle in our offense, a lot of people might have questions or doubts about my blocking. I'm pretty sure they can see some of the film. We really didn't do it a whole lot, but I know I can. I've shown it in some games. Catching the ball (and) running routes – that's second nature. That's the easy part for me.
Q: Where do you think you stack up with the rest of the draft's tight ends?
A: Honestly, I'm not really concerned. We had a motto at Florida that coach Meyer told us before every game. Don't worry about anyone else. Just do your job. That's kind of what I'm focusing on. I know there is a lot of great talent here. I can't do nothing but worry about taking care of my business.
Q: How long have you been striving for this NFL dream?
A: When I first started playing Pop Warner football at six or seven I definitely dreamed about playing NFL football. Just the passion of playing this game is incredible to be honest. I've been around a lot of guys who are playing in the NFL and I'm working out at Perfect Competition where veteran guys still come in, and I see them working hard. See them still doing the right things and they have probably been in the league four or five years. I want to get to that point because it's something I've always dreamed about.
Q: Urban Meyer has a connection with Bill Belichick. Have your paths crossed yet?
A: I really haven't talked to him a whole lot. We've kind of shook hands once but I haven't really talked to him a whole lot. Him and coach Meyer definitely cross [paths]. I know they are pretty good friends and I know the Patriots like Florida athletes so hopefully it will work out. Every time [Meyer] gives us a pep talk before the game he lets us know this is the way the Patriots do it. You got to be for real about the situation because they've won numerous championships. It's definitely not a bad team to copy.