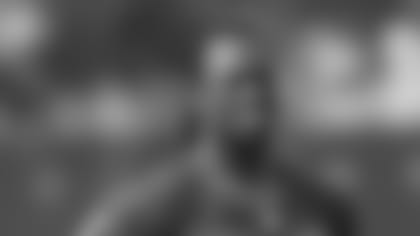 Entering his third year in the NFL, tight end Vernon Davis expects a big year for himself and the entire 49ers offense. Find out what the former first-rounder had to say in this 49ers.com exclusive Q&A!**
Q: Entering year three, what's one thing that you really get now that maybe you didn't when you came in as a rookie?
A: I know what it takes and I understand what is needed to win games and how important it is to win games. Along with winning games, it is very important to get along with my teammates and have their back. When it comes down to it, you have to stick together and battle together out there. I think I just got older and wiser. I think football means a lot more to me. It meant a lot to me when I came in, but it feels like it means even more now because I'm very competitive and I don't like to lose.
Q: You mentioned once this off-season that you have slowed down your appearances, and done a lot less this year? What led you to that decision?A: I just really wanted to focus on this offense and so I've been sticking my face in the playbook every day. I wanted to get the basics down in this offense and so whenever I'm at home I'll study it, take a break, and then study some more and it's been helping. When I came into the meetings during the OTA's, I felt good about what we are doing out there and I feel very prepared.
Q: Did you get out of town at all this off-season?
A: I took some trips back home and then other than that, I went on a trip with a few other players from other teams to the Dominican Republic during Memorial weekend. I just relaxed and went to the beach and took it easy.
Q: During your rookie year you had some penalties for some of your celebrations. Coach Nolan always says it is important that players have a sense of passion out there, but that celebrations are done within the rules. How have you matured in that sense?A: When I celebrate now, I make sure that I'm doing the right celebrations instead of the wrong celebrations because the wrong celebrations could hurt us. I wouldn't want that. I wouldn't want to hurt the offense. That little penalty could cost us the game in the end so I know I have to be smart out there.
Q: You have no problem scuffling with your teammates in practice, yet you've been pretty smart in games to the extent where you've even been the one trying to break things up before they get that far. Is that something you are aware of out there when you know you could get your team a penalty?A: Yes. I feel like the coaches expect me to be a leader and I am trying to do that by example, and so everything I do I try to do by the rules and by the right way. In a game, if I see a guy wanting to fight, I'll try to grab them and tell them to use their head and not to get out of line. I think the same thing to myself. In practice though, you know you aren't going to get any penalties. I'm so competitive and I don't see myself ever losing. I think when you are a person who doesn't want to let anybody beat you and you are going against someone who thinks the same way, tempers can flare.
Q: A lot of fans have written in this off-season asking if this will be your breakout year? That's probably something you have expected the last two years, but are you seeing things in practice and in this offense that leads you to believe this could really be a big year for you?A: Absolutely, and even if I didn't see it for myself in practice I trust Mike Martz. I rely on his word and what he tells me and based on what he's saying to me, I'm going to be successful in this offense, and I just rely and trust in that. But, I am running different routes and being used differently now. I'm running deep routes and I'm getting mismatches. I just need more opportunities.
Q: You were out here for all of the passing schools, mini camp, and the OTA's. How did this offense progress and how much work needs to be done still during training campA: It's definitely progressed. We were messing up and going the wrong motions and the doing the wrong movements when we first got out there. Now we know the movements and we are on top of our hots and sight adjusts. We're just moving and definitely progressing.
Q: It seems like the offensive players have adjusted to the precision that Coach Martz expects from each of you out there?A: Yeah, I think so. Everything is detail oriented. Mike is so detailed. If you run a route and he tells you 12 yards, it better be 12 yards. It better not be 11 and it better not be 13. He wants it exact and that's important because timing is a huge part of this offense. The quarterback's steps and your routes are all matched up together so that's something we've worked on and it's coming.
Q: Some critics say you haven't lived up to your potential, but the 49ers brass would argue that although you haven't gotten the opportunities in the passing game, that you are one of the best blocking tight ends in the league. Ironically, that was something that was a knock on you when you came out. Is blocking something you've really focused on since your rookie year?A: I think it's the will to want to do it. I think it's just about believing in yourself. When people say I can't do something, I tend to do the opposite. I like criticism. Criticism is good and it makes you work harder. Coach Pete worked on my blocking technique with me and once I got that down, things started clicking. In college, I was just basically a raw athlete and just doing what I wanted out there. Once I figured it out, I really started having fun. I watch a lot of film and see how the defensive guys are attacking the other tight ends, and I pick up cues from that. With that knowledge, I just go use my leverage and strength and go in with the attitude that I know I'm going to beat them.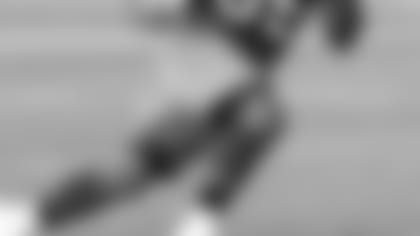 Q: You've been asked a few times about the quarterback battle between Shaun Hill and Alex Smith and who you want to win it, and you've said you've got love for both of those guys. How is that competition at quarterback and across the board helping everyone to raise their level of play this year? **A: I think that is what you need. There should not be one guy out there playing who doesn't have competition and someone pushing them. There is always someone behind you and you've got to work to stay on top. We are seeing the best in both quarterbacks because they don't want to fail. They are doing everything they can to be successful and I think the 49ers coaches are getting the most out of both players, and I think that's happening at most positions.
Q: You have a son now. How has being a dad changed your perspective on life?A: Some of the things that I would usually go out and buy for myself, I buy for him now. It's all about him. I obviously love football, but outside of this, my life is really about him now. Right now, he's just in this phase where I pick him up, and he just bounces around everywhere. It's hilarious. He just constantly makes me laugh.
Q: You did a rookie diary for us for an entire year. So let's follow up a few of the topics. Your house? Your dog? Your grandma? Your art?A: The house is awesome. It's killer. My grandma is good. She always has input on everything and she'll give me an earful. I have two dogs. I got another puppy from Roderick Green. They are very well trained, no eating furniture anymore. I'm still painting. I just got one of my self portraits that I had done framed and hung up in my house. It looks real nice.
Q: Lastly, what are your plans before training camp? What do you need to do to get your mind and body right for the grind of two-a-days?A: Just keep doing what I've been doing, taking care of my body, eating right, stretching, training and just staying focused.