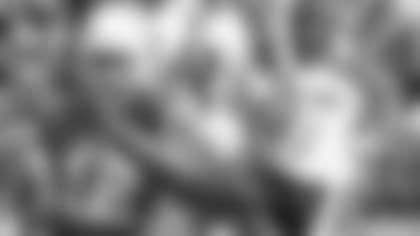 Texas safety Earl Thomas was one of the top performers at his position during his college career. Get to know more about him by reading his comments to the media at the 2010 NFL Scouting Combine.**
Q: How were you able to deal with losing your home to Hurricane Rita?A: It was devastating to Orange and everybody around the community. We were staying in a hotel for a while. That was one of the biggest reasons for me coming out here. It was a big family decision and I felt like I was ready for the next level and I'd get to be a great help to the family.
Q: How important is it for you to be taking care of your parents after the devastation of Hurricane Rita?A: I'm going to definitely get them out of my grandparent's house and live in my house. They've been taking care of me all my life and it's just going to feel good to finally take that load off of their shoulders. I'll take care of them for once.
Q: What do you see as your potential position in the NFL?A: Well, I think of myself as a defensive back playing corner, safety, strong safety or wherever they need me - even in the slot. So wherever they have me I'll play. I'm comfortable at corner, safety, and nickel. It really doesn't matter. I'm just a ballplayer ready to play, especially at the nickel position, I've blitzed a lot.
Q: How where you able to be so successful coming up with interceptions?**A: It was just a mixture of great coaching, taking coaching well and instincts. It was getting the quarterback in our eyes and making a play for the defense.
Q: What are your thoughts on being compared to Baltimore Ravens safety Ed Reed?A: He's a great player. I'm pretty sure he is going to be in the Hall of Fame and that's a great comparison. I think I have a long way to go if I want to compare my game to him, but I thank you for the accolades.
Q: Will you need to add more weight to your body before you play in the NFL?A: Today was my heaviest I've weighed. I've always weighed around 205 when I was training out there in California. Maybe it was just water weight, I don't know, but it helps. It actually helps if I'm going to be in the box banging heads out there. It definitely helps.
Q: What are your strengths?
A: I'm physical, versatile, and like I said, I played corner and safety. I'm a hard- worker. I'm not looking to come in and just sit back and watch. I'm looking to make an impact right now as soon as I get there.