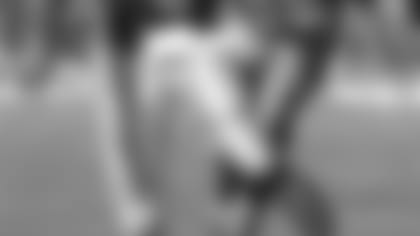 West Virginia quarterback Pat White was one of the most impressive performers amongst his position during his college career. Read what he had to say to the media at the NFL Combine. ** Q: What are your thoughts on the success of former teammate, (Houston Texans running back) Steve Slaton?
A: (I'm) definitely not surprised. I'm very happy for him. I spent three years of my college career with him, working with him and seeing his work ethic. His drive and determination shows what type of person he is and what type of family background he came from.
Q: What kind of role to expect to play in the NFL?A: I feel that I'm capable at helping in any way that I can at the next level. I'm just hoping for the opportunity.
Q: How do your skills translate to the NFL level?
A: They translate into sort of a run-pass formation. Getting defenses running one way and the ball shooting out the other with their eyes are on the backfield – I'm sneaking someone deep on the pass. I think I can do both of those (things).
Q: Is the Combine tailored to you and is this a golden opportunity for you?
A: I don't know about tailored to me, but it does give me extra benefits; (it gives me) a little more help getting to the next level.
Q: What was your experience at the Senior Bowl like?
A: It was a great week. The first day was a little sluggish for me, working drops, but I think I got that down. I learned the system pretty well and I think I showed that I could get the ball over those guys who are 6'6 and 6'7.
Q: What is the consensus from the teams about your ability to play quarterback?
A: A few teams think that I am able to play quarterback at the next level and a few say that they see me at a different position. I'm just going to keep working and try to get better every day.
Q: How do you feel about potentially playing wide receiver?
A: I just want to help out in any way that I can whether that be at receiver or punt returner. Any way that I can help the team win is something that I'm looking forward to.
Q: How much pride do you take in having the NCAA quarterback rushing record?
A: Records are meant to be broken. I'm thankful that I had four great years at West Virginia. I'm thankful that I had the coaches that I had and met the people that I did, and most importantly finishing my senior season with a win that me and my classmates can have for the rest of our lives.
Q: Why did you end up choosing football over baseball?
A: That was definitely a hard decision for me at that time, deciding whether to go to school and play college football or try my hand at professional baseball. But at the end, the excitement of college football got the better of me.
Q: What are your thoughts on the wildcat offense?
A: It is definitely a unique offense and gives defenses that much more film to study.
Q: Can you see yourself in a "slash" role before becoming a full-time starter at quarterback?
A: I don't know, I really can't predict the future. I'm thankful for the opportunity and I intend to make the most of it.
Q: Does it feel like high school all over again having to answer questions about your position and knowing you'll have to prove it at the next level?
A: Coming out of high school you got to choose where you wanted to go, and that is not the case here. I'm going to keep working and show my abilities and hopefully some team will give me a chance.
Q: Do you think the success of Josh Cribbs (Cleveland Browns) and Brad Smith (New York Jets) will help your draft status?A: I think the implementation of the wildcat and other spread systems will definitely help me out because of the style of offense we ran at West Virginia.
Q: What are some of the things you have to improve on as a quarterback?
A: All aspects of my game - my passing abilities and dropping back as well as gettingthe ball to the playmakers so they can make plays.
Q: What are your strengths as a quarterback?
A: I love to play and I have a strong passion for the game. I love to play it and I never get tired of it. Whether it is game time, practice or just a walkthrough, I am having fun.