Quarterback Alex Smith talked to the media on Saturday, a day after being told that J.T. O'Sullivan had won the starting job at quarterback.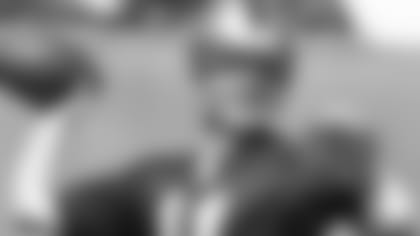 Q: Obviously the news you heard yesterday wasn't what you wanted to hear, but is there a silver lining that you can take out of it? **
A: I don't know, it's hard. I guess for now this is a new role for me, I get to watch another guy play. We are getting different reps, obviously a different role for me. I'll adjust with it and continue with my development, continue getting better, continue coming to work every day motivated. I can't let that stop me, I can't let that get to me in my progress and where I want to go. I'm going to continue to work and get better with this.
Q: Does this deflate your confidence when something like this happens?
A: I just can't let it. I can't. I won't. I'm going to continue what I'm doing, helping this team getting better every day, coming out here, coming to work, being a part of this. As a two, you're only one play away. I got to continue to be ready getting better with this, learning the system. I'm sticking with it.
Q: Coach Nolan said yesterday that although you were disappointed, that he felt you were very optimistic about your chances of being a really good quarterback in this system, do you feel that way?
A: I like a lot of what this system does and what Coach Martz brings to the table with this system, how detail-oriented it is. I think that is something that suits me, how disciplined it is. I'm young still and like I said, you never know. It's a long season and obviously I'm going to be there and be prepared if anything happens and help this team continue to get better. And with my role, get better every day.
Q: Obviously there are a lot of factors involved here, do you or your agent at this point go to the 49ers and say…
A: Haven't even thought about that. I haven't even talked about that. It's not even in my thinking right now. I don't know if it will come to that, but right now I'm just thinking about this new role and what I need to do and continue coming in to work.
Q: What do you think your future is with this team?
A: I'm not thinking about that right now either. It's too far down the line. When that time comes, I'll deal with it. I'm just focused on here and now.
Q: How can this motivate you in a positive way?
A: You have to use it as that, use it as motivation to continue to push myself to get better. Prove to people, prove to myself that I can go out there and play and play well in this league.
Q: Do you have to prove it to yourself or is it more to others at this point?
A: I know I can, it's a matter of doing it and just the little things, continuing to learn this offense, continuing to learn what we're trying to do, executing it. That's part of the deal.
Q: Do you think this is the offense that best suits you?
A: There are a lot of aspects of it that I think really fit with me like I talked about, the discipline and the details of it, the trust that comes into this are things I think suit me. It has been hard, the year to year to year, learning a new system. Hopefully you get to the point where you get to stick with something for a little bit at least and you hope to master it and get to a level where you can play at a high level. That's the goal.
Q: Is your arm all the way back from shoulder surgery?
A: Yeah, I feel good out there. I think there may be some lingering things that I continue to work out from the workload that I have now. It's hard to simulate that kind of throwing or that kind of pitch count, so to speak for the last few weeks. My arm feels good, I feel good where I'm at right now, especially having gone through camp, that's the major load of throwing we'll get all season. To go through that and where I'm at right now, I'm feeling really good about it.
Q: Do you think you got a fair shot to win this job even though you didn't start any preseason games and didn't get to work much with the ones?
A: Yeah, we all got our reps. We all got our turns all the way going back to mini camp. It's just the way it worked out. I still got reps out there. I still got looks. We all kind of split it up. It's just the way it worked out.
Q: In your mind, what could you have done better?
A: I think part of that would be better to ask Coach Martz. In my mind, I think early on, maybe a better job of picking up the way the offense worked but that took a little while. As far as seeing it and understanding it in those reps. It's hard though, I came to work prepared. I felt like I put a lot into this, studied more than I've ever studied in getting into this playbook and really trying to understand it. I don't know if I have any regrets, I felt like I pushed myself as hard as I could.
Q: You say you were treated fairly, but isn't there a big difference in playing with the ones and playing with the twos?
A: There is, I think there is differences. But I think Coach Martz understands that and Coach Nolan understands that. I think they try to evaluate with that in mind, knowing who you are out there with. Coach Martz has a good sense of understanding that and evaluating the position regardless of who is out there. I think that's the way I tried to take it. I tried not to think about who I'm taking reps with or who I'm going against, and go out there and execute my job and my responsibilities.
Q: What kind of relationship do you have with Coach Martz?
A: It's the same it always has been, as coach and player we're good. I respect him a lot and I try to pick up as much as I can from him. I'm constantly trying to take in what he's trying to talk about and I'm trying to pick his brain and get an understanding for what he's trying to communicate and get across to us. Continue to sponge up as much as I can.
Q: At some point down the line are you taking this as it's going to be beneficial to you?
A: I have to take it like that. I'm going to use it as motivation, as a tool. In some ways I may benefit from this and come out the other end. That's the way I'm looking at it now. Right now I'm focused on continuing to get better every day and come in to work and really improving and not letting this enter my thought process or my work ethic. I'm coming to work with the same attitude and the same hunger.
Q: If you had as much experience with this offense as O'Sullivan, would you be starting right now?
A: Potentially, that's probably a better question for Coach Martz and Coach Nolan right now. Potentially that would play a role, the more familiar you are with the system I think that does make a difference.
Q: Do you think you're ready to play all 16 games?
A: I think I could, absolutely. But I think that's not the question, it's a competition between the three of us and they're evaluating the three of us. That was the goal of all of this.
Q: How hard is it to be the number one pick and after four years having to be the backup?
A: It's not easy, but it's part of the deal. Playing football, there's up's and down's in this game. Everyone goes through it. Like I said, it's a new role for me and I'm going to take it on and do the best I can with it.
Q: Do you look at it like the competition is going to continue into the season?
A: I take it in as what it is. JT is our starter and I'm the two. I'm going to continue to get ready and prepare knowing that I am one play away. I'm familiar with that and have obviously gone through it and have experience last year with that. Things can change fast, so that's the way I'm taking it.