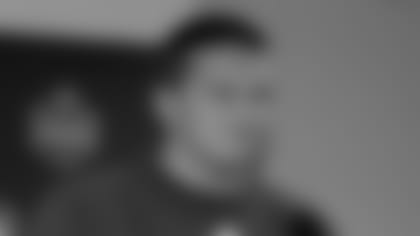 Michigan tackle Jake Long is one of the more highly touted prospects at the NFL Combine. Here's what Long had to say to the media during his podium session… **
Q: One penalty in your whole college career? Is that stat correct?
A: I actually got one this season. I had a false start against Northwestern but those were my only two penalties. My redshirt freshman year I had a holding penalty.
Q: How much do you think you helped yourself by staying senior year?
A: It has helped me a lot. Last year I didn't feel I was good enough to come out, I wanted to improve on things and those things I improved on. I feel I'm a smarter and better player than I was last year. I'm smarter in identifying the defenses . I worked on the little things in my game and I've gotten a lot better.
Q: How many sacks did you give up?
A: I gave up one sack this year. I've given up two in my career. This year it was Vernon Gholston at Ohio State. I take it personally. I wanted to make sure that I was perfect and not let up a sack but Vernon is a great player and he had a good move on me and I let it up. I think it was against Michigan State my redshirt freshmen year that I allowed one.
Q: Can you talk about playing left tackle and what that means to you?
A: I love the left side. I started off my first two years at right tackle and moved over to left the last two years. I'm left handed and I feel very comfortable on that side.  I think I proved myself as a left tackle.
Q: How much did you grow this year going through the ups and downs at Michigan?
A: You have to go through adversity in this game and this season our whole team, definitely in the seniors and all the coaches, went through adversity. We pulled together and showed our leadership, grew up fast and turned the season around.
Q: Can you tell us a little about what you wanted to do this season?
A: I just really wanted to improve my pass sets. Two years ago was my first time on the left side. I wasn't really use to the past sets on that side . I got a lot more fluid this year with my pass sets. Just working on my hands, certain rush moves.
Q: How much pride do you take in being a team captain?
A: That's the greatest honor that I could ever receive coming out of Michigan. To just get captain once and then get it twice was a great honor, to know you have that respect from your teammates. I try to live up to it every day and live by example.
Q: How can you improve your own draft spot here this weekend?
A: I'm going to be working out and doing everything Saturday. Going my hardest. Running good and lifting good. Doing the position drills well.
Q: What's your biggest hurdle to the next level?
A: I think playing against the D-ends in this league. They are fast and they are strong and they are huge. I definitely think that is going to be one thing I need to work on.
Q: What would a team get that drafts you?
A: They would get a hard-working, passionate player, someone that comes to work and gives 100 percent every single day and has a true passion and love for the game.
Q: A year ago, Joe Thomas was in this same situation for the Draft. He had a really good rookie year. Did you follow him at all?
A: He's a great player and represented his school in the Big Ten very well. He had a great rookie season. I'm going to have to follow in his footsteps and represent for the Big Ten.  He showed me and all the other rookies that you can come in and make a huge impact, have a great season. That's encouraging to me and to other players I'm sure.
Q: Any players that you admire or you pattern your game after?
A: Someone like Matt Light from the Patriots. He's a great player. Technique is sound. He tries to do the little things right.