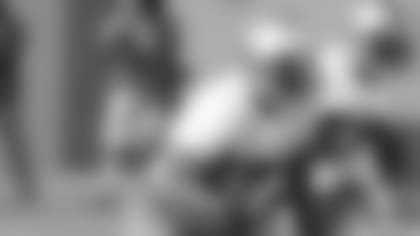 Enjoy this 49ers.com Q&A with the 49ers rookie linebacker Larry Grant. Grant joined the 49ers as a seventh-round pick out of Ohio State.**
Q: You played with Vernon Gholston at Ohio State, a top ten pick. How did playing with him help elevate your game?
A: It was great to be around him, as well as a bunch of guys who have gone on to the NFL the last few years. There were even a bunch of other guys who could have probably gone pretty high this year, but they decided to stay for their senior years. So, being around a group of guys like that pushes you to be better than you are, but I expected to win every week, regardless of who is around me. I wanted to win and I think we all shared that attitude at Ohio State, and we knew that we had to perfect our game in practice in order to get it done.
Q: I read that you moved your family out to Ohio State with you? What made you decide to do that?
A: Well, I have a big family and am the youngest of seven, so I didn't move the whole family out. I just moved my mother, my sister and my nephew out to Columbus with me. My mother was living in between St. Louis and California, and my sister and my nephew were in California. I just felt that my family deserved better and that maybe I could help, and I did the best I could for them. They are actually still out there and will be until July. They love it. My mother loved the tradition at Ohio State. She was a mother to everyone on the team.
Q: For being the youngest of seven, you don't seem to be spoiled?
A: No, I had three brothers and they wouldn't let me get spoiled. They beat me up all the time – not anymore though.
Q: You did a lot of moving it sounds like while you were growing up. Where all did you live exactly?
A: Born in Santa Rosa, California. Lived in San Francisco, Oakland, Richmond, Vallejo, Sacramento, LA. I played my first year of high school at Foothill, California. I then moved to Atlanta with my brother and went to school two years at Gwinett County, and spent my senior year at Norcross, Georgia. I had to go to summer school in California back at Foothill and then graduated there. I worked in the fall and then started in the spring of 2004 at City College before eventually moving to Columbus.
Q: Where did you work at that fall?
A: I was a football coach at Sacramento Park and Recreation. I loved giving back to the kids and being around football. It was fun.
Q: Did you have any idea growing up here and going to the City College of SF where the 49ers practice facility even was?
A: No, I thought it was in Stockton or Rocklin. I did not know it was in Santa Clara. I didn't find out until I got here basically for mini-camp.
Q: As a lifelong 49ers fan, who was your favorite offensive player and defensive player and why?
A: My favorite offensive player was Jerry Rice. I had two on defense – Ken Norton Jr. and Ronnie Lott. It seemed like no matter how old Jerry Rice got, you still couldn't guard him. I actually thought I was Jerry Rice when I was a kid on the playgrounds. Norton and Ronnie were two aggressive guys, and when I went into high school, I tried to play an aggressive style like they did.
Q: What do you think of playing for Hall of Fame LB Mike Singletary?
A: You can't get any better than being in the Hall of Fame and I could see right away he looks for perfection and for guys to do their best. He's real critical with technique and there isn't anyone I'd rather learn from than a Hall of Famer like himself.
Q: Versatility is the first thing that stands out about you due to your background playing at all the LB positions, but what do you feel is your strongest asset as a player?
A: I'm most proud of my versatility, but it's hard to say anything is my strong suit right now because I feel like I can improve at this level. I want to work on staying a little lower, work on my pad level. I've got some good assets, but I think I can get better at all of them.
Q: What do you think of this 3-4 defense?
A: It's a lot different. I've never played in a 3-4 defense like this one here before, but sitting back and watching it and seeing how it works, it's a pretty good defense. If everyone executes their assignment, this can be a pretty good defense.
Q: Coach Nolan said that special teams coach Al Everest was still selling you even after we made our pick. Did you get a sense that he plans to use you on special teams?
A: I was on the special teams for mini-camp, but down on the chart, so I'm guessing he likes me a little bit. Still, I have to beat someone out regardless in order to play. I have to go in and contribute, contribute and contribute whenever I get my chances, and we'll see what happens.
Q: You've blocked several kicks in your college career. How did you develop that skill?
A: I just take the ball off the kicker's foot. It's just something you have to have a knack for. Not everybody can do it. Some guys jump right past the kicker or let the ball go between their hands. You have to be able to time the kick and it's just sort of a knack you've got to have, and fortunately I have it.
Q: The inside linebacker position next to Patrick Willis seems to be open for competition. How do you feel about your chances of getting into that mix?
A: It's a great opportunity for me. Right now I'm just sitting back and learning. I'm going to be a competitor and as long as I get the knowledge down of the defense, I'll be okay. Jeff Ulbrich and Dontarrious Thomas are two great linebackers, even better than what I thought they were, so it's going to be a great competition and I'm real excited.
Q: You are also a fairly new dad. How are you enjoying the opportunity to be a father?
A: I am always playing with my little baby boy. It's been wonderful. He doesn't wake up too much at night, so that's always great. Fatherhood is great. I couldn't ask for more. I've got a baby and he's my main priority and I'm thankful that I have this opportunity to provide for him by playing for the 49ers. I'm pretty happy. The feeling is great.