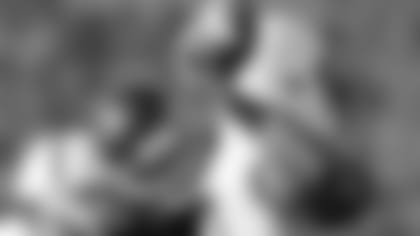 USC Linebacker Brian Cushing is amongst the best players at his position. Read what he had to say to the media at the NFL Combine.**
Q: Do you think you're better suited for a 4-3 or 3-4 defense?
A: You know, I think I'm best suited in every defense, because I've played leo (left end) in a 3-4 and I've played leo in a 4-3. I've played mike (middle linebacker) in a 4-3 and I've played sam (strong side OLB) in a 4-3 and will (weak side OLB). So there's not one position that I felt I needed to play or one that I was out of position. The biggest thing to me was just taking care of business and playing anything. I feel I'm a natural linebacker with my best trait being just my instincts.
Q: Are you one of the top guys in the draft?A: I think so. I think of myself as one of the top linebackers, regardless of the defensive scheme. That's what I'm hoping this week to prove.
Q: How did playing with Rey Maualuga and Clay Matthews help you?
A: They absolutely complemented me. I think we all complemented each other, just playing off each other, having a great experience with everyone, and just getting the job done. The guys have all done a great job. We've played together for a while, so we know what we're doing.
Q: What do you make of the steroid rumors?A: I'm not sure. You know, I don't understand all that. You know, people want to say that all the time, but you can ask anyone I know. I'm the hardest working guy on the team, and people can just say whatever they want.
Q: Does something like that make you more determined?
A: Absolutely. Anything like that with a negative influence and people saying some things, it's a chip on yourshoulder. So I go out and that's a little bit in the back of my mind to try and prove people wrong about that.
Q: Do you think that will hurt you?
A: You know, I don't know. I don't think so. I don't think it should. It doesn't matter. It's nothing I've been a part of, never will be. But that's up to the people to decide, who wants to get me and who doesn't. You know, people can think what they want, but I'll tell them straight up that it's not true.
Q: What was it like to play with so many great linebackers at USC?
A: It was great. I mean, you couldn't ask for anything else. The guys relied on each other, always knew where each other was going to be. And the fact of how long we played together, too, the cohesiveness really helped it along.
Q: Why do so many players from USC stay all four years?
A: It's a place that you don't want to rush to get out of. It's a great experience in college football. I believe the staff is the best one in the nation. I've learned great things from Ken Norton Jr. and Coach Carroll so I couldn't complain. Along with our scheme, and we won a lot of games. So it was a great environment, a place any college football player would love.
Q: What's your opinion of Clay Matthews?
A: He's really grown into a completely different player. He came from a walk-on, a skinny guy, and he just worked his way up all five years. He's done a great job. He's learned more, he's just adapted to the system, and overall he's just improved his stock tremendously.
Q: Are you honored to be one of several top players from New Jersey?
A: Absolutely, that's really important to me. It's a close-knit thing, it's special to us. It's a small state which most people overlook. We just try to go out there and prove to people what we're all about