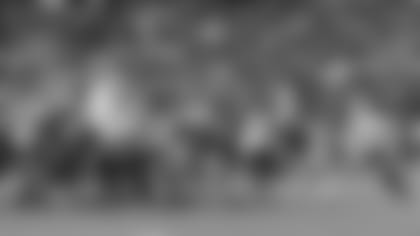 Veteran kicker Joe Nedney has been with the 49ers for the past four seasons and has made over 82 percent of his field goals each year. Read what he had to say in this exclusive Q&A session with 49ers.com. **
Q: After playing 13 seasons in the NFL, how do you find ways to get better at your craft?
A: I approach my job as trying to be as simple as possible. Every rep that I get on the field, I just try to go 1-for-1. For me, on a field goal that's kicking the ball right down the middle. On a kickoff, it's hitting it high, deep and either to the left or to the right. I try to execute my job every time. If you look at the amount of plays that I had this year, where I actually executed my job perfectly, you'd be surprised at how many times I didn't feel like I executed it perfectly. The numbers may not show it, but I may not have hit the ball as well as I wanted to, or my kickoff may not have gone to the right spot. To me, there's constantly room for improvement every year. All I'm trying to do is go 1-for-1 every time. It's happening more as the years go on and it's happening more frequently, which is good. But there's always room to get better as a kicker.
Q: What does special teams coordinator Al Everest bring to the 49ers?
A: He gives the players the idea that there's a sense of pride and accomplishment in playing special teams. It's not a curse. You aren't playing special teams because you're not good enough on offense or defense. He makes it feel like it's a privilege and an honor to play on special teams. It's one-third of the entire game and he really gets the guys energy up and their level of pride up for playing special teams. On top of that, he coaches the techniques of special teams very well. When you bring an enthusiasm like that and you're a smart and well-traveled man like he is to that position it makes for a great combination.
Q: How would you compare coach Singletary to the various coaches you've played for in your career?
A: I kind of separate the coaches I've played for into two categories. There's an elite level of coaches that I've worked with and there's kind of everybody else. I've worked with Jimmy Johnson, Bill Parcels, Jeff Fisher, Jon Gruden and now coach Singletary. I think those are some of the best and well-respected coaches in the NFL. Coach Singletary ranks right up there, because of the way he leads our team and the way he exudes the confidence and leadership that you need to be an elite head coach.
Q: What are the 49ers goals for 2009?
A: Being in the playoffs and winning the Super Bowl are the top goals – what else is there?
Q: Why is the team even more optimistic heading into this offseason than in years past?
A: It's funny. There's always chaos all around this building, but there's calmness inside this building. When you look around the NFL, there's chaos going on, but in here we're enjoying each other's company because we're not going to see each other for awhile. We know that we have something really special here and we can't wait to get it started for next year.
Q: What is your relationship like with your holder and snapper, Andy Lee and Brian Jennings?
A: We're dumb, dumber and dumberer. Not dumbest, but I think we're all dumberer's. We've played four years together and we've got such a rhythm. I think one of us can finish any of the other two's sentences when we're talking about our play on the field. We do such a great job of being efficient. There's no wasted motion in what we do. So with that considered and then translating it into a good relationship between the three of us off the field too, really helps. I'm looking forward to keeping that nucleus together.
Q: What was the biggest kick of your season?
A: The last one against the Redskins. That one's freshest in mind right now and I'll be remembering that one for awhile.
Q: What was the most memorable game of the season?
A: I'd say game two against Seattle and the second one would be the last game against Washington. For me, individually, they were big games. I had a little adversity in both games and I had to overcome the adversity and ended up doing that. It was great to overcome that and end up winning both those games. There's such an emotional roller coaster that occurs during NFL games for all players, but those two for me, stand out the most for the 2008 season.