Check out some of the questions from Thursday's press conference with general manager Scot McCloughan regarding the upcoming NFL Draft.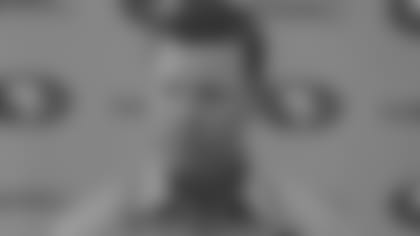 Q: Do you think you guys are in a good position at 29 to trade back with other teams wanting to move up to get a quarterback or something like that? **A: Yeah, definitely. As a matter of fact as we say every year, if we've improved the last two year's we'd go up. This year it being a later on pick and not having as many picks as we've had in the past, we'll definitely look for anything. Chances of going up will be slim, going back would be better.
Q: Do you consider inside linebacker or rush linebacker more of a need for you guys?
A: I'd probably say inside linebacker losing Derek Smith. But again, at that position we'll take the best football player that's a linebacker and find a way to get him on the field. If it's an outside pass rusher then most definitely. You can never have enough of those guys. But, we do need to address the inside a little bit more, from the depth standpoint.
Q: Do you see yourself investing in an inside linebacker two years in a row?
A: Yes, no doubt about it. Again, especially in our 3-4 the more backers you have [the better]. They're usually your playmakers on defense. Again, we're going to carry more backers than most teams because of special teams value as well. We'll be hard pressed to pass on good young football players really at any position.
Q: What are your thoughts on drafting a starter for the offensive line? 
A: That'd be great if we did. We talked a lot about how this is a good year, especially for offensive tackles with depth. There's some good football players I think have a chance to play early. If we're able to do that it means we got a little bit lucky to get someone at 29. But, again another young offensive linemen would be great.
Q: What is the influence of Mike Martz on this draft? Have you consulted him?
A: Yeah. This whole week we've been meeting offensively and defensively. It's been great. I love being around another offensive mind that's had that much success and that much production, and kind of just picking his brain [to see] what he looks for in a certain position. The good thing about him, which I came out and said early with Coach Nolan is he'll take what we have and make it fit. The system's not set in one way. If we all of a sudden get another receiver or take another running back, he'll find a way to get them on the field and the thing that's great about him is he envisions it. I talked to him prior to free agency and prior to the draft, and he's got an idea and can tell me where he [a given player] can fit into our system.
Q: Is there as much pressure to find a player you want at No. 29?A: I don't think it's pressure. I didn't feel pressure when we had the number one pick in the draft. I think it's harder for me to sit down with the ownership and Mike [Nolan] and say 'this is who I think will be there at 29', because so much can happen in front of you from not just the players going, but people trading up. So from that standpoint it's harder to pinpoint who's going to be there. There's not much pressure. Chances of getting an impact guy aren't as good as if you pick in the Top 10, but again if you look at the recent drafts [in] the late 20's and early 30's there have been some really good football players drafted. Like you saw last year we were able to get Joe Staley at number 28, and we think that's a great pick.
Q: How many guys in the draft do you see starting at offensive tackle?
A: First year, probably four or five.
Q: How many do you see starting on the offensive line as a whole?
A: It would be a guess. Again, the depth's at tackle. There is not a lot of depth at guard or center. I could see maybe six to eight possible.
Q: Is this a good draft?
A: There will be good football players coming out of this draft. Every year's a good draft in my opinion; it's what you do with it. Of course, the glamorous position – quarterback – there are not a lot of names up there. But, I promise you this – they'll be guys taken on the second day this year at quarterback that will end up being good NFL football players. So that's the way I coach with my guys too, if we're picking 29, if we don't have a first or second and we're not picking until the third; every time we make a pick there will be a good player on our board that's going to end up being a good NFL football player."
Q: Do you agree with other general managers who say the goal is to get three starters out of every draft?
A: Yeah. The one thing that's nice is that we're starting to get some depth. When we first got here we just took the best player because we knew he had a really good chance of making our team. Now, getting some depth at positions in the fourth, fifth, sixth, seventh rounds we have to look at our roster and make sure we're not adding too many football players at one position. As coach always says he doesn't want someone sitting next to him who should be a starter." 
Q:You went and personally scouted Quentin Groves, what do you see from him and where do you think he might go?A: For us he's a unique guy because of the 3-4 [defense]. [He has] size and speed … Again, he's been very productive in the SEC for three and a half years. The reason I went to look at him was because he does intrigue us. Is that [pick number] 29, 39, 75, we'll see, but he's a good football player.
Q: How much does the conference have to do good football players?It plays into it because you get down to the SEC and even the ACC now has a lot of good football players. You're seeing lots of good competition. Not knocking the Pac-10 10 or the Big 12, but the SEC – 38% of the NFL is from the Southeastern region, that's including Florida, Georgia, North Carolina, South Carolina, Alabama and Mississippi. They grow up playing big-time football against good athletes and you see them on tape, you see the speed and the strength. So it plays into it.
Q: What is the quality like for wide receivers in this year's draft?A: The quality's good, but I wouldn't say as good as the last two years up top with the amount of first rounders people thought would go. But again, with these spread offenses in college now-a-days everybody's going three and four receiver sets; they're all productive. They all know how to run routes and catch the football, which is important. In the mid-rounds it's good. You have a chance to get one or two good football players at the receiver position in the mid-rounds.
Q: What is the latest on LB Takeo Spikes?A: Right now we're sitting tight. We're going to see how the draft goes and go from there. We have been in contact [and have had] positive communication with him and his agent. He is not in a rush to make a decision right now, so we said we'd wait a little bit and we'll see how the draft goes.
Q: Is Takeo Spikes also waiting to see how the draft goes?
A: I'm sure. Of course money will be an issue, but I'm sure he wants to go somewhere where he feels he can start.
Q: What's changed about the draft preparation for you guys this year?A: It's the same. Again, coach [Nolan] and I have a great relationship; he trusts me, I trust him. On certain positions we talk it through with the scouts. Nothing has changed. We're still communicating daily. We talk through scenarios. It's very important for us to be on the same page when we make the pick and we will be.
Q: Have you heard from Larry Allen?
A: Have not. Again, we'll see how the draft goes. From my standpoint I want to try to bring in as much youth as possible at certain positions because we have to build a back-end from there. Larry Allen is still a good football player, but I'm sure if Larry Allen wants to be a 49er he will be a 49er.
Q: If Larry Allen is a 49er, is he a starter?
A: He'll compete for it, just like everybody. It'd be nice if he really had to compete if we add some stuff through the draft.
Q: Who will play right guard while [David] Baas recovers?
A: Tony Wragge. We're carrying nine offensive linemen under contract right now, and we'll go to camp with probably 15. We have to do some damage, hopefully in the draft. We're not going to force the issue and then in free agency [we'll] add some depth."
Q: The thinking is that to be a good quarterback in the NFL you have to go in at least the third or fourth round. Do you think that is a true fact or is it just somebody deciding that? Would you guys still go after a quarterback [in the late rounds]?A: We will always look for quarterbacks. I learned that really big time in Green Bay with taking [Matt] Hasselbeck and Aaron Brooks even when you have a three-time MVP [in Brett Favre] at quarterback. I think you always try to have youth at that position. I don't think you can force the issue. I think you need to find somebody that fits your system and then you've got to train them. If you draft a guy later on then he should start by being your third quarterback and then work his way up. 
Q: With the chance you've had to go through the draft, have you changed your thoughts about what positions are the strongest and what are the weakest?A: It's still the same. I'm impressed with the offensive tackles; I'm impressed with the running backs. The tight ends are pretty good in the mid-rounds. Cornerback is pretty good, which is nice to see. Where it's lacking is safety and interior offensive linemen – guards and centers.
Q: With where you pick in the first round, are there any positions that you just say we're not taking?
A: "I don't think quarterback, or it would be something that we would have to talk about a lot. To do that, I think we would have to be wiped out at all of the positions. That would be one. Punter, kicker of snapper would be very hard."
Q: Is there anything about the new format of the draft that you would change? Are you happy with it?
A: I'm okay with it, I really am. You guys are all well-aware of how that first round gets so long and drawn out. I'm fine with it. As a matter of fact, they called every team, and I was for it. I was for the 10, seven and five [minutes between picks]. I'm not sure why they did the time change, but I'm okay with it.
Q: Would you consider moving back in the draft to get more picks?
A: If it makes sense for us to do it, then we'll move back. I can't say it makes sense for us, but we could move up a little bit if someone falls. It could happen. From a personnel standpoint, you always want more picks, but we won't trade just to trade. If we have a guy there [at our draft position] that we pinpoint and think may come in here and start the first year, we'll stay put and make the pick.
Q: Do you have to balance differences in what the Head Coach and General Manager might want?A: You have to balance that. That's why I said that Mike [Nolan] and I have such a great relationship. We'll disagree, we'll argue about it, but we'll sit down and talk it through, then we'll watch tape together. And then we'll go through scenarios – how does it affect this position with our veterans … if he comes in who does it knock out? Again, the communication I think is huge.
Q: Have you disagreed at the top of the draft previously?
A: Not by the time we got to it. Prior to [the draft], oh yeah. We start about two months out sometimes. But, when we get here on Saturday and Sunday, the board is set. The only discussions we'll have is mostly medical. We'll follow the board.
Q: Is there anything left to do now other than talk to teams about possible trades?
A: No, we'll just get back to the doctors again and go over certain names that we think might be questionable medical. We let them know that before we make our pick on Saturday or Sunday, you've got to come over and talk with me, the head coach and the ownership just so that everybody's on the same page.
Q: How many players do you still have on your board?A: Not counting free agents, I think it's like 230. It varies every year. It's unique, because people think you have 32 names in the first round. We don't. Last year, we had 17. This year, right now we have 19.
Q: How do you set your draft board?
A: The way we set our board is for the 49ers. We don't set the board for the league. I've got a good idea who the top 32 picks are going to be. You never know for sure about trades, but our board is set. I'm sure we've got guys that other teams don't have on theirs and vice-versa.
Q: What are you looking for when you separate the guys in the draft?
A: It's the whole package. Size is important; intelligence is important … field quickness, flexibility in the whole body, strength in the hands, versatility.
Q: Does the David Baas injury change anything?
A: No, it doesn't change things. You hate to see it [the injury], but it shouldn't be anything that's going to be long-term. But at that position, we're always trying to add youth, and we've done a pretty good job since we've been here. I think you can never have enough offensive linemen, or defensive linemen for that matter.
Q: Do you run these [draft] meetings or does Mike [Nolan] run the meetings?
A: I run the meetings with scouts and then if I meet with the coaches, Mike will sit next to me. I go through the board with them. They tell me what they see about the players and Mike will have questions for me from the scouts about background, character, etc. so it's kind of a two-headed monster.