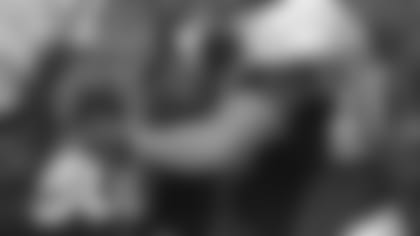 Defensive Tackle B.J. Raji from Boston College has one of the most intriguing backgrounds of any player entering this year's NFL Draft. Read what he had to say to the media at the NFL Combine.**
Q: What do you hope to accomplish at the Combine?
A: Show guys I can move for my size. Show that I've recovered from shoulder surgery that I had in '07. And just prove I'm one of the guys. I don't think I'm any better than anybody. I'm here to compete. I love to play football. This is where the scouts want me to be, so I am. I'm going to do everything.
Q: What was your meeting with the New Orleans Saints like?
A: Last night was interesting. They (the New Orleans Saints) kind of had the film set up. They had four plays that they broke down with me from this past season. They kind of wanted me to explain what we were doing on that particular play.
Q: What kind of player will the team who drafts you get?
A: I think they'll get an overall defensive tackle who can do both – get to the quarterback and stop the run. A team leader by example, a good guy on and off the field.
Q: Do you ever listen to what draft experts say?
A: I get so many texts when Todd McShay and all of those guys get on ESPN. I get so many texts and calls. I don't pay too much attention to it. I know those guys are experts or whatever, but they really have no say when it comes to draft day. I kind of watch that over the years, so I'm not trying to get my hopes up too much.
Q: What was your impression of the Senior Bowl?
A: That was great. It was a fun time. I met a lot of great guys there. The coaching staff was great, very helpful. They were one of the biggest reasons for my success, because of the way they coached.
Q: What was the best part of that experience?
A: The different drills we worked on at practice. The way they coached me, I would have to say. They were coaches – they criticized when needed, but besides that, they were very helpful.
Q: Which defensive tackles do you admire the most?
A: Tommie Harris of the Chicago Bears. Mostly, Albert Haynesworth.
Q: Why Haynesworth?
A: His combination of speed and power. He kind of keeps a guy off-balance. I don't want to say my style's like him, because I kind of like to play my own game, but there are certain things I take from him.
Q: What allows you to play your best?
A: Actually, the best way I play football is to try to be myself. So, I'm calm before games, I listen to my music. I don't make it all crazy, because that's how it is in real life. I play my best when I'm myself.
Q: What kind of music do you typically listen to before a game?
A: A little rap, a little R&B – depending on how I'm feeling. I kind of go with what I'm feeling that particular day. I might listen to a little more laid-back music. If that's what I'm feeling, that's what I go with.