In this 49ers.com Q&A, fans can find out more about the 49ers fourth-round pick out of Texas A&M in center Cody Wallace.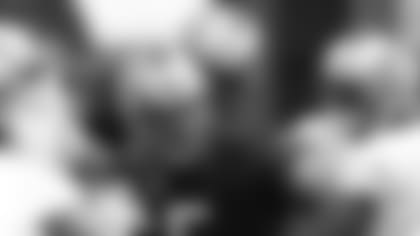 Q: What was the rest of that Sunday of the draft like for you? You seemed very matter of fact when you were drafted. Were you more excited than you let on or is that just your demeanor?**
A: I had a lot of family over at the house that day. We had a barbeque and a lot of friends came over and it was a good time hanging out with everyone, but I probably would say I wasn't excited as everyone else was. Everyone else was going crazy but I knew I had a lot of work ahead so I didn't get too carried away.
Q: You lost both of your parents – something that seems unimaginable to most of us – but yet you had your grandparents who seem to have been remarkable influences in your life?
A: They've been huge. They are just about the only family I have left, them and my brother and then some distant family. They've done everything for me. It's just been absolutely amazing and they never once complained. They did a great job for me.
Q: Still you had some serious adversity to deal with. How did you manage so well when others might have taken a much different path?A: It's tough to say but I had a lot of people who supported me back home. Growing up in the church, a lot of people helped me out and I had a lot of good friends who were always there for me. I could always call anyone and they'd be willing to talk and help me out with anything I needed.
Q: Speaking of friends, I read about a contract you signed with some of them, promising cash and free tickets if you made it to the NFL. Apparently this contract surfaced that Sunday shortly after you were drafted?A: Yeah, my junior year in high school after I got my scholarship to A&M, I wrote up a contract with some of my friends saying that if I ever made it to the pros I'd have to give them so much money and get them tickets to all of the games. I had forgotten about it - it had been six years. One of my friends had hidden it behind this picture in my house, and so he came in and was looking behind this picture and I had no idea what he was doing and he pulled that out. It was a good laugh.
Q: You and JJ Finley went to elementary school together in Texas. What was it like to show up for your first ever NFL camp and have a friendly face going through it with you?A: I was real excited. He called me and let me know he was going to be here. We played junior high football together so it's pretty cool. It's good, but we didn't have too many chances to talk over mini camp but just to see a familiar face is nice.
Q: How much did it help you to come in for camp given you had worked with this staff down at the Senior Bowl?A: I knew what Coach Warhop would expect and I knew the tempo they like to run everything so it helped to be a little familiar with that. But, it was still crazy. They threw so much stuff at us. The tempo is fast but it's the mental part that is the hardest thing.
Q: What do you think of this Mike Martz offense? How detailed is it?A: Just in the first few days it was more stuff than we did my whole time at college, so it's a ton of stuff to learn and I was just trying to get a feel for things and make the right calls. It was tough.
Q: Your o-line coaches are sticklers for details and having proper technique. How much do you think you can improve upon in that area?A: Technique, there is a lot for me to work on. But whenever you are trying to learn the plays and the offense, it's tough to worry about technique because you are trying to get in the right spot and on the right guy. So, you might lose some of your technique, your footwork and hand placement, but once you learn all of the plays you can really start focusing on technique and get a lot better.
Q: You had over 252 knockdown blocks during your final 2 seasons, which implies you've got some strength. What else comes in to play in those kinds of impressive stats?A: I think one of the main things was just trying to play hard and finish every play. Some I might have pushed over, some may have already been on the ground and I finished the block, but you definitely have to be strong to hold your own and not get driven back.
Q: Are you looking forward to working on your size and strength in the 49ers program? Do you plan to put on more weight?A: I definitely think I need to gain some weight. I came in a little light and smaller than everybody. The other two centers are 318 and 320 or something. I'm going to have to work hard in the weight room and put a lot of weight on and just get ready to play.
Q: Are there any NFL centers currently or while you were growing up that you admired?A: There's actually a guy from my hometown who played in the NFL – Matt Anderson. He played center for a little bit. Also, Bruce Matthews' son was on my team so I got to meet him several times and he's one of the greatest to ever play the game.
Q: What are you most looking forward to in this NFL Career?A: I'm not sure. Right now, just make the team and be able to contribute. My goals aren't set too terribly high quite yet. I know I have to establish myself first.
Q: And lastly, what do you do when you are not playing football?A: In the last couple of years, I started hunting a little bit. Everybody who knows I'm from South Texas thinks I probably grew up hunting but I just really started. It's fun, but I don't get a whole lot of chances.