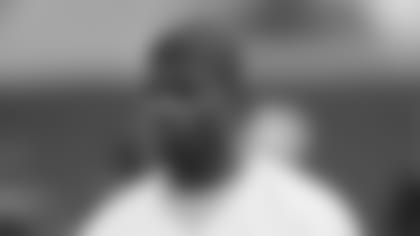 Get to know more about the 49ers third-round draft pick, cornerback Reggie Smith, in this 49ers.com Q&A! Also, be sure to watch the Up Close segment on TV49 on Reggie!**
Q: We know you were still in bed when you actually got drafted, so at what point did the excitement actually set in?
A: Yeah, I was still in bed, in my little brother's bed at my parents since they had moved all of my stuff out already. I was up, but I wasn't all the way to where I knew what was going on. So, I was still a little groggy, but afterwards I was like "I just got drafted by the 49ers" and all of the history and things behind it hit me. I was just amazed.
Q: What's been the reaction by your family to this NFL opportunity?A: I think they are real excited but we aren't the type of people to show our emotions too much, but inside we are all very happy.
Q: You played with Malcolm Kelly at Oklahoma. Did you talk to him throughout the draft process and did going against someone like that day in and day out help raise your game?A: I texted him after he got picked up. I know Malcolm was kind of upset, thinking he should have gone a lot higher, which I thought so too. He was happy though once he was picked up and I think he feels it is a good fit for him. He prepared me greatly because he's a big, fast strong receiver and I'm going to see a lot of those in this league so I needed to get ready for that.
Q: Some people criticized you for not being fast enough to play corner in the NFL, but our GM Scot McCloughan said you have great play speed, and that you had no problem keeping up with Limas Sweed when you played against him last year. Do you think that's the better perspective?A: I think maybe they look too much at the 40. Everybody on both pro days at Oklahoma had slow times on that surface. We were like "wow, what's going on, we never ran that slow before." I think I play a lot faster on the field. I might not be able to do the testing type 40 thing but I know I run fast out here.
Q: Did you study the 49ers roster and try to figure out who some of the players and coaching staff were before showing up for camp? How did you get yourself prepared to come in?A: I actually looked it up online to see who my coaches were and realized that they were some of the guys I had met at the Combine. Other than that I tried to work out so I wouldn't come in and be huffing and puffing too much out there.
Q: How much easier was it to come to a new team since a few of your teammates from Oklahoma in Lewis Baker and JJ Finley signed here as undrafted FA's?A: It was good because I thought I was going to be here by myself, and that's a little strange walking around and not knowing anyone, because I don't talk much anyhow. Lewis is in the secondary with me and a lot of times at camp we were out on the field together so it's good having him around. Until we get to know everybody else, we are kind of just bouncing off everything off each other. We plan to spend a lot of time in our playbook together before the OTAs start.
Q: What was it like trying to defend a wide receiver like Isaac Bruce?A: It is amazing. I watched him growing up, and also Nate Clements, all of those vets. I'm like wow, I'm actually here. Isaac is going to be good. He can do anything. I'm out there trying to cover him and it's hard because he's obviously been in this game way longer than me.
Q: They plan to use you at corner here, but talk about your versatility to play safety, and then also even your background playing on special teams.A: I think it just adds to my value. If it didn't work out at corner, I can slide in and play the nickel or safety if need be. I think you can throw me in at different positions and I can help out. I worked gunner on punts during camp, but I want to make sure I get my shot at punt return too.
Q: You started as a freshman at Oklahoma, do you have the same aspirations at this level?A: I wasn't expecting to start, it just happened that way in college and high school. I'm going to come out here and practice hard and learn from this veteran group in the secondary and wherever the chips fall, they fall. There is a lot of experience in this secondary here, listening to them talking and hearing their lingo, they know everything. I've never seem them be stumped so it's great to have them to ask questions and learn all I can from them.  
Q: You missed the Fiesta Bowl with a broken toe. How difficult was that to miss your final college game?A: It was tough, especially because we lost. I was out there seeing things from the sidelines that they probably didn't see because it was going so fast. I'd think man, if he had just made this cut, it could have been a better play. So, it hurt me a lot not to be out there with the guys.
Q: You played a bunch of different positions in high school at Santa Fe H.S. in Edmond, Oklahoma, lettering four-time as a defensive back, wide receiver and running back? What made you ultimately stick with the secondary?
A: I think playing all of those positions helped me out and made me versatile when I went off to college. Corner, I like it because you have to beat your guy. You either beat him or is he going to beat you, so every play it's who is going to win this one? Confidence is huge because when you get beat, you've got to be quick to forget it and just win the next one. I just felt it suited me and as a DB, I have a better understanding of what the receiver might do since I played that position in high school as well. I was just blessed that I was able to play all of those positions and get a well-rounded feel for the game.
Q: Outside of football, what are your hobbies and interests?A: I spend a lot of time on Play Station 3, or surfing the net. I like to shop and look at shoes online. I used to be on Facebook a lot, but I don't do that as much.
Q: So what is something everyone should know about you?A: I don't know. I am a pretty shy guy. I don't talk a lot. I'm not that talkative unless I really know somebody. It was strange, me and my roommate (Josh Morgan) didn't say a word to each other the first night of camp. We were both just in our playbooks. Other than that, I can sew. I took Home Ec back in the day and I had to learn how to do all of that stuff. I can remember making a pretty big pillow one time.