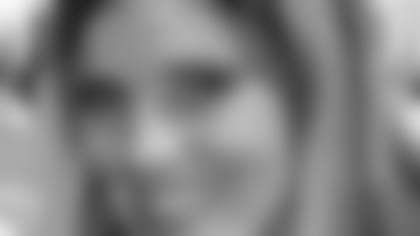 Over on our social networking site, 49ersfaithful.net, we have a few official team bloggers including some staff members and two of our players in Manny Lawson and Marcus Hudson. Here's part of a Pro Bowl recap blog by 49ers.com writer Chrissy Mauck.**
On Saturday, the Pro Bowl puts on its annual Ohana Day at Aloha Stadium, which is basically the first chance fans have to come out and watch practice and get a few autographs. I caught up with our Gold Rush Cheerleader, Kristin, and got some sound bites from her for TV49, as well as Niner Noise. Patrick was very excited about his red and white Hawaii flowered gloves, and very much fired to play in Sunday's game after having his first taste of Aloha Stadium. I grabbed a few of our 49ers fans to interview at the game as we are always happy to see our fans show up everywhere we go!
Later on that day I attended the Hall of Fame press conference where they introduced all six of the new members including 49ers Fred Dean. I interviewed Dean after the general Q&A session and that's up already on TV49. He shared the story about how he was watching the press conference on TV and how he heard them list off names and mistakenly thought those were the guys who had made it when they were actually the guys who had been eliminated. So, he was basically very shocked when he received the phone call because his hopes had already been dashed.
I worked on the sidelines with Brian Baldinger for the actual game. My job was to keep an eye on the game and the bench area and think of any storylines we could talk to the guys about, and then help grab them. To be honest, we only interviewed I think six guys during the course of the game and so my job was extremely easy with most of the help coming from the Packers PR Director and a PR staff member of the Rams who had been assigned to the NFC squad.
Ironically, Andy never got to actually punt in the game. His first time out, the NFC opted for a fake punt. Andy got the snap and threw it to Tony Richardson who picked up the first down, which kept the drive alive and led to a tied game. After that, Andy only saw action holding for the NFC's six extra points! Patrick was credited with just one tackle, but I kept an eye on him any time he was out there and he was in on a few more than that I believe. He did get juked once early on in the game and I know he was mad at himself for that one. It was an exciting game and I was happy to be on the winning sidelines.. T.O. really wanted the MVP award and seemingly had it locked up after catching his second TD (from Jeff Garcia mind you), but then Adrian Peterson scored his second touchdown to put the game out of reach for the AFC, and was then awarded as the MVP. I'm not positive, but I believe that's the only time in the history of the Pro Bowl that a rookie won MVP honors.