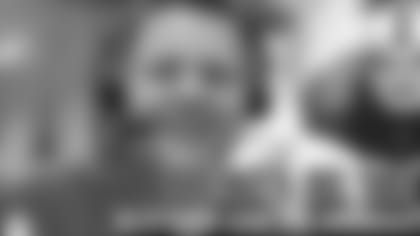 Former 49ers linebacker and KNBR color commentator Gary Plummer previews the 49ers opponents every week of the 2009 season on 49ers.com. For his second installment of his "Points of the Game" column, Plummer breaks down the 49ers second preseason opponent – the Oakland Raiders.**
I think everyone, myself included, is interested in seeing the latest round of the 49ers quarterback competition. One of them is going to have to win it. It's nobody's job to lose. It's somebody's job to win.
From the repetitions, it looks like Shaun Hill and Alex Smith are both getting an equal opportunity. I think the competition is being done the right way. And I expect the playing time for each quarterback to be fair against the Raiders.
One thing that was working for the 49ers offense last week was completing passes to Vernon Davis. In this offense, Davis will be getting the ball more underneath. But it is the yards after the catch that are so important in offenses around the NFL. For a lot of guys those are yards after a quick slant. Jerry Rice made a living off of a quick slant and turning that, with yards after the catch, into a 20-yard gain. I've been wondering why for years we haven't been doing more short things with Davis because he has the ability with his speed and athleticism to make yards after the catch.
I have always believed one of the toughest things to defend is the quick little slant, or, what most people call, what Brent Jones made famous for the 49ers, a stick out. It is just going down 6-10 yards and breaking at a 90-degree angle to the sideline. I really believe those are the kinds of routes Vernon Davis can flourish on this year.
I think it will also be interesting to see how Kory Sheets plays against Oakland. In all likelihood, all of the reps that were going to Thomas Clayton are going to go to Sheets. Sometimes, that is all it takes is an opportunity. Unfortunately with numbers in the preseason in a situation where you have a high draft choice like Glen Coffee and an established All-Pro running back in Frank Gore, you kind of have to beg for reps. Now Sheets is going to have many, many more opportunities to carry the ball in practice and likely against the Raiders too.
On the other side of the ball, I'd like to see more out of our pass rush. On the three interceptions from Kyle Orton last Friday, there wasn't much pressure on him when he threw them. He just flat out made bad throws and the 49ers secondary made great plays. They were where they needed to be to make a break on the ball. Give the secondary credit. Usually those things go hand-in-hand; the pass rush and coverage. But in this case you have to give most of the credit to the pass defense and some of the blame to Orton. I wouldn't be giving too much credit to the pass rush or the lack there of.
There were a few blitzes last week, not many. That's because you don't want to show your hand in the preseason. It also kind of depends on your philosophy of the coordinator. Certainly 49ers defensive coordinator Greg Manusky is not going to show anything new he is working on for Arizona. You can bet your bottom dollar that he is working on new stuff for Arizona. Sometimes you don't like to show stuff that's already on tape from last year. I don't exactly know what Greg's philosophy is on that. There were not a tremendous amount of blitzes. Those are things that I am sure he would make more adjustments.
That's the other issue too. The defense was doing a good job without blitzing. They were getting turnovers. How you get them, doesn't really matter. You get them with pressure or you get them with coverage. The 49ers just happened to get them with coverage. It certainly would be nice to get them with pressure as well.
Those are some of the things I will pay close attention to on the field tonight. I look forward to seeing it play out, and as always, another classic Battle of the Bay matchup.