At this time of year, most kids across the country are wrapping up their school year and gearing up for a relaxing summer off, but around 49ers headquarters work is just heating up with Monday's start of three weeks of voluntary organized team activities (OTAs).
"I thought it was pretty good, obviously there's some rust we needed to knock off but it was awful nice to get out there and fly around and get into that competition with the defense and all of that good stuff," said quarterback Shaun Hill. "I had fun out there and I think the whole group did, but there's a lot we need to clean up."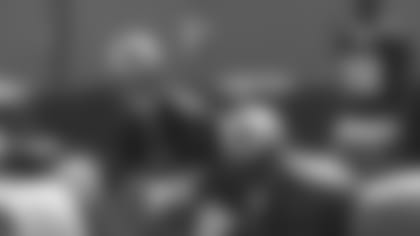 As it relates to school, Hill said he doesn't know if he's ever studied as much as he has this off-season in order to pick up Mike Martz's complex offense.
"College is the last situation I was in that was kind of similar to this, but there's so much more asked of us out here than there was in college," said Hill. "This has been the most that's been asked of in the off-season and it's a necessity because it will make us better. We do a lot of work here as a group and you can't let that be enough. You have to go home and watch cut-ups from his offense from different teams and then we've taken so many notes, you've got to go over them again. You are writing so fast you can't read it, and you have to re-write them."
Hill's competition, quarterback Alex Smith, said that the note taking and the film study are necessary evils in order to have success on the playing field.
'I think the most important thing for the quarterback position, if you ask any of us, it's clarity upstairs, understanding everything and being comfortable so that when we come out here and take these reps, we are really letting go, cutting loose and playing fast," said Smith. "You don't want to be out here thinking. It's battling that right now, and trying to be prepared to come out here so we can take the reps and play fast.
Both players said the offense has come a long way this off-season in terms of picking up the intricacies of Martz' offense, but that the unit is far from getting complacent and needs every bit of the next three weeks of work.
"He'll be the first to tell you, if you think you got it, you don't," said Hill of his new coordinator. "So, we have to stay on top of it and keep studying. But obviously, I do think everyone was a little more comfortable out there then we were the first day of mini camp, but we can't sit there and think we have it down because we don't."
In addition to the big picture, the quarterbacks are also getting work on small details from Martz and quarterbacks coach Ted Tollner.
"Coach Martz has spent a lot of time really analyzing what it takes to play well in this system and what you need to do and really stressing those fundamentals – what your feet need to look like, body posture and we've worked a lot on that out here," said Smith. "You are constantly getting coached out here on all of that stuff."
Specifically, Hill said that he's been coached up on throwing with his whole body and not just his arm.
"The techniques make sense, and they are good once you finally get them down and I think once they are second nature to me, I'll be a lot better," said Hill. "I've been doing something else for years and years and now changing has been a process, but I've bought in 100%. I've seen the results. I know it's a lot better."
Hill said he's also been trying to get back in the habit of using his wrist again to throw a tighter spiral.
"With the broken finger, I couldn't snap the ball with my wrist last year," said Hill. "I was afraid the ball would fall out of my hands. I couldn't grip it."
On the Participation Front

Although still limited to individual work, defensive linemen Joe Cohen and Melvin Oliver and linebacker Manny Lawson saw their first action in practice since suffering season-ending knee injuries in 2007.
"I was able to do a little in individual drills today, under the watch of athletic trainer Jeff Ferguson," said Lawson. "I'm hoping that by the time OTAs end, they'll let me be out there throughout the whole practice., but it felt good to do something new and to be part of the team and out there with the outside linebackers. I just can't wait until I'm fully out there and able to do everything."
Safety Mark Roman and guard David Baas did not work in the session. Roman is expected to miss the entire first week of work after having surgery to clean up his shoulder, while Baas is out until training camp after having surgery to repair his torn pectoral muscle.
Quarterback J.T. O'Sullivan and tackle Jonas Jennings missed the first day of OTA's due to personal reasons that head coach Mike Nolan said he was aware of ahead of time.
Nolan said that he had expected wide receiver Arnaz Battle to be here this week and had not yet heard from him regarding his Monday absence.
Rookie linebacker Larry Grant is unable to attend the OTAs due to league rules that prohibit rookies from participating in off-season programs until they or their class has graduated.
Highlights

Safety Michael Lewis broke up a long pass over the middle to tight end Vernon Davis, while linebacker Brandon Moore intercepted a pass that corner Marcus Hudson had tipped for a few of Monday's defensive highlights. On offense, tight end Billy Bajema showed up with an acrobatic grab along the sidelines.
Newly signed tackle Alan Reuber took part in the practice, wearing his newly assigned number of 67. That number is also being worn on defense by Kentwan Balmer.
Chilo's Change of Position

As announced last week, rookie Chilo Rachal is making the transition from guard to tackle.
"Whatever it takes to help the team, I'm willing to do it," said Rachal. "I didn't really have a problem. I just want to help this team the best I can. It's a chance for me to show my athleticism."
The second-round draft pick out of USC said day one at his new position went pretty well, but hopes to benefit big-time from the next three weeks of OTAs.
"I just want to get this tackle spot down, polish myself off and get to where I'm not guessing and just going out there and playing," said Rachal.
Punt Returns

During the special teams portion of practice, Allen Rossum and Robert Jordan shared punt return duties.