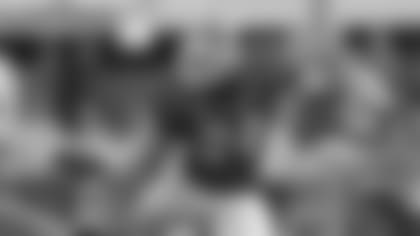 His preparation for the combine:"I have been working out in Dallas at Michael Johnson Performance in McKinney, Texas. I've been working out there for three weeks actually. Doing drills for the 40 and lifting weights. It's been great."

His receiving skills:
"I'm comfortable. At Georgia I was in the slot quite a bit of times, also catching the ball out of the backfield. I'm used to being out there, but I have to still work on it though."

His favorite running back:"There a lot of great running backs in the NFL right now. I really love the way Adrian Peterson runs. I also like LaDainian Tomlinson. But my favorite running back is Walter Payton. Those are all great running backs and I just love their style of running and their work ethic."

His approach for the combine:
"It is a job interview, but at the same time it is competition. When you see a guy out there running, you want to get out there and do the same thing. I'm not trying to go against the clock here. I'm just out here competing for the GM's and coaches and let them know what kind of person that I am."

His quick-feet and elusiveness:"I think it comes from just practice and cone drills. Tony Ball my running backs coach at Georgia puts a big emphasis on foot placement, hitting holes and getting away from defenders. That's what he's taught me."

His physical running style:
" I used to play defense when I was in high school. I think that kind of mentality came from high school. You have to deliver the blow."
Leading up to the 2009 NFL Draft, 49ers.com will feature some of the top prospects at their respective positions. This week, we look at one of the top running backs in the country, Georgia's Knowshon Moreno.
The more NFL scouts know about Georgia running back Knowshon Moreno, the better his chances are of being the first running back selected in the upcoming NFL Draft.
The shifty 5-foot-10, 217-pound tailback who finished in the top 10 of all running backs in most of the Combine drills, proved he's a player that most teams will covet.
Only a poor start on his 40-yard dash prevented Moreno from being one of the most talked about prospects in the upcoming Draft. Although it wasn't the result he was looking for, Moreno ran a 4.62 and can improve upon that time at his pro day.
The first-team All-SEC running back and second-team All-American put up 25 reps of 225-pounds on the bench press, showing scouts he has strength to go along with his lateral quickness.
During the course of his career at the University of Georgia, Moreno became the second running back in school history to rush for consecutive 1,000-yard seasons. The other back was Heisman Trophy Winner Herschel Walker.
As a Bulldog, Moreno totaled 2,734 yards and 30 rushing touchdowns. He also caught 53 passes for 645 yards and two scores.
Playing on the same team with potential no. 1 overall pick Matthew Stafford, Moreno was named the team's Most Valuable Player.
Had he gone back to school where he had two years of eligibility remaining, Moreno would have been considered a top contender for the Heisman.
Instead, the redshirt sophomore decided to leave school early so he could help support his family.
"It came down to a financial reason for my family," Moreno said to the gathered media during his individual press conference at the Combine. "I talked to my family and made my decision."
The choice was even harder for Moreno because of the relationships he had formed in school.
"It was definitely tough," he said. "The reason why I came to Georgia was that the coaches really made me feel at home. Leaving those coaches and the players was really a tough decision. It came down to the last day and down to the wire."
Now that he's come to grips with leaving school early, Moreno is looking forward to proving himself at the pro level and showing scouts his love for the game of football.
When asked about his fearless rushing style, Moreno answered:
"I think it just comes from the love of the game, loving being out
there with my teammates, enjoying the game and just the moments out there on the field," he said.
No matter what team selects Moreno, he's excited to validate their choice from day one.
"I'll be happy to go anywhere," he said. "They'll be getting a great person – an accountable guy. I will be ready to participate and compete."