Sedrick Ellis never had any intention of playing football, but the defensive line coach at his Chino High School had other plans, waylaying Ellis one day when he was sitting around campus with a group of friends.
"Coach walked past and stopped mid-stride and asked me why I wasn't playing football and I didn't have an answer," recalled Ellis. "He took and introduced me to the head coach and said, 'why isn't this guy playing football?' The head coach looked at him and said 'I've never seen the kid before in my life.' I guess they convinced me to give it a try."
Fast forward to an All-American career at USC and Ellis finds himself with plenty of coaches who now know the then anonymous high schooler..
"I'm glad my old coach got me into it," said Ellis. "Most guys played Pop Warner and all of that, but it's still relatively new to me. It kind of worked out right?"
You could say so, considering that Ellis has positioned himself to be a top ten pick in the upcoming NFL Draft. As the winner of the Pat Tillman Pac-10 Conference Defensive Player of the Year Award and the recipient of the Morris Trophy, given to the league's premier lineman, Ellis clearly earned his reputation as one of the top defensive linemen in this year's draft, but his stock has only continued to rise.
The Trojan first proved his competitive fire and love for the game by electing to participate in the Senior Bowl all-star game, where he quite frankly dominated throughout the week, demonstrating both his ability to defeat double teams and hold the point against the run, and his tenacity in getting after the quarterback.
"I think the Senior Bowl definitely helped me a lot, because just going out there and competing told teams a lot about me," said Ellis. "Not being scared to go out there and put everything on the line and do my best."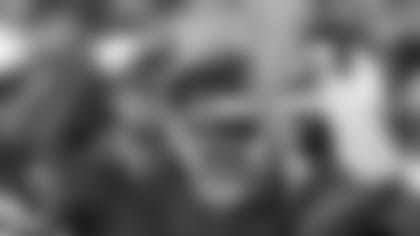 Background: Grew up in Chino, California with two older and one younger sisters to which he said, "Well, I didn't get the bathroom too much and I never won any fights since they were all against me. So, since I couldn't win any fights in the house, I went out on the football field and tried to win some battles there."
Best Friend: His Rottweiler, Oso, which means Bear in Spanish
Favorite Show: Planet Earth. In fact he says he's such a strong supporter of the show, that he can't possibly imagine why every single person doesn't own the DVD collection.
Favorite Team as a Kid: Los Angeles Rams
At 6'1, 305 pounds, Ellis also displayed his explosiveness at the Indianapolis Combine during the positional drills and in his 40-yard dash
"When you see a big man like that get down in a stance to run the 40, you are not sure if he's going to make it out of there," said area scout Todd Brunner who timed the 20s. "He exploded out of his stance and did very well for himself."
Although he's slightly smaller, Ellis' play has been compared to San Diego's Jamal Williams, one of the more dominating nose tackles in the NFL.
"It's a great honor to be compared to a guy like Jamal because he is a beast in the middle," said Ellis. "He does a lot of things for that team and makes a lot of things possible for those linebackers. On the other hand, you really don't want to be compared to anybody. You are your own person, you are your own player and you always want to be unique because that's what makes you special."
Ironically, Ellis used "beast" to describe Williams, which is exactly the nickname he earned from his USC teammates.
"One day we were at practice and I beat a double team and somebody asked, 'how does that guy do that kind of stuff, and this younger guy on my team – Tommy Herring answered, "he's just The Beast,'" recalled Ellis. "I kind of liked it and I rolled with it. Reporters started writing about it and then people would come to games with signs and everything."
Defensive tackles rarely receive that type of outside fanfare, instead garnering the bulk of their attention between the lines and in the trenches. And that's just fine by Ellis.
"Everybody says nose tackles don't get any credit but if you do your job, you are going to make your plays," said Ellis. "When the linebackers are flowing to the ball untouched because the offensive linemen are having to double team you, that's credit and reward in itself. So, I love my job because I have a battle on my hands on every single play."
Ellis even has a battle on his hands currently as he aspires to be the top defensive tackle taken over LSU's Glenn Dorsey. Dorsey originally was believed to have the edge, but rumors of lingering issues over a fractured tibia could slide him down in the draft, and Ellis up as team's picking in the top ten are in need of an immediate impact player.
"I'm a little bit of a short guy and I use my leverage more than he does," said Ellis. "I think I run sideline to sideline better than he does. He's a little bit bigger, more brute and he plays straight up the field so it just depends on what you want in your defense."
Ellis' is correct in assuming that his position on the draft board might vary from team to team depending on a team's defensive scheme, but he can pretty much count on being wanted and taken very early come draft weekend.