Leading up to the 2010 NFL Draft, 49ers.com will feature many of the top prospects at their respective positions. To start us off, we look at one of the top hybrid defensive players in the country, Utah defensive end Koa Misi.
Koa Misi has lined up at just about every position in the front seven of a defense over the course of his football career.
In recent years, the Santa Rosa native and Utah senior has played middle linebacker, outside linebacker, defensive end and even defensive tackle. But after changing from the interior line where he started in his redshirt sophomore year, Misi has made a name for himself over the past two seasons at the defensive end position.
In three years at Utah, Misi started in 36 of the 38 games, totaling 206 tackles, 26 tackles-for-loss and 10.5 sacks. He finished second on the team with 5.0 sacks this past season, which earned him first-team All-Mountain West honors. Misi finished his college career 3-0 in bowl games, including a five-tackle performance in Utah's win over Alabama in the BCS Sugar Bowl at the conclusion of his junior year.
Misi's versatile attributes make him one of the most sought after hybrid players in the 2010 NFL Draft. Most experts have him pegged to be a second-round pick. As to where he best fits at the pro level, Misi doesn't care, just as long as he fits in.
End or outside linebacker? Hand on the ground as a defensive end or standing up as a pass rushing outside 'backer? Those were the questions being posed to Misi during his interviews with various teams at the NFL Scouting Combine.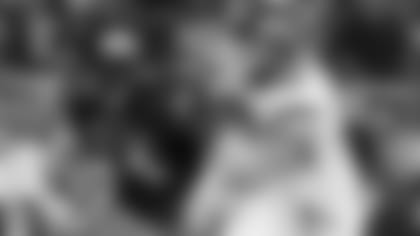 "It doesn't really matter to me," Misi said in Indianapolis. "Wherever they need me to play, that's where I'll play. I feel comfortable at both. I like to drop into coverage, I like to run around and make plays and I like to pass rush too."
Based on the number of Misi's interviews at the Combine, the 6-foot-3, 244-pound linebacker revealed that many teams told him he's best suited to be a standing outside linebacker in a 3-4 defensive scheme.
Misi didn't do a full workout at the Combine for those interested in his services because of a wrist injury he suffered at the Senior Bowl. Despite the setback, he still posted a 38-inch vertical jump, the best of any defensive end prospect this year at the Combine. Misi recently did his field drills this past Monday at his pro day, and will finish things off with the bench press at the end of March.
With a solid amount of game tape for scouts to evaluate, Misi said most teams are questioning a decision he made in high school rather than his body of work from three seasons of college football.
Prior to landing in Utah, Misi was recruited out of Montgomery High School in Santa Rosa, where he was the conference's Defensive Player of the Year his senior year. Misi had an offer to play college football on the West Coast, but decided it wasn't the best fit for him.
He sat out of football for the entire year.
"A lot of guys wanted to know what happened after high school, but nothing really over the top," Misi said of the types of questions he answered in meetings with various teams. "It gave me time to think of what I want to do in life and that's football."
Misi wanted to take some time off of football to clear his head. He played at nearby Santa Rosa Junior College the following year and was named an all-conference defensive end in his only season.
Utah quickly snatched him up, and soon a professional team will select him to be a part of their program.