The 49ers headed to New York well aware of the tough assignment ahead of stopping the NFL's number one rushing offense. But in Sunday's 29-17 loss to the Super Bowl defending champions, it was the Giants run defense that stole the show.
New York dropped Frank Gore in the backfield five times for tackles for losses as the NFL's fourth-leading rusher completed the game with only 11 yards rushing on 11 carries, his lowest career total since becoming a full-time starter.
"They played great defense against the run today," said Gore. "We couldn't do anything on the ground. I couldn't get anything going or find a rhythm. We were still able to move the ball in the passing game, but we made too many mistakes."
One of those mistakes fell on Gore's shoulders during the opening drive of the second half on a 3rd and 2 run play. After picking up eight yards on two carries, Gore saw a crease out to his left and hit it hard, unfortunately before really getting the handoff secured. The aborted play and fumbled exchange was attributed to JT O'Sullivan, although Gore owned up to the error.
"I should have clutched it more. I was just trying to make a play and get outside and I moved to fast before I really had the ball," said Gore. "
Following the fumble, the Giants needed just four plays to move the ball from the 18-yardline into the end zone, securing a comfortable 24-10 lead with 9:13 left in the third quarter.
"It's just turnovers and in this league, you can't have turnovers, especially against last year's championship team," said Gore. "They capitalized every time they got a chance."
Despite six sacks, the 49ers had opportunities to capitalize of their own in the passing attack throughout the course of the game.
O'Sullivan found Gore for a 26-yard throw in the first quarter to set up Joe Nedney for a 40-yard field goal and their first points of the game. Then, early in the second quarter, O'Sullivan fed the ball to rookie Josh Morgan three times on a 6-play, 74-yard scoring drive that ended with a 30-yard hookup between the two.
"They came on the blitz, so we had a lot of quick slants to get the ball out of J.T.'s hands quick. On the touchdown, J.T. just had a great pass and all I had to do was catch it," said Morgan who led the 49ers receiving efforts with 5 catches for 86 yards.
Unfortunately, O'Sullivan also aired out some costly passes that took away from his team's scoring efforts. He threw a gift-wrapped interception straight to safety Michael Johnson that he returned to the 9-yardline. A few plays later, John Carney chipped in a 21-yard field goal to give the Giants a 17-10 lead late in the second quarter.
The 49ers had one last hurry up drive before the half, which O'Sullivan kicked off with an 18-yard scramble. He had his unit posed to even the game after a 28-yard pass to Isaac Bruce at the 19-yardline, but his shot to the end zone for Arnaz Battle was intercepted, again by Johnson.
"People have told me that it was behind him. They had the middle of the field open with two safeties," explained O'Sullivan. "I tried to take advantage of that spot, same ball, same pattern earlier in the drive. It was behind him and it should have been in front of him."
For the second week in a row, the 49ers special teams unit provided a huge windfall, bringing the game back to within a touchdown after a blocked field goal by Manny Lawson was scooped up and returned 74 yards by Nate Clements for a score.
"Manny Lawson did an excellent job on making the play, jumping over, making the play," said Clements. "It just happened to bounce to me. If it wasn't for that front line getting that push, none of that would have happened. They did an excellent job."
The 49ers run defense showed improvement this week, holding the Giants to 112 total rushing yards with Brandon Jacobs leading their rushing efforts with 17 carries for 69 yards. But Jacobs scored twice in the game, including a 26-yard run to give the Giants the initial lead in the first quarter.
"They have some extremely good, tough running backs," said linebacker Joe Staley who led the defense in tackles with eight stops. "I think we did a pretty good job, better than most teams, of stopping the run. I don't think they had nearly as many rush yards as they usually have. But, we still didn't hold them to under our goal of 100 total yards."
Overall, it was a better day for Clements and a 49ers secondary, that after surrendering large pass plays in recent weeks, held top receiver Plaxico Burress to 3 catches for 24 yards, and Eli Manning to 161 total passing yards.
But Manning did scrounge up a pair of back to back 10-yard throws to Steve Smith to set up Carney for one last field goal from 48 yards out, upping the Giants to an early fourth quarter 27-17 advantage.
It was the last bit of momentum the 49ers defense conceded to New York. Despite a rash of injuries that knocked out defensive lineman Ray McDonald and safeties Dashon Goldson and Michael Lewis, the unit forced back to back three and out series to give the offense an opportunity to overcome the deficit.
"We were in the game until the fourth quarter," said backup safety Keith Lewis, who finished out the game. "We got some three and outs in that last quarter and I thought it would help out our offense."
Instead, the offense repeated last week's fourth quarter crumble as O'Sullivan was sacked three times, fumbling the ball on all three occasions. The 49ers dove on his first and third fumbles, but the second one was illegally kicked out of the end zone by Morgan for a Giants safety.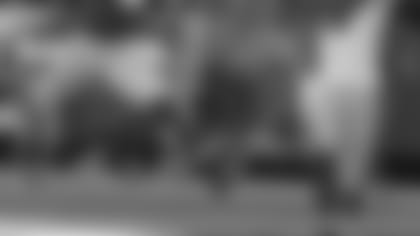 "I think we can play better, whether it be eliminating mistakes or capitalizing on the opportunities when they're there," said O'Sullivan. "You're going to make mistakes, but you have to be able to turn that corner and realize that the game's going to keep going and you're going to have more opportunities. You're not going to eliminate mistakes, but you cut down on the number of mistakes, then you capitalize on the opportunities you have, and you're going to give yourself a better shot to win."
O'Sullivan might not get another shot next week. For the first time all season, head coach Mike Nolan didn't immediately endorse his starting quarterback following the loss. Nolan instead said he'd have to watch the film and evaluate the situation.
O'Sullivan has thrown eight touchdowns in comparison to ten interceptions on the year, and has had a league-high nine fumbles.
But the mistakes aren't his alone. O'Sullivan has been sacked a league-high 29 times.
"We have to do a better job," said O'Sullivan's left tackle Joe Staley. "This is really hurting us.
We can't keep shooting ourselves in the foot. We have to do something about this."
Game Notes: Returner Allen Rossum suffered a groin strain and did not return. Defensive end Ray McDonald, safety Dashon Goldson and safety Michael Lewis suffered knee injuries and were forced out of the game. Cornerback Nate Clements had a rib injury but finished the game. Safety Mark Roman and wide receiver Josh Morgan had groin injuries but finished the game.