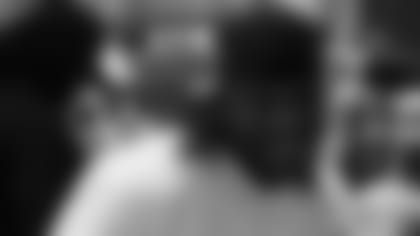 S Dashon Goldson gets his nachos, ICEE and extra cheese.
After eleven straight days of practicing, head coach Mike Nolan put his team through a one-hour long special teams practice Tuesday morning, and then rewarded his squad with a cancellation of the afternoon practice.
Instead of another two-a-day routine, Nolan's group is heading to the movies to see *The Dark Knight.
*
"It's a chance to get off our legs and get some rest, and at the same time have some team camaraderie," said receiver Arnaz Battle. "You definitely feel it, especially going up to Napa and scrimmaging against the Raiders and then coming back late last night. We got back at 11 and then in getting up this morning at 6:45 for treatments, we didn't get much rest. So it's a chance to get away from football, enjoy each other's company, watch the movie and relax."
Not every player is required to be at special teams practice, so there is not much of an injury update but cornerback Tarell Brown was working. Brown injured his hand in the evening practice against the Raiders. Nolan didn't believe it was anything serious, but he did say the team would get x-rays on Brown.