Prior to Sunday's matchup against the Philadelphia Eagles, 49ers tight end Vernon Davis only had five catches in five games. But in the 49ers 40-26 defeat to the Eagles, Davis broke out on the scene, catching six passes for 75 yards.
"It would have been a lot better if we had won," Davis said after the game. "It doesn't really mean anything to me, because we lost. I figure if we would have won, it would have meant a lot." 
Davis was a favorite target of 49ers quarterback JT O'Sullivan early in the game as a quick option to off-set Philadelphia's blitz pressure. Davis caught three passes in the first half for 29 yards, on designed plays that were either screen passes or hot routes.
Davis made good use of Mike Martz's gameplan. The ultra-athletic tight end was happy to be more involved, even if it meant running shorter routes.
"It doesn't really matter how Martz gets the ball to me, as long as he can find ways to do that, which he's a creative guy, I'm pretty sure whatever play he calls, 95 percent of the time it's going to work," Davis said. "So I guess he was trying to get me isolated."
Davis said he was never matched up with a Eagles linebacker, but he was covered at times by safety Brian Dawkins and cornerback Asante Samuel.
As well as posting his highest number of catches on the year, Davis nearly scored his first touchdown of the season in the third quarter, but O'Sullivan's throw was off the mark. Facing a third and six down in Philadelphia's red zone, Martz called for a throwback screen pass to Davis which seemed like an easy six points given the three 49ers blockers and all the open space in front of him. But with the throw too high for Davis to reach, the 49ers settled for a field goal.
"That would have been six," Davis said of the screen play. "There was no one there at all. But JT had a lot of pressure on him so he had to get rid of it. He didn't want to take the sack. He couldn't really see me either, he had linemen in his face."
Davis required five or six stitches in his forearm following the game, but should be fine.
PLAYING TIME

After being inactive for the first four games of the season outside linebacker Tully Banta-Cain was active for the second week in a row, and saw action on special teams and on third downs as a pass rusher. He lined up at both left and right defensive ends.
On the 49ers first play from scrimmage cornerback Allen Rossum was in the slot, and was used to carry out the fake of an end-around, the same one he scored on against the Lions. Rossum also caught a swing pass for four yards on the opening drive of the third quarter.
Backup running back Michael Robinson caught his first pass of the season for a 12-yard gain.
Linebacker Takeo Spikes got a gift, intercepting a ball thrown right to him over the middle at the 49ers 12-yard line. It was his third interception in three games.
"I was just able to read his eyes," Spikes said his interception of McNabb. "I think the good
thing about it, we had a good pass rush. When you run the defense that we run, it's predicated off a pass rush. So with that pass rush, I just read his eyes and jumped in front of the slant."
The 49ers turned the ball over three times in the fourth quarter, all of which were committed by JT O'Sullivan. The first was on a deep pass over the middle on a ball that was intended for Isaac Bruce. The second was a fumble by O'Sullivan, in which Eagles defensive end Trent Cole beat Joe Staley around the edge and knocked the ball out of O'Sullivan's arm as he was throwing the ball. The 49ers couldn't challenge the play as they were out of challenges. The last turnover came with under two minutes left, as O'Sullivan's quick slant was picked off by Eagles defensive end Juqua Parker and returned for a 55-yard touchdown.
The 49ers got zero points off their one defensive turnover, while the Eagles totaled 13.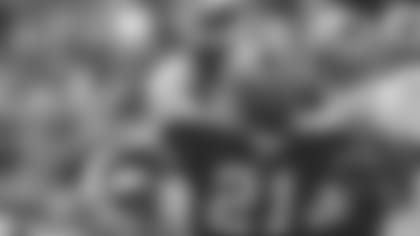 Frank Gore surpassed the 100-yard mark on Sunday for the second time this season. His 19 carries earned 101 yards, for a 5.3 average. Gore had a long run of 25 yards to set the 49ers up at the 6-yardline in the third quarter. He picked up the six yards on the next play for a touchdown. Gore also caught three passes for 16 yards.
Kicker Joe Nedney made all four of his field goals, including a long of 53 yards.
Linebacker Joe Staley led the 49ers unofficially with eight tackles, six of which were solo.
Willis wore the team's defensive radio helmet for the first time this season. Safety Mark Roman had worn the radio for the first five weeks of the season.
SACK COUNT

The 49ers did not register a sack on Donovan McNabb.
The Eagles sacked O'Sullivan three times. Parker, Cole and Darren Howard each picked up a sack. All three sacks came in the fourth quarter.
BIG PLAYS

The 49ers were set up on their opening drive after a 45-yard punt return along the 49ers sidelines by Allen Rossum. Delanie Walker gave Rossum a sweet block to spring him for about another 15 yards near the end of the run.
Later on that drive, on a third and seven, O'Sullivan used a screen pass to find Davis, who got great blocks by Eric Heitmann and Barry Sims, for a 24-yard gain.
On the defensive side of the ball, with 4:30 to go in the second quarter 49ers safety Dashon Goldson stopped Philadelphia wide receiver DeSean Jackson at the 1-yardline to force a field goal.
It was the second touchdown save of the day for Goldson, who also stopped Quintin Demps from taking a kickoff return to the house in the first quarter.
At the very end of the first half, the Eagles took a timeout and then brought on David Akers for a 54-yard field goal. Ray McDonald blocked the kick, which was scooped up by Donald Strickland. Strickland took it back 41-yards for a touchdown to close within one as the first half expired.
"Our special teams coach called a great play on that, and I came through and blocked it," said McDonald. "When we came into the locker room at the half, everyone was juiced up. Coming out at halftime, we thought we were going to win the ball game."
On the opening drive of the second half, Gore picked up his biggest chunk of yards on the day with a 25-yard run, in which he slipped two guys and ran over the safety. Isaac Bruce and Josh Morgan both provided down the field blocks to assist Gore on his run. Later on the drive he scored on a cutback run, where he found a seam between right tackle Barry Sims and Davis for a 6-yard touchdown.
It was quiet day for the 49ers receiving crew, with Arnaz Battle catching only 3 passes for 39 yards, and Isaac Bruce catching two passes for 28 yards. Both players accounted for an explosive play however. Bruce started off the second half with a 21-yard catch, while Battle had a long play of 26 yards.
OUCH

Following the 49ers initial field goal, Eagles safety Quintin Demps took Joe Nedney's kickoff out of the end zone and returned it 63 yards. It was a double ouch for Nedney, who injured his left shoulder trying to make a tackle.
The biggest hit of the game came with 10:34 to go in the first quarter when Jackson was drilled by Delanie Walker in the open field. Walker's clothesline tackle earned several 'ohh's and 'ahh's' from the Faithful.
Walker unfortunately also got stopped for one of the bigger losses of the day on a 2nd and 8 play from the 49ers 40-yardline on the drive immediately following Akers' 38-yard field goal.  Walker took the handoff from O'Sullivan for an end around, and was immediately crushed by Juqua Parker for a 10-yard loss.
It was there. If 75 didn't get up field it would have been a big play. He made a great play, we was in the back field when I got the hand off. Things like that happen.
PENALTIES

The 49ers were penalized 10 times for 58 yards, including a few that caused big-time damage.
A 9-yard screen pass to Gore set up a nice 2nd and 1 at the Philly 14-yardline on the 49ers second offensive possession, but an illegal snap by Eric Heitmann to Michael Robinson, who was lined up as quarterback, lost five yards. The 49ers couldn't overcome the penalty, settling for another Nedney field goal.
On special teams, Allen Rossum got out to the 34-yardline following the Eagles second touchdown score early in the second quarter, but Robinson was called for an illegal block to the back, backing the offense to the 11-yardline. Vernon Davis was called for holding to back the drive all the way to the 6-yardline. The 49ers got the ball out to their 36 before having to punt, but it helped set the Eagles up with good field position and an eventual field goal.
Right tackle Barry Sims was flagged for a false start, creating a 1st and 15 at the 38-yardline on the 49ers next drive. Two plays later Davis was called for a false start. The penalties helped stall another drive that ended in a Nedney field goal.
CHALLENGES
Coach Nolan challenged a DeSean Jackson catch along the 49ers sideline in the second quarter but the play was ruled a catch.
"I was right there on the sidelines for the first one. All I asked upstairs is, 'Was it clear that he caught it in bounds?' We had it on the billboard when I saw it as well and I thought it was very close. My question was, 'Did he have possession?' I saw his feet. I wanted to know if he had possession because if he was still bobbling it, then naturally it wouldn't have been a catch. So that's why I did that one."
In the fourth quarter, Nolan challenged a made Akers field goal that put the Eagles up by a point, and lost since there was no video that could have overruled the official who was standing below the upright.
"This is not a complaint to the officials but they have to make a signal at some point that says it's above the (uprights) or not," said Nolan. "Because as it is, I challenged it not knowing if it's above or below. I asked him, 'Is it challengeable?' And he said, 'It really doesn't matter now that you threw the red flag.' So either way it was going to cost me. So in the discussions right there, they have to correct that. There's got to be some kind of signal that says it's not only good but it's not challengeable or it is."
The 49ers had their best shot of winning a challenge on the O'Sullivan fumble, but Nolan was out of challenges at that point.