Dominique Zeigler finally got a chance to play in a regular-season NFL game on Monday night, but first he did some playing around with his mom.
"I called my mom first and I kind of messed with her. I asked her what the theme song was to the Jefferson's. And she was like, 'Moving on up.' And I was like, 'That's what I did.'"
Now that the long wait for his ascension on to the 53-man roster from the practice squad has occurred, Zeigler is also moving rapidly up the depth chart.
Zeigler expected to primarily play special teams on Monday night, but when Josh Morgan injured his groin on the second to last drive of the game, the former practice squad player took the field with the offense and promptly came up with a catch that he turned up field for a 22-yard gain. His catch eased a long 2nd and 25 down into a more manageable 3rd and 3.
Arizona might have been caught somewhat off guard by Shaun Hill opting to go for the inexperienced player in such a pivotal moment, but the 49ers quarterback has established a great deal of rapport with Zeigler. As the third-string quarterback for most of last season and the backup for most of the 2008 season, Hill threw most of his passes at practice Zeigler's way.
"I have a lot of confidence in Dominique," said Hill. "I've had a lot of reps with him in practice and I'm very encouraged from him. He's so talented at receiver, it's ridiculous. He truly is special. I'm excited that he's getting an opportunity. He's very rangy. He's got strong hands, and you put the ball anywhere near him and he's going to get it."
Because of that chemistry with Hill, Zeigler had a feeling the ball was going to come his way.
"That makes it a lot easier. Me and Shaun have been playing basically pitch and catch since last year when I was on the practice squad, so getting to go in there and catch my first pass from Shaun was pretty neat," said Zeigler. "When I had that catch in the game, I kind of figured he was coming to me. Hopefully it's one of those things that continues to turn out good."
The 49ers will need that connection to continue since Morgan has been ruled out of Sunday's game with a groin injury. With Arnaz Battle also expected to miss his second game, Zeigler and Jason Hill will again be called upon Sunday against the Rams.
"With those guys being injured, it's a big week for our receiving corps," said Jason Hill. "Guys who don't normally play big roles are going to have to step up," said Hill. "Me personally, I'm looking forward to it. That's why you play the game, to make those plays and I'm excited for the opportunity we are going to get this week."
Hill made the most of his opportunities last week, finishing the game as the team's leading receiver with seven receptions for 84 yards. Similar to Zeigler, J. Hill is somebody that as S. Hill said, he shares more than just a last name with.
"He's come on here and he's been playing well. Obviously, he's a guy over the last couple of years who I've had a chance to throw a lot of balls to with the scout team and in practice. I guess there's a little bit of familiarity with him. But he came in and he played well and he has to keep that going."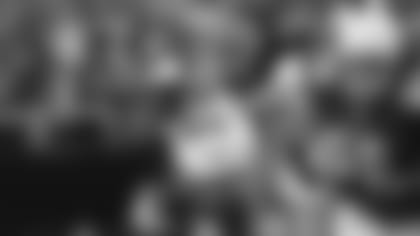 While the 49ers look for continued success out of their young receivers, one thing the offense is hoping to move past is the mayhem that happened in the final drive against the Cardinals.
"It's something we have to forget about it and know that next time we have to make it better," said J.Hill. "There are no ifs, and buts about it. Next time we have to make it better and I think we will."
Despite the desire to move on, the players were probed repeatedly about the final few plays.
Similar to Mike Singletary and Mike Martz, several players, including the 49ers quarterback, said they were surprised by the spot of the ball.
Hill said the spot and the fact that officials began the clock after setting the ball down prevented him from being able to spike the ball and change the play.
"We just felt like the clock was going to start on the snap. Now if that had been the case, there were different things we could've done but they winded the clock," said Hill. "They came back and told us right before that they were going to wind the clock after they had the ball set for play, so that kind of eliminates all of your possibilities."
Although the circumstances were heartbreaking, running back Michael Robinson saw some positives in the composure of his teammates and the way his quarterback managed the situation after Frank Gore was stopped inside the one. Officials ended up reviewing the play anyway, but Hill made sure to get his group to the line and then get tight end Billy Bajema off the ball so that the 49ers didn't get flagged for a penalty.
"Obviously Shaun was in a hurry up mode, but he remained calm," said Robinson. "He did a great job making sure we were in a legal formation because we were in between personnel groupings. A penalty would have ended the game anyhow. We were yelling, 'Spike the ball, spike the ball,' and Shaun said, 'We're not legal.'"
The circumstances still don't sit well with the offensive unit, but getting back to the practice field on Wednesday helped to alleviate any lingering disappointment.
"I know personally that I'm very grateful that today is Wednesday, and to come out here hopefully now I can start getting some sleep," said S.Hill. "We've moved on to St. Louis and we'll get ready for this one."
As he starts his preparation, the 49ers starting quarterback plans to rely on his veteran receiver Isaac Bruce, who spent fourteen years with this weekend's opponent.
"He is going to be a big help," said Hill. "We're definitely going to pick his brain and see what he knows about them and try to use that to our advantage."
More Injury News

Running back Frank Gore missed Wednesday's practice with a neck injury that was sustained in the final drive against the Cardinals when he tried to make a block to help spring Jason Hill for additional yards after a catch. Gore is expected to be fine by Sunday's game.
Gore saw his second highest number of carries last week against Arizona, and will likely be a big contributor again this week against a Rams run defense that is ranked 30th in the NFL.
"It was our game plan to get the ball in Frank's hand as much as we can and we were able to do that, because we built a lead early and we didn't have to abandon the run to catch up," said tackle Joe Staley. "We're going to do that every week. Frank is a special player and we want to feed him the ball as much as we can."
In addition to Battle and Morgan, safety Dashon Goldson (knee) has also been ruled out.
Tight end Delanie Walker (shoulder) and tackle Barry Sims (ankle) also missed practice on Wednesday.
**Shaun's No-Helmet Scramble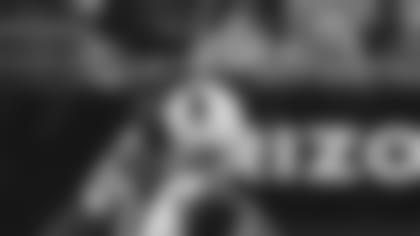 Quarterback Shaun Hill came up with a 12-yard scramble on a 3rd and 11 play in the second quarter to keep alive a drive that eventually ended with his 18-yard touchdown pass to Vernon Davis.
A few yards shy of reaching the first down marker, Hill lost his helmet but continued on.
"Obviously, I wasn't thinking. I was just reacting," said Hill. "I don't know if that kind of stuff is going to happen a whole lot. That was an exciting play for me it kind of got me fired up a little bit."
Told by a reporter that he was the first 49ers quarterback to run without his helmet since Steve Young, Hill chuckled and asked, " Is that an actual stat?'"
Told that it is something they track, Hill shot his fist into the air and laughed some more.
**Something to Think About
**Former Penn State quarterback Michael Robinson lined up at his former position a few times in Monday's game against the Cardinals. On his first time, he faked a handoff to Gore and took off out to his right for a five-yard gain on a 3rd and 1.
"It just gives teams something to think about," said Robinson. "Everybody calls it the wildcat offense and all those type of things. We've actually experimented with it since I've been here. We just haven't used it in a game until this year. That just shows the genius of Coach Martz. He's always thinking the next game or a couple of games down. Who knows? Hopefully that opens up another opportunity for us to make some plays."
The 49ers signed rookie WR Mark Bradford to the practice squad. Bradford (6-2, 205) was originally signed as a rookie free agent by Dallas out of Stanford following the draft in 2008.