If you were to compare the experiences of being at President Barack Obama's inauguration or playing catch with 49ers wide receiver Josh Morgan, the second-year-pro from the D.C. area would have the edge over the Commander in Chief according to 10-year old Chaz Lack.
The 49ers Kids Club member and resident of Hayward, California was the winner of the 2009 49ers Kids Club Essay Contest presented by See's Candies. For the contest open to Kids Club members, participants were to write in to Josh Morgan, explaining in 500 words or less what it takes to be a great 49ers player.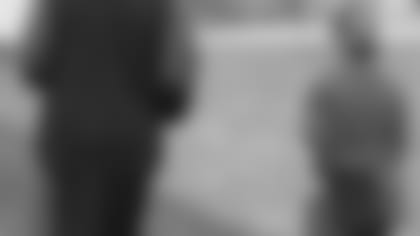 Chaz's mom, Pauline Cardenas recalls the two weeks Chaz spent preparing his essay and the culminating effect it had on Chaz when he found out he was the winner.
"He was real excited about the contest," Cardenas said. "He worked on it for about a couple of weeks. He was going to type it then said that he wanted to do it in his own writing. After he sent it in, he kept asking everybody if they thought he would win."
Cardenas could barely hold it together when she received the message naming Chaz the winner.
She held the secret in for a couple of days, waiting for Chaz to return home from visiting family to play the recording for him.
"I had all of my family around and played the recording and you should have seen his face; he started crying, he was so excited. On the way over here he said it was one of the happiest days of his life, even better than when he went to Obama's inauguration last year."
Waiting for Chaz to arrive at the facility was Morgan, who helped create the essay contest by volunteering to be a judge for the contest.
Morgan greeted Chaz with an autographed football and two tickets to Sunday's game against the Jacksonville Jaguars. Later, the two chatted while playing catch on the practice field, then stepped inside the 49ers locker room to meet and talk to other players.
"We played catch and I showed him some of our plays." Morgan said. "He wrote about what it took to be a great 49er, so I just tried to introduce him to some great 49ers. I talked to him a bit about football and what he likes to do. I just got to know him a little bit too."
Morgan was able to judge Chaz on more than just his writing after the 4th grade athlete showed off his passing and catching skills.
"He's a smart kid. He's a good writer. I started writing when I was that young, but he's ahead of me when it comes to football. He might be the future. You never know, he might be the next Joe Montana or Steve Young."
Chaz had a couple of fans of his own following him around all day. His mother Pauline and father Stan each had cameras in hand and were very proud of their son.
"This was really special," Chaz's father said. "Josh Morgan treated him very nice and is a class act."
Below is the winning essay submitted by Chaz:
My name is Chaz, I'm 10 years old and in the 4th grade. I think to be a professional athlete and a great 49er, it takes a lot of hard work. You must have talent, stamina and practice many hours a day.
You must get a lot of sleep and eat healthy foods. You must have a lot of pride, dedication, passion and love for the game. You have to sacrifice time with family and friends so you can work hard to be the best 49er you can be! I think that you must conduct yourself with dignity and pride and above all be a team player with good sportsmanship.
I love being a 49er fan and coming to the games and I think a great 49er will play their best for themselves and their fans.