Veteran wide receiver Isaac Bruce made his much awaited preseason debut at Candlestick Park, but in the end it was the rookie out of Virginia Tech who stole the show.
Bruce played three series and saw only two off the mark throws come his way, while sixth-round pick Josh Morgan led the 49ers receivers for the second week in a row. Morgan also cleared the 100-yard receiving mark with 5 catches for 114 yards.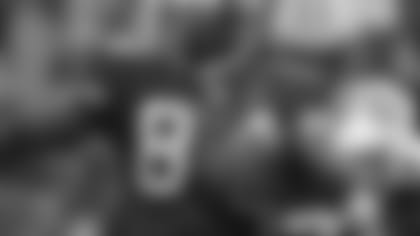 "I didn't realize I had that many yards," said Morgan. " I was just out there trying to make all of the plays that I could to help my team win. We executed a lot better as an offense, and that's fun when you do that. "
Notching a plus 100-yard receiving game is a feat that not a single 49ers receiver accomplished in 2007, and one that Morgan certainly wasn't even considering when he joined a receiving corps that included Bruce, Bryant Johnson, Arnaz Battle and Ashley Lelie.
"I wasn't expecting this coming in," admitted Morgan. "But, I just tried to take advantage of playing with all of those vets and learning from those guys. Learning from all of those vets, you can't go wrong as long as your are smart and try to soak up what you can learn from them."
With injuries hitting all of those vets save Bruce, Morgan is getting an opportunity to display the talents he brings to the table, and he's running with it.
He's caught several deep balls in training camp practices, but his 59-yard touchdown reception in the second quarter – the first of his NFL career - further legitimizes him as player who can stretch the field.
"It feels really good to have my first TD but you don't think about it while you are out there," said Morgan. "You are just having fun catching the ball and trying to make plays for the offense. You think about it afterwards and say 'wow, I did all of that?'"
Morgan confessed to a lot of wow moments as of late, starting last Monday when the coaching staff let him know he'd be going against two of the most physical corners in the NFL on Saturday in Al Harris and Charles Woodson.
"It was a great challenge, a challenge I didn't expect this early in my NFL career," said Morgan. "They told me I'd be going against those guys and coming from college, you're like 'Huh?' But going up against guys like that was a great challenge and a great opportunity. "
Morgan went without a catch in the first quarter, biding his time as he felt out his opposition.
"Once we ran a couple of pass plays I got a feel for them," said Morgan. "Once you get that, you just dig in the tool bag and see what you can use on them."
As warned, the Packers corners played physical, using their hands to bump the youngster off his routes. But Morgan used his own size and strength to defeat the jam at the line of scrimmage by Jarrett Bush and then blazed down the field for a 22-yard catch that set the 49ers up at the 3-yardline.
"They did a good job on me, but I just kept working at it, learned from it, and kept going," he said.
He kept going alright. Morgan then caught the long ball from O'Sullivan and used the stiff arm to ward off safety Atari Bigby and stay ahead of the hot pursuit by corner Will Blackmon for the score.
Frank Gore was already done for the night, but he got some extra running in along the sidelines as he cheered on the rookie.
"I was real happy watching that," said Gore. "I think he's going to be a great player in this league. He's big, strong, fast and he's got great hands. If he keeps working like he has been, he's going to be a dominant player."
Morgan appreciated the praise he received from his teammates, but he's not getting ahead of himself.
"I'll just go home tonight and say my prayers and thank god for all of the blessings he's given me," said Morgan. "I'll probably check in with mom because you always want to know how your mom is doing and what she thinks, but then that's it. Come back and keep working."