The St. Louis Rams' defensive game plan seemed to be simple enough, contain Frank Gore and force Troy Smith to beat them with his arm.
And that's exactly what the 49ers quarterback did, leading his team to a 23-20 overtime win.
Everything seemed to come easy for Smith. He kept plays alive with his feet, made big passes when the team needed them, and perhaps most importantly, made sure his teammates kept their composure even when everything seemed to be going against them.
The 49ers had three touchdowns called back because of penalties, but Smith didn't let anyone hang their heads. He entered the huddle, took control, and guided the 49ers to their third win of the season.
"He told us, 'Keep your head up,'" said tight end Delanie Walker, who finished the game with four receptions for 80 yards. "He kept us level when we were in there. A lot of guys get mad because of those touchdowns being called back, but he got in there and controlled that huddle."
Smith finished the game 17-of-28 for a career-high 356 yards to go along with one touchdown and no turnovers. His passer rating was 116.7. Smith spread the ball around to eight different receivers, and was at his best when it counted the most.
With the 49ers trailing by four and 4:12 to go in regulation, Smith engineered a six-play, 76-yard touchdown drive to give the 49ers a three-point lead. He capped the drive with a 16-yard touchdown pass to Michael Crabtree.
Then when the offense took the field in overtime, he led his teammates on a 55-yard drive that set up Joe Nedney's game-winning field goal.
And even though Sunday's game was by far the best of Smith's four-year career, the quarterback still believes he can play better.
"Obviously, it was our day today," he said. "Once I go back and watch the film I'm sure there will be a couple things that I did, settle things out, but definitely some throws and decisions I wish I could have back.
"As a quarterback you have to maintain – how should I put it – you just have to stay even keel."
There were countless times when Smith could have let the St. Louis pass affect his game. He was sacked five times, but kept fighting. Smith used his mobility to keep plays alive, and then often times found receivers deep downfield.
"It gives me more time to run my route," said Crabtree, who had 61 receiving yards to go along with his touchdown. "That's the best thing you can do."
Still though, head coach Mike Singletary said he hasn't decided whether Troy Smith will continue to be the team's starting quarterback when Alex Smith returns from his shoulder injury. Troy Smith has played well, but all options need to be weighed.
"We're going to enjoy this win and before I get into who's the starting quarterback and all that other stuff," Singletary said. "We'll sit down as a staff and talk about what we need to talk about, discuss what we need to discuss and go from there."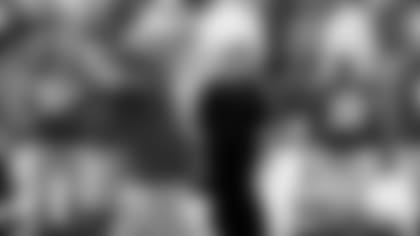 As Nedney took the field to attempt his 29-yard, game-winning field goal, there was a lot running through his mind.
Still though, the 15-yar veteran couldn't block out the pain in his right knee. Nedney injured the non-kicking leg on the opening kickoff, and the pain got worse as the game went on.
But when he saw his final kick sail between the uprights, everything changed.
"You have to grind it out," Nedney said. "It hurt until I saw it go through the uprights. Then the pain went away."
It was Nedney's 20th game-winning field goal and his eighth with the 49ers.
Crunch-Time DefenseWhen the Rams elected to receive after winning the overtime coin toss, the 49ers defense had one goal in mind.
"Turn the ball over," linebacker Takeo Spikes said.
And even though the defense didn't get the turnover it wanted, it did the next best thing, forcing a three-and-out.
On first down, the defense gave up a three-yard pass. On second down, the Rams rushed up the middle for two yards. On third down, defensive tackle Justin Smith sacked St. Louis quarterback Sam Bradford for an eight yard-loss.
That was it. Their job was done.
"We knew we had to stop them," defensive tackle Isaac Sopoaga said. "So that's what we did. It was a team effort today, especially there at the end."
On the day, the 49ers defense held Bradford to just 228 passing yards, and as a team St. Louis rushed for just 104 yards.
Linebacker Joe Staley led the team with 11 tackles to go along with one sack, in which he knocked the ball loose from Bradford.
"Whatever it Takes"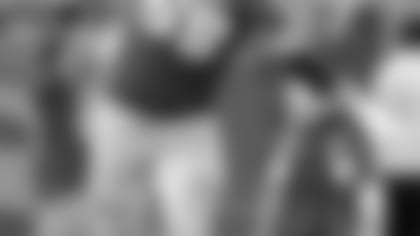 In 62 NFL games, Tony Wragge (pictured right celebrating the game-winning field goal) had lined up at center and both guard positions. On Sunday, he took care of the other two offensive line positions.
When right tackle Anthony Davis was forced to miss one play in the third quarter Wragee filled in there. And one play later when left tackle Joe Staley left the game with a left leg injury, Wragge stepped in and filled that void too.
Staley came back in the fourth quarter, but later broke his left fibula. Once again it was Wragge who was forced into action.
"I'm just willing to do whatever it takes to get us a win," Wragge said. "We all fight for each other, and we won today as a team."
Wragge stayed in at left tackle during the overtime period, and the coaching staff showed full confidence in the 310 pounder by running the ball to his side as the 49ers marched down for the game-winning field goal.
"It feels good," Wragge said. "Any time you win an overtime game in the NFL it is very emotional, and I'm glad I was able to contribute and help us close out."
Extra PointsThe 49ers 454 yards from scrimmage were the most of the season and the most since they racked up 474 against the Arizona Cardinals on Oct. 4, 2004.
With Sunday's one-yard touchdown run, 11 of running back Frank Gore's career 35 rushing touchdowns have now come against the Rams.
The 49ers recorded three sacks against the Rams, and now have 23 in their last five games against St. Louis.
Since the start of the 2009 season, the 49ers are now 6-2 against NFC West opponents.