Each week, 49ers.com gets to know two members of the 49ers Gold Rush. In this week's installment, we meet seventh-year member Bria Chantel from Salinas, Calif. and Haley B., a rookie member from San Jose, Calif.
Who is your biggest cheerleader?
Bria Chantel: My mom is my biggest cheerleader, by far! Regardless of what I'm going for, she is there cheering me on the entire time. Her support makes everything that much more worth it.
Haley B.: My mom, hands down. If you see a big poster with my head on it, you can bet a million bucks that's her! She has always supported everything I have ever wanted to do and has never told me that anything was impossible.
If you could be anybody, besides yourself, who would you choose and why?
Bria Chantel: Shakira, please! She makes the best music, her voice is insanely beautiful, she lives in Barcelona and she has the best dance moves.
Haley B.: Ellen DeGeneres! She's absolutely hilarious and loves helping people in need. You can never be in a bad mood when Ellen is on!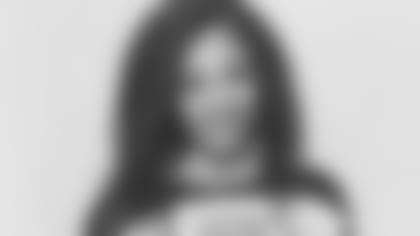 Do you have any pets? Tell us about your furry friends.
Bria Chantel: Our family recently got a pitbull. He is a blue-eyed beauty!
What is your favorite thing to do in the summer?
Haley B.: I love to barbecue by the pool or beach and spend time with my friends and family.
Who is your favorite 49ers player?
Bria Chantel: If I could play football, I would be a wide receiver. With that being said, my favorite player of all time is Jerry Rice and my favorite current player is Marquise Goodwin.
Haley B.: Joe Staley. Not only is he a valuable player, but I also admire his humility.
What is one goal you'd like to accomplish during your life?
Haley B.: I'm living it! Being a member of the Gold Rush and the 49ers organization has been something I've dreamt of since I was a little girl.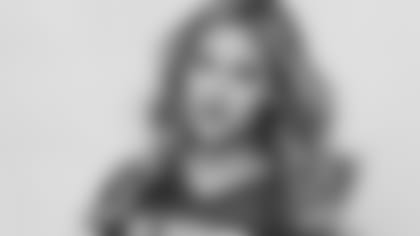 If you had to describe yourself in three words what would they be?
Haley B.: Optimistic, motivating and energetic.
Tell us about your journey of becoming a Gold Rush Cheerleader.
Bria Chantel: I first auditioned for Gold Rush in 2011. Sadly, I did not make the team that year and I lost some hope. A year went by and it was audition time again. I wasn't planning on auditioning because I was nervous that my dream would be crushed again. Thankfully I have a great support system that encouraged me to audition again. I was so surprised as I made it further and further through the audition process, and I was in complete shock when I made the team. Now here I am, in my seventh season with the Gold Rush and I couldn't be happier that I made the decision to audition again! I believe that timing is everything. I encourage others who have experienced something similar to keep chasing their dream!